Real Good. Real Action.
You might know Black Forest because of their tasty gummies and fruit snacks, but the brand is on a mission to replant forests across America. Inspired by real Forests, Black Forest and the National Forest Foundation (NFF) has set a new target to plant 10 million trees by 2030. This year, they're joining forces with the one and only Kelly Rowland to help spread the word of the ongoing effort and the importance of restoring the forests. Kelly is inviting fans to support the cause by getting involved on social media. "I've always enjoyed the tranquility of being able to escape into nature and the great outdoors… That's one of the reasons I'm such a big supporter of Black Forest's ambition to plant 10 million trees by 2030."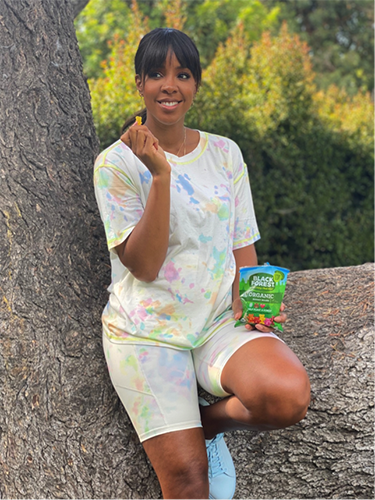 Starting May 16 through May 26, Black Forest is dedicating 10,000 newly planted trees in honor of fans who support the crusade. To have trees planted in their name, fans can post a picture of any tree on Instagram and include hashtags #️
and #sweepstakes while also tagging @blackforestUSA in the caption. Every day during the 10-day timeframe, Black Forest will select 10 people who have used the hashtag and celebrate their support by planting 100 trees in their name in a National Forest.
Here is what's included in Black Forest's purpose-led pledge:
By 2022, all products in the Black Forest portfolio will use colors and flavors from real sources, including turmeric, black carrot juice, black currant juice, carrot juice, purple sweet potato juice, cherry juice, and radish juice.
A commitment to move to fully sustainable packaging by 2025. The packaging will be recyclable reusable, or compostable, while still maintaining the freshness and quality consumers have come to expect.
Reducing environmental impact by working to lower carbon emissions, water use, and waste.
To learn more about Black Forest follow their Instagram and Facebook.
Images courtesy of Black Forest