The Black experience of taking little of nothing and creating multitudes of styles stems as far back during slavery. The slaves took left over fabric and utilized creativity because we have been creative since the beginning of time. Hip-hop fashion began in the late 1970's in New York City's Bronx neighborhood. During this time the looks were put together as an expression of self identity seen at block parties, and house parties. The styles worn were Adidas track suits, bomber jackets, and sneakers like Puma's, Pro-keds, and Chuck Taylor All-star's with oversized shoelaces.
As we went into the 1980's this street wear became Hip-hop culture inspired by Hip-hop music that was often seen on any corner in New York with two or more fellas battling with rhymes drawing an audience cheering them on. Many of these fellas and females became major recording artist and trend setters for the culture. Hip-hop at this time was a re-creation of many designs and making it your own. For instance several came up with a concept they made look cool and everyone started wearing while mainstream tapped into the market too. The key was when you re-created or created a style you had to make it your own or you weren't respected as believable. Because if you rocked a style and you wasn't feeling it; nobody else was feeling it either. The Rappers Run DMC inspired many men to wear Kangos and thick gold chains. One of the most popular styles was wearing heavy gold jewelry. The men wore multiple thick gold chains around their neck like rapper Kurtis Blow who helped popularize this style amongst many other rappers like LL Cool Jay. The women wore oversized gold door knocker earrings and Rapper and hip-hop artist Roxanne Shante helped popularized these earrings including hip-hop artist Salt and Pepper who wore thick chains also. The heavy jewelry signified prestige and wealth some believed this was connected to Africanism. The reason the male artist believed this concept of wearing heavy jewelry stemmed from Africa was because they were in lots of rap battles as head warriors winning and that's how they decided to be perceived. In the early 80's Hip-hop women had to hide their style of femininity; women dressed like dudes to be taken seriously in the rap game. The females wore baggy pants and oversized T-shirts and towards the late 80's Salt and Pepper changed the game wearing more sexy clothing such as hot pants, cutoff jean shorts, and body suits.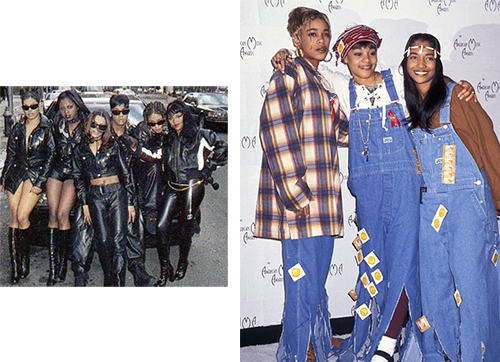 In the 90's hip-hop fashion started evolving into traditional African fashion including modernized styles with African accents of Kente cloth. These styles were seen from hip-hop artist, religious artist, church, and politicians. The rapper MC Hammer popularized the harem style pant which I wore along with several other styles of this era. Platinum jewelry sometimes with diamonds replaced the thick chains from the 80's.Throw back jerseys and work boots were also popular which men and women wore. Lil Kim and Foxy Brown popularized glamorous high-fashion hip-hop styles instead.
Hip-hop fashions in the 20th century have a few re-creations from the 90's. However the most popular trends are open toe boots, low rise jeans, crop tops, and hoodies. There are more hi-fashion and refined styles setting the trends worn by artist Nicki Minaj, and Cardi B recently.
In our culture many of us have been known to take little of nothing and look like a million dollars. African Americans are a major player in the fashion world like a hidden treasure. Over the years I've talked to many designers, stylist, and fashion influencers and found that so many of us have not been celebrated but we are blossoming by collaborating and supporting one another because no one understands us like us. Having been in the midst of many creators and having conversations of how we get numerous things in our head created and done is interesting as well as many challenges we face. However it's changing like the Virginia Slims cigarette slogan, "We've come a long way Baby". This is the end of Black History Month, however I am determined to be the person in the fashion industry; with family and friends; and people I meet along the way by becoming the best person I can be. We can create great Black History starting with how we relate to one another, because it's deeper than materialism. It's about celebrating who we are.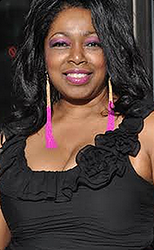 Let's stay connected on Instagram!