It's officially the weekend—let the festivities begin! Whether your Fourth of July weekend is filled with cookouts, fireworks, or chilling at the crib, we love another excuse to get cute. And while I'm a sucker for a good summer look, I prefer to keep my makeup and getup uncomplicated. But, since bright colors are on the menu for the holiday, why not spice it up a bit? I tried some simple and inexpensive products to create a look that I'm definitely keeping after the holiday. Each under $5, snag these ideas and products if you need some red, white, or blue this weekend!
The Picks:
Color Liner: Aka "my new bestie." I tried Ruby Kisses' Color Liner in Blue and the Color Liner in White, and they both served! These liquid liners are compact, pigmented, and the precision tip makes for easy application. Don't worry about touching up your liner throughout the day, these Color Liners are long-lasting and smudge-proof. As a religious wearer of black eyeliner, I've never thought to break away from my norm, and I'm so glad that I did! The Color Liner in Blue is what I used for this look, and trust me, blue is the new black.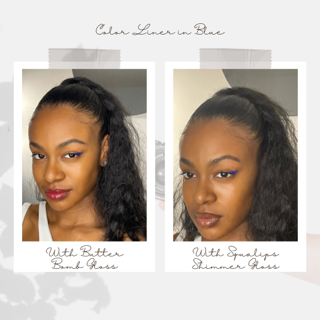 A Pop of Red: Using Ruby Kisses Butter Bomb Gloss in Cold Blooded, shown above. Butter glosses are one of my favorite types of lip products. The texture and coverage is unmatched, and this Butter Bomb Gloss is creamy and super rich in color!
A Starry Lip: Using AOA Squalips Shimmer Lip Gloss. This clear, shimmer lip gloss can be worn alone or used to top off your lipstick. Either way, you'll get a buildable high-shine finish with a soft shimmer. This Squalane-infused gloss is hydrating, moisturizing, and non-irritating! Squalane is a plant-derived ingredient that works to lock in moisture. Goodbye, dry and chapped lips! In the picture above, I'm wearing a brown liner with the Squalips Shimmer Lip Gloss!
Red, White, or Blue Tips: My go-to nail color will forever be white. I'm wearing Kiss New York Professional's Quick Dry Nail Polish in Vanilla, and not only does it actually live up to its name, but the lacquer quality is thick and, without applying a top coat, it has a decent amount of shine. These Quick Dry Nail Polishes dry in just one minute, and are also chip-free. They also have red and blue polishes in Ready Set Red or Deep Sea.
Photo Credits: Alexandra Folster