Ask anyone who knows Janelle Harris to describe her and chances are you'll hear words like vibrant, innovator, compassionate leader, savvy businesswoman, visionary entrepreneur, game changer . These are only a few ways to describe Janelle, the CEO of She Exist. Janelle launched She Exist to mirror her passion for helping other individuals, entrepreneurs, and organizations succeed through the power of unity and branding. For Janelle, She Exist is her legacy, her haven, and her passion. Fortunately for us, Janelle opened her heart and shared her passion (and so much more) with us in this Sheen Magazine exclusive.
Who is Janelle Harris?  
I am a loving and God-fearing woman, wife, and mother who works hard for her family, her community, and her legacy. I carry my late grandmother's legacy within me and have a fighting spirit that is rooted in the belief that we can all learn from one another and do exceedingly great things together. I am an innovator and a leader, a beast at what I do, which is what led me to launch She Exist.
She Exist is my dynasty, my safe haven. She Exist brings companies and organizations together to achieve greatness. Through She Exist, I conduct workshops and teach new entrepreneurs and businesses the power of unity, collaboration, and branding. I held the She Exist Global Awards in 2020 and am incredibly proud of the event, which hosted amazing speakers and showcased some phenomenal honorees.
Tell us more about your recent partnership with Sisay Cosmetics.
I've grown so much within the last year. I'm proud to be a partner in the Sisay Cosmetics line. I get to collaborate with and educate women around the world with  Janine Van Throo, the CEO of Sisay. Janie started as my client and became the ambassador of the She Exist international broadcast where we interview talented individuals, business owners, authors, artists, and beyond. Now, I'm her partner and public relations lead for Sisay which has helped so many women learn more about their natural hair. We're currently working on a software that educates individuals on the fundamentals of natural hair. We're also teaching the world about our Nish products by breaking down the ingredients, etc. We'll turn this process into an educational platform that will eventually generate revenue for women around the world.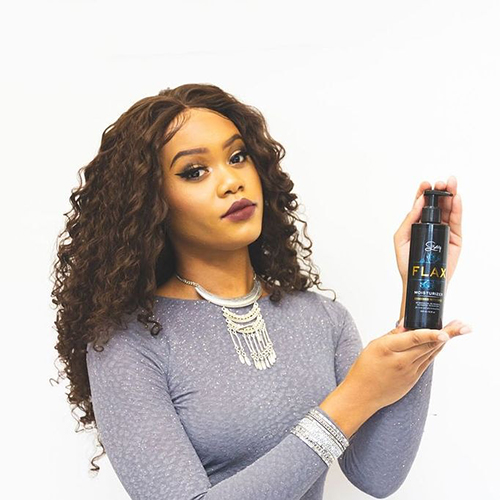 How do you manage it all and stay focused? 
I've utilized the She Exist module to help elevate and inspire on a global level so that individuals and businesses can become independent in their thinking and embrace the growth mindset so that they can have multiple streams of income. It normally takes me 1-2 weeks to roll out a project with a complete production along with a 6-month marketing plan. I'm very aggressive when it comes to projects and making dreams come true because it takes persistence, passion, drive, and dedication. But first, you must have the heart to serve without expectation.
I have a long way to go, but I believe that I have what it takes to get the job done because I live and breathe the job. I understand that no one will want it more than me, that no one will believe in it more, and that no one will understand my why. I'm not here to answer those questions for others. My why starts with my heart, how much I want it, and how much I believe in myself and what I'm doing. It's all about mindset.
What advice do you have for others who want to mirror your success?
Get comfortable with yourself because you're your own CEO, your own support system, your blueprint, and the fuel that lights your fire. You're also the fire. You're everything all at once and you constantly must want to be better than yesterday.
You must change the company you keep. You must be around a target audience that's in a different tax bracket, a different space, than you are. Then, you must change your verbiage and speak their language. When I started in this industry, I was only 18 years old and taught doctors how to promote themselves. I educated doctors from Johns Hopkins on how to expand their territories, build their word-of-mouth referrals, grow their client base, and deliver customer service utilizing cutting-edge technology. I was way ahead of my time.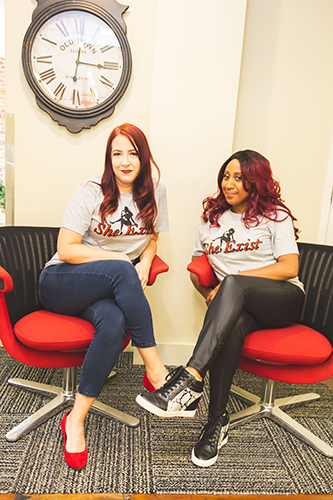 How has the pandemic impacted you?  
I've learned so much during the pandemic, especially how to sustain my brand. I'm not one to chase money so, for me, it's asking, "What?" and "Why?" I've also learned to look at who's watching, who's leaching, who's trying to corner me, and who's running game.  
What's your specialty?
In this life, it's all about serving and making a difference by offering an experience. I specialize in navigating through oppression. I had a mentor named Dr. Bert M Glaser who knew my worth and what I brought to the table. He took the time to educate me about the negative and positive. Those tips are still with me today. I know that I have a heart of gold and that pouring into the lives of others will always be my passion. Why? Because as the saying goes, "When you know better, you do better," and that's the motto of She Exist. You may never fit in with the crowd, but that's only because you're meant to walk your journey alone and that isn't a bad thing. People may never understand you or what you do and that's perfectly alright.
Here's my secret: everywhere I look—to the right, to the left, and in the rearview mirror—I see myself. Stay true to yourself, your vision, your legacy and do not let anyone tell you any different. Be the best version of yourself to lay the foundation for a bright future. Life, for me, is a foundation that's built with loyalty, trust, and love. 
What is your hope for the future?
I want to encourage entrepreneurs, communities, and new beginners. Do not let anyone whisper anything negative in your ear or allow anyone to replace you. Listen to the voice within you; always follow that voice and it will lead you to your prize.
What's next for She Exist?
Stay tuned, big things are coming!  Shout out to my girl Pam and Ms.Vo for given me opportunities like no other.
For more on She Exists, click here. 
All images by Nicole Jack