Cindy Tawiah couldn't deny her passion for making women feel beautiful, which is what led her to end her 13-year career as a nurse and launch her career as a salon owner. She stepped out even further with the Diva By Cindy line of haircare products. With the line now taking the beauty industry by storm, we sat down for a Sheen Magazine exclusive with Cindy to learn more about her journey from the healthcare field to the beauty industry and her work making women feel loved and beautiful.
Who is Cindy Tawiah?
Cindy Tawiah is the creator and founder of Diva By Cindy. She is a woman with tremendous compassion and is gifted with great intuition and foresight. She is a visionary.  
Please talk more about your transition from the medical industry to the beauty industry.  
When I was 16 years old, I was failing my chemistry class when my teacher taught me how to make nail polish and lipstick. He was trying to use something I was interested in to get me interested in his class. We had a science fair and my teacher introduced me as a chemist and cosmetologist.
After high school and at the urging of my family, I went into the medical field. I was a nurse for 13 years and then left to pursue my passion and purpose in the beauty business. I opened my hair salon and ran it successfully until an unexpected turnover in the salon business. This led me back to my divine calling—creating hair products to transform the lives of women.
What were some of the challenges you faced as a Registered Nurse in the healthcare field?
Although I was a hard worker, I always knew I didn't belong in healthcare. I knew there was more for me. I knew my passion was for women and beauty. I worked hard and tirelessly without feeling fulfilled as a nurse. Fulfillment comes from working in one's Divine destiny or one's Divine calling. I didn't have that in the medical field.  
While working as a nurse, I always felt that the clinical environment had too many restrictions and didn't do enough to promote healing and wellness. My belief was that most illnesses come from within and occur when a person begins to feel unwell and misaligned in their mind. As a nurse, I was taught to treat symptoms and not underlying ailments.
Within my beauty salon, I learned that primary health and preventative health go a long way. Building self-esteem, self-worth, and instilling value are ways to heal a person from the inside out on a holistic level. This can help prevent, treat, and cure depression.
What advice would you give to someone who would like to mirror your success?
Find your passion and love what you do. Don't go into a field because your friends and family are pushing you. Don't do it if you see it as a means to an end. The Bible says, "What profit a man to gain the whole world and yet lose his own soul." Your soul, calling, passion, and purpose will all be lost if you sacrifice it for money or to please others. You're here on this earth to fulfill one mission—to find what you love to do and use it to make a difference in the lives of others.  
What should we look for in beauty products?  
Look for performance, read the ingredients, and compare the product to what you've used before that's worked and what hasn't. Make sure that you look at the features and benefits of the brand. Research the product before you purchase and get to know the company's mission to see if it aligns with who you are. Every product is an investment in your beauty, healing, and wellness.
What was your experience launching your product with Sally's Beauty Store?  
It took 10 years to get my brand into Sally's. I tear up whenever I talk about it because God answered a decade-long prayer from a woman who worked tirelessly to build a company and a brand. After pitching the product for years, the door finally opened. It was a smooth process with the products launching this year among the pandemic. We are persistent and continue to let our Diva Darlings and future Darlings know that there's a brand for them that's designed to stop their hair from shedding and breaking while also stimulating healthy hair growth.
What sense of purpose do you draw from your culture and community?  
In 2005, we started transporting homeless women and victims of domestic violence to my beauty salon—Shades of U—for a day of beauty and healing. We've had so much support from our community here in Baltimore from volunteers and hairstylists to makeup artists and wellness practitioners. The love and support have been overwhelming and we continue to help women in shelters even today.  
There is a great community spirit and a sense of involvement and compassion when we have those beauty and healing days for women in need. We have people from different cultures, backgrounds, and walks of faith who join us in making these women feel loved and beautiful. It makes me realize that there is still a lot of good and love in the world and in people.
What should we know about the Diva By Cindy line?  
Diva By Cindy is a natural, alcohol-free haircare product with extreme detangling abilities that helps strengthen and promote healthy hair. But it's also so much more than that. It's a haircare brand with a heart.
We recently opened our company to franchise opportunities to support women who have always wanted to take the leap of faith and make their mark in the beauty business. We have two models available that offer the opportunity to own and operate a Diva By Cindy automated hair product vending machine or a stand-alone retail store or kiosk.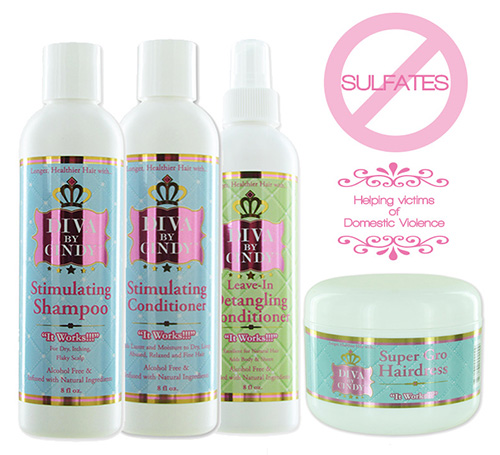 What's next for Diva By Cindy?
To continue healing and changing the world "one diva at a time." I find fulfillment in my ministry and what's next for me is mentoring women who want to grow personally, spiritually, and mentally. My plan is to expand the distribution of Diva By Cindy products across Sally's Beauty Supply and to inspire women to grab on to "that rope of hope" as they pursue their dreams.
How can we learn more about Diva By Cindy?
Website: www.divabycindy.com
Phone: 1-800-929-4957
Instagram: @divabycindy
Facebook: @divabycindy
Twitter: @divabycindy
All images by Lisa Fleet