Burna Boy is an international superstar, and he's here to spread good vibrations from Africa and beyond. On October 8th, the Afro-fusion, Grammy-winning artist, took his Space Drift Tour to Los Angeles where fans experienced the transnational influence of this revolutionary musician.  The superstar's performance at the Hollywood Bowl reconfirms the Nigerian rapper's global takeover. 
"I'm feeling legendary right now, we're at Hollywood Bowl man" said Burna Boy after opening up on stage with "Gbono."
"Coming from where I'm coming from, that didn't really feel like a possibility," he adds, moments before a Nigerian flag waves in the stage graphics behind him. 
The concert included guest appearances from Wizkid, who joined Burna Boy for his song "Ginger," and the dancer Poco Lee.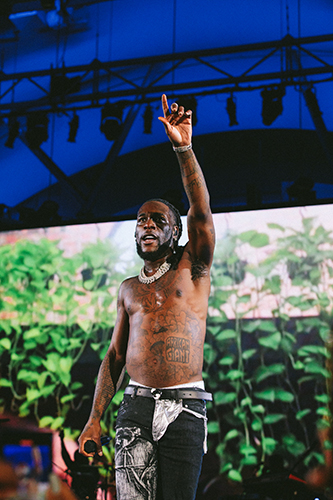 Burna Boy did not shy away from bringing elements of his African heritage to the American audience. As drummers danced across the stage and a choir of background singers moved along with the songs, his Hollywood Bowl debut carried a significance that surpasses the music. Throughout the night, Burna Boy used the stage to spread a message of pride and protest. He took moments to shed light on Nigeria's history of oppression as a colonized nation and spoke about the violent suppression of protests in Nigeria in October of last year. 
The show ended with "Ye", a fan-favorite from his 2018 album Outside, and had the crowd dancing and jumping one last time before the night came to its final close.
All images by Jennifer Johnson | @jenjphoto