S."Michelle" Foye turned her pain into purpose by opening Précis Screening which is a premier drug and alcohol screening company with ancillary offerings of pre-employment services such as background verification and I-9 automation, and more…
Her company successfully delivers highly visible business and technical solutions across Big 4 consulting, Healthcare, Higher Education, Government, Financial Services, Utilities, Sales/Marketing, Staffing and multinational firms – 20 years and counting.  While showing no signs of slowing down in her industry, Foye has also trained hundreds of other people in her industry, helping them own their own facilities, one city at a time… We had the pleasure of interviewing her below on her journey…. This might be an industry for you all to look in to! Check out her interview below
How did you get into the industry of health and wellness industry? 
I leveraged my corporate knowledge gained over the years to start my own business in Drug Testing and Waived Laboratory Testing. Drug Testing was chosen due to the oldest son's murder, which was drug and gang violence related. Laboratory was chosen due to wanting to touch the lives of those affected by the spread of STD and teenage pregnancy.
What services does Precis Screening provide?
– Drug Testing
– COVID Testing
– Health & Wellness Lab work
– DNA Testing
– Gender Reveals
– Occupational Health (Physicals, etc.)
– Business Consultancy & Start Up
What has been the greatest lesson learned thus far along your entrepreneurial journey?
The greatest lesson learned to date is to believe in yourself – your purpose, your mission – no matter what happens. Business is cyclical. People are cyclical. You have to be the constant.  If you give up, you could not only block your blessing, but someone else's. You never know what's ahead.
What challenges have you experienced during your entrepreneurial journey, and how have you pushed through them 
The road has certainly not been smooth, but I haven't expected it to be. Specifically, some struggles that I have witnessed are the proverbial sexism, racism, lack of support from those that you may expect it from, and unexpected changes in partnerships. Every business will struggle with something at some point -whether it is financial, clients, service, human resources or otherwise. I push through because I know this comes with the territory. I consider solving problems my responsibility as an entrepreneur. Problem solving is directly attached to my impact. Impact is attached to revenues at the end of the day. 
For people looking to start a business what are 3 things that they should do before they start their business?
Identify what you are great at – not just good at. 
Identify the resources you have to support you – assets, people, etc. 
Write your ultimate vision for your business down  
What is a quote that you live by?
"Never bend. Never fold." – Demond "DJ" Dicks, Jr. 
 What's next for Sheila Michelle Foye and Precis Screening?
Key Largo Expedition – A Millionaire Accelerator for the Everyday Entrepreneur seeking to launch a business in Transportation & Medical. We are covering Business Planning, Business Credit, Passive Income, Branding, Marketing, Sales Strategy, International Trade & of course Drug Testing & Clinical Lab start up.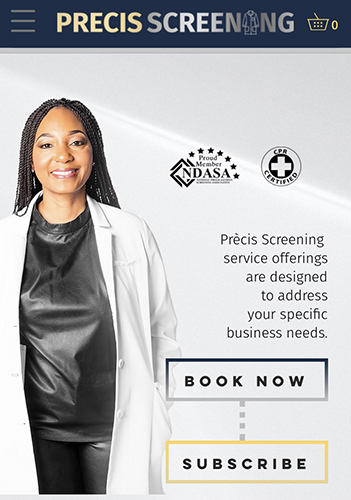 For more on Precis Screening, follow them on Instagram today.
Follow Sheila Michelle Foye on Instagram today and visit her website.
All images by Jojo Stylez