"Everybody wants to be a diamond, but nobody wants to get cut!"
Fitness & Nutrition Specialist, Caprice O'Bryant is a woman you need to familiarize yourself with if you haven't already. This empowering woman has made quite an impact in the world of fitness. Not only is she an award-winning entreprenuer, speak, and author but she is passionate about demolishing the obesity epidemic through clean eating, fitness, and faith. We caught up with O'Bryant to discuss her journey thus far, the creation of Excuse Free Fitness, and much more!
When did fitness become such a big part of your life?
Early 2013 was definitely the turning point for me. 8 months prior to my 20th birthday I had a seizure and woke up at the hospital and didn't know my name. I was diagnosed with retrograde amnesia, so I was thrown into an unfamiliar life and had to learn how to be an adult with Epilepsy…how to love my family who were complete strangers to me. I was knee deep in depression and I honestly couldn't take it anymore. I was angry. Tired of being told no. No, you can't drive. No, you can't attend this college because you are a health risk. No, you can't stay at home by yourself because you might have a seizure. So, my dad took me to the gym. I wanted to create my own yes! God blessed me with family and friends to support that and they made sure I was safe every time I would exercise. My relationship with fitness lit a fire within me that has never been put out!
Why would you say you are so committed to demolishing the obesity epidemic through faith, fitness, and clean eating? 
Incorporating fitness and clean eating are paramount to living a well-rounded and joyful life! I am so committed to helping as many people as I can and make a dent in this epidemic because 7/10 Americans are overweight. They are overweight physically but also emotionally. That is where faith comes in because for years, I was helping people lose physical pounds but realized it was so much more that they needed to get rid of. We had to get to the root of the problem to see long lasting results! Spirits are heavy and many are carrying the weight of shame, bitterness, resentment and that is keeping them stuck. That extra weight dictates how they eat; think about themselves, and how they move their body so including a prayer strategy is essential to move forward in wholeness.
You believe food is medicine and fitness are key. Can you explain this?
I believe that food is medicine because I've seen positive results firsthand. I had debilitating migraines and I began drinking beet juice to increase the oxygen flow to my brain and reduce the inflammation and it also decreased swelling! So many times, we can just look to the grocery store to meet the need whether it be pain, lower blood pressure/cholesterol or simply needing energy. Fitness is key because our bodies affect how we function throughout each day. When we are physically active on a regular basis, we increase the total health of our mind and body. Our heart rate is regular, we have more focus and less fog, our mood is regulated because we are releasing brain chemicals like dopamine and serotonin that fight depression and disease!
Tell us about Excuse Free Fitness.
Excuse Free Fitness began in the summer of 2015 in the south suburbs of Chicago as a boutique fitness studio where we offered fitness programs accessible to all! From boot camps to self care wellness workshops. We believe that nothing gets in the way of wellness! As I've relocated to California and in efforts to become truly "Excuse Free" my company has transitioned to an online fitness training business where we service clients from anywhere in the world. We create 6-week custom meal plans, deliver 4 and 8-week fitness programs that include video demonstrations to ensure success, and conduct virtual training. We want "excuse free" to be more than a mantra so we work closely with all clients, setting personal goals and always providing motivation and encouragement while empowering them to strive for a wholesome and balanced life, inside and out to strengthen their physical and emotional health!
What can we expect to see from you in the future?
You can expect to see me smiling more than I talk and showing up everyday living a life free of excuses and exuding positivity. I always say I'm a "rubber band" because God graces me to bounce back from every trial I've ever faced. As I learn I teach, so I plan to blaze the trail through my products and services for everyone who desires to be on "team no excuses" in every city and any country because Excuse Free Fitness doesn't have an address!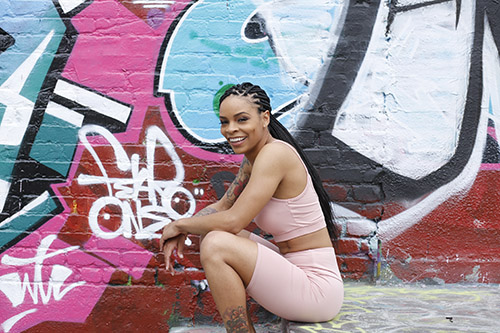 For more on Excuse Free Fitness, click here.
Stay connected with Caprice O'Bryant by following her on Facebook & Instagram.
All images by Anthony Naylor of LTE visions.