"Other people's recollection of your experiences does not invalidate what you went through."These were the words that freed Ce Anderson and gave her that life changing ah-ha moment which ultimately emerged her career as a Licensed Clinical Therapist. Spoken by her Howard University Professor Ronald Hopson, she knew within that moment that freeing others was her life's purpose.
Today, Ce is a highly sought-after Therapist and expert on sexual assault recovery, wellness and domestic violence. The author of the book Love T.A.P.S.: Red Flags of An Abuser and How to Get Out and with multiples appearances on NBC and Ce Anderson Live, she is definitely a woman making history.
She talked with SHEEN on how she sets boundaries for her own life while continuing to lead men and women to healthy paths of living and wellness.
You are a highly sought-after therapist. Was this something you've always wanted to do? 
(With laughter) I always tell people that therapy found me. It was not something that I set out to do. I was in the 10th grade and wanted to be a lawyer. I was very much influenced by the character of Phylicia Rashad who's also a Howard University grad—Clair Huxtable. I was taken by her grace, her knowledge and her persona. I was like wow. I want to be that. 
There was another moment when I had to get braces and my orthodontist was a young black accomplished professional. She was sweet. She was everything. And then I said I want to be an orthodontist until about my senior year at Howard University. They had a program for pre-dental, and you could shadow Doctors at the hospital. And I realized that I did not like the smell, the look or to be in the presence of blood. I said I cannot do this.
So I immediately went to my advisor and fooled around with some other majors. I looked at anthropology because I had all of these science credits. So I chose psychology. My first introduction to it, I took 21 credits my fall semester and 20 credits of my spring semester. Ronald Hopson was my very first Psychology Professor that freed me. Now I have a lot of trauma in my childhood—sexual trauma. I was the child of an acholic parent. And that comes with its own stuff. He said other people's recollection of your experiences does not invalidate what you went through. And in that moment, I said if that freed me up, it can free other people and that is what I want to do. And I immediately knew that I wanted to help other people who live in this space of trauma and this organization of minimization and invalidation. I wanted to bring this freedom to other people in that space.
Talk about the type of therapy you provide.
It depends on what's necessary in terms of the approach or the modality that is used. It depends on the need of my patient and so that can vary from cognitive behavioral if we're trying to overcome some maladaptive messages or belief systems that are unhealthy and problematic. That can also reach over to something that is 'Adlerian' which means we're going to examine some early childhood memories to see where some trauma may have occurred. We are also looking at the family system. I take an integrative approach and so it really depends on what the person needs to help them reach their goals.
Whether it is emotional or psychological trauma, if that trauma happened years ago or last week, it is about listening to and hearing people. We often listen to respond. But the thing about a therapist is that we are actively trained to listen to our client's voices. That means what they are saying and what they are not saying. The inflection in their voice, the body language, the silence and the pauses. We are trained to pay attention to all of that and it is all useful in treating trauma.
That can be extremely heavy work. How do you keep yourself free and detached from other people's issues?
That is a question that I am asked all the time. We are trained. That's why I tell people that talking to a friend is not the same as talking to a therapist. We are trained to listen and to keep boundaries in place. We are trained and we are unbiased. For me, I am fully present when I have someone in the therapy room and when I leave that therapeutic space, I am no longer there mentally.
Do you treat men and women?
Yes. I see men and women. I also see teenagers starting at age 15 and couples.
We are still on the high of Women's History Month. Talk about some of the women who inspire you.
As far as the work is concerned, I get a lot of inspiration from the ancestors before me. The women who have since transitioned whether it was 100 years ago or 50 years ago. I am very appreciative of their sacrifices. I love Zora Neal Hurston, and I find that just the power and the energy that is left here are my ancestors and even my family. Presently, I love Angela Bassett. Her poise and her grace. She exudes femininity and power simultaneously. And I love that about her. I don't have to be hard in order to be powerful. I embrace all of my feminine energy and my creative, as well as the flow.
Leading during the pandemic is no easy feat. Aside from the obvious changes we've all had to make for COVID, what have been some of the personal changes you've made to be there for yourself and your clients?
I've had to amplify and increase my own self-care. So, while encouraging them to do the same in the face of this pandemic, I've had to lead by example. When I am guiding and offering insight, I am doing it from an authentic place. I've had to walk the talk.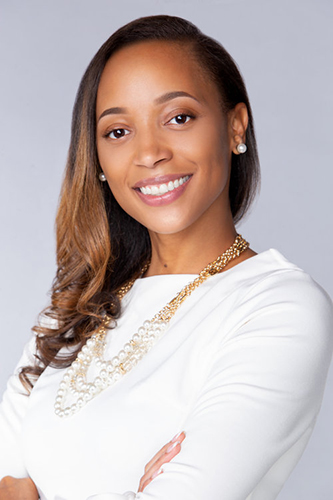 What do your self-care methods look like?
For me, I do some of the very common things. I love hot baths, candles and meditation. I am also very clear about where I dedicate my space and energy. My capacity. The thought and intention that I put into things. I am very guarded because those are things that matter to me and allow me to show up fully in the work that I do. My boundaries allow me to give.
What has been one of your shining moments where you say I AM PROUD TO BE A WOMAN? 
I had the privilege to give a TED TALK a few months ago and it was an opportunity for me to talk about anything involving fear. And I talked about something that was very personal to me that I had never spoken about. I disclosed being a survivor of childhood sexual abuse. And in that moment, it was an opportunity for me to regain parts of my voice that I did not realize had been silenced. And so, I was fully a woman. I could be heard and be seen and use that power. Toni Morrison has a quote that says, "The function of freedom is to free others". And if I am my sister's keeper, then in that moment I was able to give freedom to other women who maybe were not at the points of verbalizing their pain. 
Do you think you're living your purpose?
I do. I think I am closer to my soul's purpose today than at any other time in my life. I am always connected to my own self-improvement on a daily basis and being accountable for myself. Accountability was not something that I always embraced. It took proper guidance and me being receptive to the power of accountability.
With everything you've been able to accomplish, is there any other work that you'd rather do?
My philosophy is that my work is not limited to the therapy room so it can take me anywhere and anywhere that this work is willing to take me, then that is where I need to go. That is the next step. It's a journey. Every day that I wake up I go wow. What is this day going to lead to? What door is this going to open for me and other people? How will I show up fully and how will this be the next step in my journey?
Ce's book Love T.A.P.S.: Red Flags of An Abuser and How to Get Out is available on Amazon. Connect with Ce on Facebook and Instagram.
All images by Michael Moorer