After experiencing plus size exclusion first hand in the fashion industry, the lack of recognition, and little to no representation of  curvy women the effect began to take a toll on Danielle and many others self confidence.
Turning pain into purpose, "Runway Ready"  a Coloring Book for plus size girls and women was created.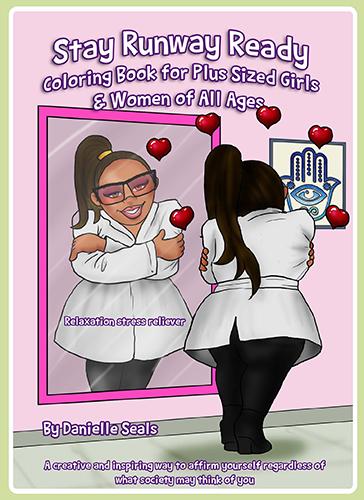 Page after page of plus size models and self affirmations truly make Runway Ready a must have!  An intentional illustration to increase self confidence in hopes to change the narrative of plus size models by way of coloring. In addition to closing the diversity gap in the distribution and creation of  coloring books, Runway Ready's creator aims to use this project  to help bring color to such a dark side of fashion and society, the embracing of plus size women.
Coloring has recently become a popular form of therapy, and it's easy to see why. The many affirming benefits such as reducing stress, anxiety, and creating healthier thought processes have turned many readers into coloring book fans. As Danielle is aware there's a lot of ground to cover as we face many social and economic issues she believes all it takes is one person so it starts with her.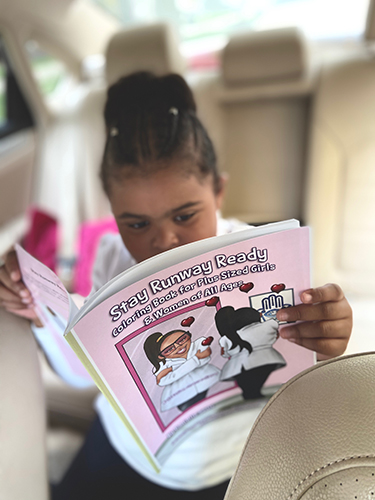 Danielle stated: "My coloring book relaxes the mind and that's what needed today RIGHT NOW ! It uplifts and shows everyone, women and little girl that they regardless of size they are beautiful. Size does not  matter, Stay positive and humble —— sky's the limit. Don't let society break you / stand strong if you fail try again till you succeed in your passion."
Danielle looks forward to  engaging virtually with various youth organizations throughout the United States. Danielle is educating women and girls on their body type and what styles to wear for overall confidence, along with breakout sessions to educate, motivate and inspire attendees to love the skin they're in!
Coloring books can be found on Amazon or Runway Ready Website. 
Click here to pre-order your Runaway coloring book today!
For more on Runway Ready, click here.
Follow Danielle Seals on  Instagram.
All images by 529 Management