Erika Aguilar may have grown up in a small town in Wasco, California but her success story spans all the way back to her parents. Knowing that in order to chase your dreams, you have to work hard – Aguilar entered the insurance industry and well, the rest is history! In her journey in entreprenuership, she has since helped people around the world not only build themselves financially but to further become the best versions of themselves. We recently had the chance to sit down with Aguilar to discuss everything from her passion for women empowerment, TCO Financial, and much more!
What inspired the creation of TCO Financial?
Well, it started with my husband and I wanting to venture into doing something together as far as a business. We didn't know what direction to go to. My husband was actually looking to go into entertainment as far as opening a lounge or nightclub. (Laughs), To be honest with you, I really wasn't a fan of that idea. So, we kept brainstorming on what we could do together and his brother was in financial services at the time. He is pretty much the one that planted the seed in us to open up our own insurance agency. That's how TCO Financial came to life. It stands for The Chosen One.
What do you believe is the greatest lesson you learned along your journey to success?
I would say really value the relationships that you get to form with individuals. It doesn't matter who they are, I would say always remain true to that and thankful of the relationships that you get to form along the way.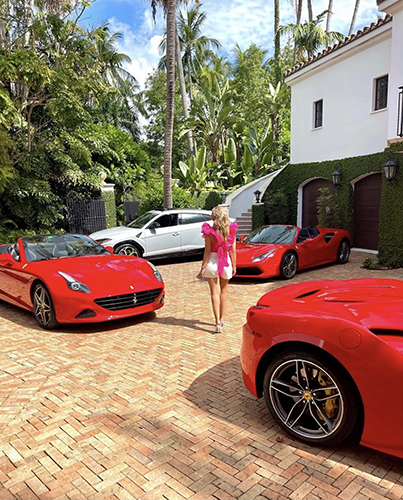 Why would you say you are so dedicated to helping women create something for themselves?
I grew up very introverted, a lot of people find that very surprising, because it doesn't seem like I am (laughs). But I am very much so. When I came into financial services and into this industry, I really grew to love that it is a level-playing field. It doesn't matter who you are, male or female or whatever background you come from. I found an opportunity to excel with just who I am. When I started to grow, we started to add more individuals into our agency. I realized that there was a time where there are a lot of women in our agency. Women that wanted to become insurance agents. I realized that some of them had been with us for quite some time, but I really didn't notice any growth. I remembered how I felt when I was new in the agency and the fears I had. There was lack of confidence and there are so many things that women go through. Sometimes, we block ourselves out mentally from moving forward. Anyone can tell you that you're pretty and that you can be someone. You ask yourself, 'Wow, I can be someone?' That was me. I realized that maybe my girls feel that way but they're not voicing it to me. I needed to create an environment where they will feel comfortable to speak out among the things that are holding them back from pursuing the best versions of themselves. I truly believe that all of us [male and female]. Right now you're asking me about women specifically, I believe that there is something so powerful about us. I think it's really out nature to want to succeed and do something in your life where you will feel so accomplished and proud of. I really believe that it's our environment that either sets us up for success or failure. When you have the right environment and have the right people in your corner, backing you up – you can succeed. There is a meme on social media that says, when women support each other, incredible things happen. That is so spot on. It is so true. That's what I wanted to do, I wanted to create a space where women feel vulnerable to ask those questions that they want to ask. I want women to be the best they can be without feeling judged. Most women don't like to do anything halfway, we just know that if we start something, we're going to finish it. I've seen it in the group of ladies that I get to mentor and train. Women just don't quit easily.
What are you currently working on and what can we expect to see from you in the future?
I'm obsessed with growing personally, physically, and mentally. I encourage everyone to do that. Feel better about yourself. Grow! In the rest of the year, I have so many exciting ventures that I have planned out with my business. A lot of traveling and growing into new terriroties in the country. I want to give other individuals the same opportunity that was given to me five years ago, starting in the financial industry, and being able to grow my own business and obtain passive income for years to come, while doing it for others. That's my focus right now. To continue to grow as an individual and help my community, while giving others the opportunity to be in a place where they can also have the same opportunities that I was given.
For more on Erika Aguilar, click here.