CEOs, Jennifer Lewis and Tammi Taylor founded the organic hair care line, Hair Luxury Company and since the brand's creation, the two have not been able to slow down. Lewis, who works as the product developer and Taylor, the lead scientist have successfully merged together in order to provide hair lovers around the world with the best, quality haircare products. We caught up with the two boss ladies to discuss business during a global pandemic, what makes their products stand out, and much more!
Tell us what inspired the creation of Hair Luxury Company?
Tammi: The creation of the Hair Luxury Company was inspired over the last 12 years. In 2008, I went natural and as I was learning my hair, I was experimenting with my own hair products.  In 2014, I owned a boutique and wanted to sell hair and I also noticed that none of the stylist was selling their own products. I met Jennifer in 2017, as I continued to develop my products, I could not find any in the stores that did not leave residue, could stop my itching and dry scalp, or build up and my hair from breaking off.  Now 3 years later, we have vegan friendly organic products that makes the hair feel clean, weightless, and works to strengthen and grow all hair types.
Jennifer:  I'm all about healthy hair and when Tammi approached with being a part of the company I said yes because I had my own natural products I was working on but wasn't really sure how to get it out now over a year later we have 11 products
Why is it so important for the company to be an organic hair care line?
Tammi: I feel its important for the company to be an organic hair care line because for years we have processed our hair with relaxers, curl kits, and ingredients that wouldn't thrive the hair to grow ruining our hair follicles. Just like organic food the organic hair products do not have any petroleum, phthalate, parabens, and vegan friendly. We use essential oils, vitamins, and wholistic health ingredients with antibacterial, anti-fungal , and anti- viral benefits.
Jennifer: It's important to have an organic hair care line because healthy hair is the best hair and the only way to get healthy hair is put healthy ingredients in it
How has the company been doing during our global pandemic? What ways would you say you all are able to get to your customers during this difficult time?
Tammi: Our sales have increased by 900% since the pandemic. We have been having issues with receiving ordered supplies some of our materials are taking longer than usual but we try to order in bulk to maintain our product supply and to ship out orders.  
Jennifer: Just not being able to do vendor events and getting out to the public but we are making the best of social media using it as our steppingstone.
What do you believe makes your products stand out amongst its competitors?
Tammi:  Our products standout because we have infused Science and cosmetology world together. Not only are the products cleaning the hair from the root to the tip without stripping your hair.  The products hydrate the hair and not coat the hair and allow absorption of all products you put on the hair.
Jennifer: Yes, exactly what Tammi said having a scientist and hair stylist come together you cannot beat!
What can we expect to see from Hair Luxury Company in the future?
Tammi: We have big future ahead of us. We ultimately want to be as big as SUAVE and become a household name with our hair, face, skin, and body products. We plan to be in all organic grocery stores, beauty supply, and department stores all over the world. 
Jennifer: We plan for Hair Luxury to be a house hold name. Everything dealing with cosmetology and that's hair, skin and nails..we want everything healthy and organic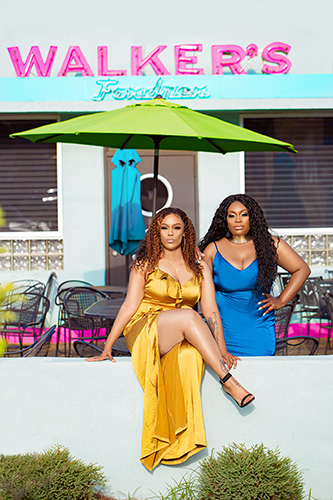 For more on Hair Luxury Company, click here.
Follow the brand on Facebook, Instagram, & Twitter.
All images by Bryan McKenny