Many people spend years on a job helping other fulfill their dream until they realize, there more to gain as an entrepreneur.  CEO of Locks-4-Ever, LLC shares her journey to success after dedicating 35 years of hard work in corporate America.
The Journey
It all started on a rainy day in Panama City, Panama in October 2011.  My husband (Alfredo) and I were looking at retirement homes.  We were with my "Parents-in-Love", Alfredo, Sr. and Hazel.  We'd taken a ride to a popular beach area.  We were greeted by stray dogs and a chicken or two just hanging out on the side of the road.  I said . . . "um . . . I don't want to see this place."  Alfredo responded "You haven't SEEN the place, we aren't there yet."  I replied "if this is what I have to see to get to "the place" I'm not interested!"  We apologized to the realtor and headed back toward Panama City to check out another up and coming area, Brisas Del Golf, Norte.  It was rainy season and the clouds had opened up.  Alfredo said "let's just go back to the hotel, we'll look again on our next visit."  I said "I can see clear skies ahead, let's keep going."  Sure enough, the rain stopped and the sun shone brightly over Brisas Del Golf, Norte.  We got to the community only to find the Sales Office had closed five minutes prior, but wait . . . there's more!  The Sales Agent just HAPPENED to be walking by the security gate and realized we wanted to see the model home and MIRACULOUSLY decided to oblige us!  We fell in LOVE, we put a deposit on Lot "B-21" and the race to figure out how to do the whole "international real estate thang" started.  I also began to think of ways I could earn money in Panama with "limited" Spanish.  A year later, we closed on our home!
I knew I wouldn't be able to be an admin, which had supported me my entire life and I was 9 years behind Alfredo in retirement . . .  What's a girl to do?  I thought about the Afro-Panamanian women who struggled to keep their curly hair tamed in the heat, humidity and rainy climate of Panama.  Then I had THE "Ah ha" moment . . . SISTERLOCKS™!  I knew in 2011 they might not be ready to embrace the natural hair movement that had picked up steam in the US, but I estimated by 2017 they might be more open to it.  In 2012, with no natural hair experience, I made the executive decision to take the Sisterlocks™ Course and planned to bring this AMAZING hair system to Panama. 
Let's Do This
Locks-4-Ever was established in 2012 with a mission to be the BEST in professionalism and customer service and to help as many women as possible take advantage of this beautiful natural hair system.
We were a home-based studio until February 2014, when we moved to a commercial studio in Woodbridge, VA.  I became a Certified Sisterlocks™ Consultant in August 2014 (achieved Brand Ambassador in July 2019).  In February 2015, we became an LLC and in March, we added another Sisterlocks™ Consultant to keep up with the growing demand.
February 14, 2016, we moved to a larger location and became licensed by the DPOR. April 3, 2016, was our Grand Opening with Guest of Honor, Dr. Joanne Cornwell, Creator of Sisterlocks™ and elected officials. 
September 2016, we acquired the salon BUILDING!  We FIRED our LANDLORD!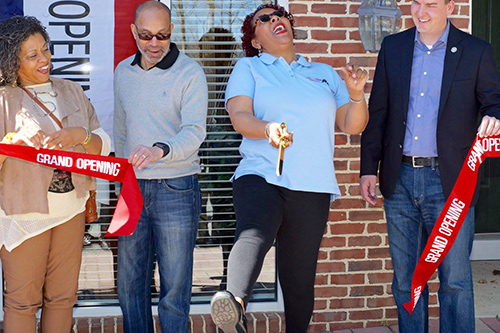 Farewell Corporate America
January 5, 2017 was my last day on the J.O.B.  Within two years, I exceeded the income it took more than a quarter century to earn working for other people!  This was not my first entrepreneurial rodeo, but it was CERTIANLY the most lucrative. 
Product Line
October 16, 2016, LOCKS-4-EVER launched the first of its all-natural product line. We now offer 4 Products.
No More Tender Heads™ – All Natural – Relieves scalp pain during styling
Hair Influence Plus – All Natural with Special Blend of 9 Essential Oils, Relieves Dryness, Promotes Hair Growth, Freshens Hair and Beards
Yum Yum – Light Leave-In Conditioner with Hints of Coconut and Rose – Softens hair and smells DELICIOUS!
Morning Glory – All Natural with Special Blend of 9 Essential Oils. Spray daily to hydrate and refresh hair and scalp.
Trademarks and Patent Applications
December 29, 2015 and January 20, 2017 Trademark registered in US and Panama
April 2017 – Filed Provisional Patent Application for No More Tender Heads™
April 2018 – Filed Non-Provisional; Abandoned November 2019
Panama
July 2017 construction completed on Panama Studio. Official launch 2018.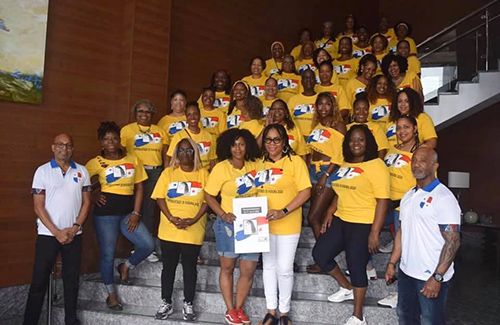 Coaching/Mentoring Services
Coached nine Sisterlocks™ Trainees to build successful, professional businesses and supplied them (and others) with a constant flow of clients. 
Collaborating with Afro Panamanian organizations to provide free coaching services to Black women who own natural hair businesses.
Due to demand and the successful execution of our June 2018 "Natural Hair Business Development Workshop," we formally added a Coaching Division in 2019.
National Podcast
Our first "Sistas Talking Natural Hair & Business" podcast aired October 2019.  I give advice on how to build an EXCELLENT, Natural Hair Business and showcase Black business Owners/Experts.  Our prestigious guests include A'Lelia Bundles, Madam C.J. Walker's Great-Great Grand Daughter and Author of "On Her Own Ground – The Life and Times of Madam C.J. Walker" the book which "inspired" the Netflix Series "Self Made."
Community Involvement
Meetup Group – LOCKS, SISTERLOCKS and NATURAL HAIR brings naturals together for cultural/physical events.
Facebook Group – NATURAL HAIR CAFÉ is exclusively for AA Natural Hair Stylists/Salon Owners to connect and support each other.
Cultural Trips – SISTERLOCKED IN PANAMA 2020. Forty AA women attended.
We support/showcase Black Owned Businesses by promoting them on "Buy Black Friday" and on Podcast.
At the End of the Day
 "I got my start by giving myself a start" ~ Madame C. J. Walker
GIVE YOURSELF A START . . . Contact me today!
Find us on Instagram, Facebook and Youtube @locks4ever
All images courtesy of Charlotte Van Horn