Let's take a little trip back to the 90s when Tia and Tamera were yelling for Roger to "Go Home!" This is when much of the world met Tia Mowry. Coming into the early 2000s, she introduced us to Melanie, aka, "Med School," on the hit television show, The Game. In 2013, she became an "instant mom" on the popular TV show, well… Instant Mom, and today she and her new TV family invite us all to the Family Reunion on Netflix.
Tia Mowry has been the girl next door. She's been the young woman many of us can relate to. She has invited us into her kitchen to share her cooking skills and into her everyday life to share her family with us. Here and now in the year 2020 Tia Mowry-Hardrict plays many other roles when the TV goes off. She is a wife, a mother and accomplished legend in her own right.
Mowry-Hardrict has been wearing many new hats and sharing it all with us along on the way on her YouTube channel.
We caught up with her to chat about a little bit of everything and here is what she had to say!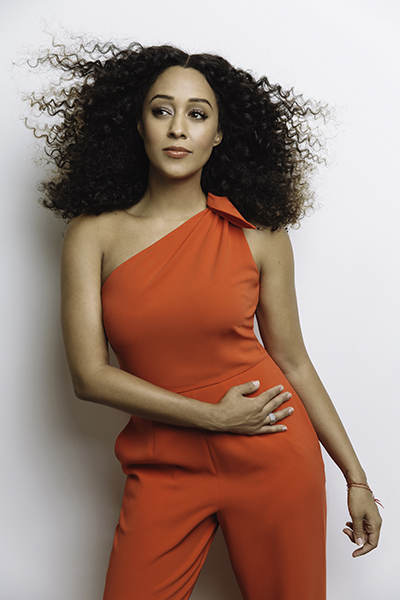 Regardless of the season or reason, your skin is always radiating – can you give us the secrets to your skincare routine?
I think people focus a lot on the outside, but beautiful skin starts on the inside. Of course, I use great skin care products, but I also pay attention to my diet, take my supplements, and drink lots and lots of water, which helps release all the toxins in your body and your skin.
We literally love Family Reunion, what is your favorite part of being a part of the cast?
I've never played a character that reminded me so much of the dynamic that I have with my family. I grew up going to church; my mom was very involved, in the choir and all that, so to be able to dive into those stories and culture and families that remind me of my own has been really fun.
What do you hope the viewers get from each episode?
I hope they walk away feeling good! That's one of the main reason why I love doing what I do. I just want to make people laugh and smile. But TV can also be very purposeful and impactful, so if after watching an episode, a healthy conversation begins within a family, that also makes being an actress really rewarding.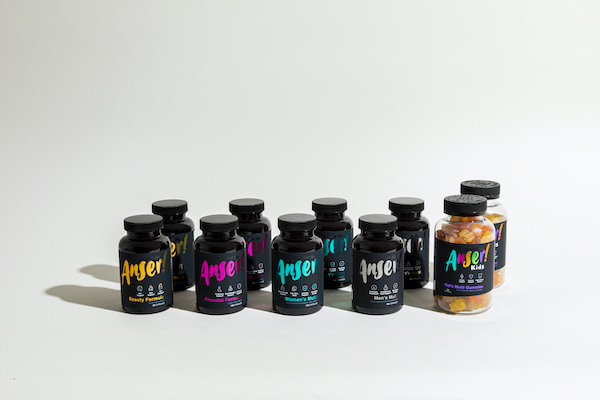 Your supplement line, Anser, started with promoting self-care through multivitamins that cater to women's health, especially in beauty and prenatal care – can you tell us why this was important to you and why you started Anser?
I wanted to encourage women to take charge of their health. The goal was also to start a conversation with a consumer that didn't feel included or recognized in the wellness space. And I wanted all women to meditate on the hashtag I created for the brand: #selfcareisntselfish. We have a nurturing instinct and tend to put others first, which can sometimes leave us feeling depleted, but you have to make yourself a priority in order to reach your full potential.
The Anser line has recently released Kid's and Men's additions as well, could you tell us about those?
I had this aha moment with my health and taking care of myself and didn't want to stop there; I wanted to take care of the whole family! So we came out with the children's gummies and a men's multi-vitamin. The gummies have no fillers, no GMOs, are gluten-free and, most importantly for kids, delicious! They also have Vitamin D for bone health and Vitamin C for immune support (to help fight germs on the playground). As a parent, these are things I love! And then we couldn't forget about the men. Their vitamins promote energy, enhance metabolism, support prostate health, and there's a 60-day supply in one bottle. And, like all the other Anser products, they contain a digestive enzyme for stomach comfort.
What are some key components for you to live a healthy lifestyle?
Eating a well-balanced diet, getting proper exercise at least 3-4 times per week, and not forgetting about your mental health.
Reflecting back on your career – what are three things you would tell your younger self?
Don't worry, continue to be yourself, and stay focused.
I cannot get enough of your YouTube channel, what inspires each video?
The channel was inspired by me wanting to create a community where people could go to uplift each other, share advice, have feel good moments, and just make life easier. I've realized that, even being a parent, you can't do things all on your own, you need help from your community, and I wanted to build a safe place where people could go to be inspired, empowered, and enjoy themselves.
Your positivity and bubbly personality is showcased in your acting and through the snippets of your life on Instagram, what keeps you so upbeat? And how can one incorporate positivity in their own lives?
I've learned that life is short, and when you understand that, you develop a perspective of "I have to take advantage of every moment I have here on earth." Being alive is a blessing, and when you meditate on that, it becomes evident that you have a choice to be appreciative. So I walk with gratitude and that's where a lot of my joy comes from, just being grateful, wherever I am in life, whatever I'm doing, even the struggles, I embrace them because I know they are lessons. It's simple: you choose to be happy or you don't. You can focus on the negative, but it does you no good, so why do it? I choose to be happy.
You're maneuvering through life with so many roles both on and off the screen – what does balance look like for you?
There's no such thing as balance—and I've learned that the hard way—but I make it work by not judging myself and not taking things too seriously. Of course, I prioritize. If you want normalcy, some sort of list, schedule, structure, etc. is necessary, but don't judge yourself if you don't complete that list. I get through my days and all the things I'm doing by literally taking one thing at a time, just a few hours a day, one foot in front of the other. I don't get overwhelmed by looking too far ahead. I stay present with whatever I'm doing at the moment, and when I'm done, I figure out what the next move is and do that.
I love following your career and seeing what's going to be next – is there something you'll be tapping into next that fans may be surprised to hear?
I have a lot of stuff in the fire! I'm writing another cookbook, producing movies, and TV shows, partnering with designers for home goods and kitchenware, etc. And I can't wait to share all of it when the time comes.
THIS OR THAT:
A bold lip or neutral — BOLD
Jeans or Dress — DRESS
Heels or flats — HEELS
Winter or Summer — SUMMER
Mornings or Evenings — EVENINGS
For more Tia Mowry-Hardrict:
For more Anser: 
Images by Diana Ragland
Anser Photo by Jack Strutz