Kelli Ferrell and her husband Mark are the founders and owners of Nana's Chicken-N-Waffles, a family oriented, Louisiana/Maryland style diner. Ferrell also released her cookbook, Kooking with Kelli, which is filled with delicious southern meals and mouth-watering dishes. In this collection of recipes: you will learn to cook soul-satisfying homemade food, with most requiring short preparation and cook time. Kooking with Kelli is infused with inspiration and recipes, which have been passed down from generation to generation, and includes signature dishes — which include: Honey Fried Chicken, Shrimp and Grits, Chicken and Waffles, Banana Bread, Grilled Lamb Chops, and Southern Sweet Potato Pie.
Ferrell recently competed on: Food Network's Ultimate Thanksgiving Challenge. The show challenges chefs to a series of competitions to see who can prepare the best Thanksgiving-themed meals. Ferrell also appeared on Guy's Grocery Games, a reality-based cooking television game show hosted by Guy Fieri on Food Network. In her episode, four chefs competed in a three-round elimination contest, cooking food with ingredients found in a supermarket grocery store ("Flavortown Market") as Fieri poses unusual challenges to them.
What's the story behind the opening of Nana's Chicken-N-Waffles?
It all started out as a vision board, my husband and I did a vision board a few years back and amazingly Nana's Chicken -N -Waffles was on there, so we just decided to go for it. We would drive pass the building everyday taking our kids to school, and we just decided to step out on faith and see if it would work. We have been in business for three years now and it has been an amazing journey.
Tell us about your cookbook, "Kooking with Kelli" and how can readers purchase it. 
This was another vision on the board and it was something I always wanted to do. I really wanted to figure out how to implement family recipes. I would always get friends who would ask me about recipes for different dishes so I decided to go ahead and do a cookbook. A lot of the recipes are passed down from family traditions, the book is on Amazon, Barnes & Nobles, and Target, in the restaurant and by visiting the Kooling with Kelli website.
Tell me about your experience on Food Network's "Ultimate Thanksgiving Challenge."
It was fun and I was so excited to be featured on the show. The show featured six of America's top chefs and we were able to go on there and have fun. It was not an easy challenge at all but I had a blast!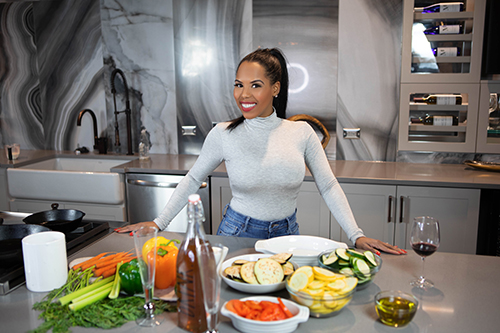 What do you enjoy most about cooking?
Really what I enjoy is just the freedom to do whatever I want. When you are a chef, this is like my downtime to have me a glass of wine, cook for the family, decompress from everything and just get in and be creative.
What upcoming events do you have?
Hopefully a few more book signings and some new restaurant locations. 
We all know someone who cooks great at home for family and friends, but what are some things a cook needs to know in order to be successful in a restaurant business?
One piece of advice to a great home cook turning into a restaurant business is to really be willing to work your business and know how to run every aspect of your business. You have to know every part of that business so you can understand everyone's job and title.
Did you ever have any moments of doubt about opening your own restaurant?
I had every moment of doubt when starting Nana's Chicken-N-Waffles, it was my first time working in a restaurant. I've always been confident about cooking but it's another ball game when you're cooking for others. The restaurant business is one of the toughest businesses to be honest. You have so much to worry about. It takes a village, so I'm forever grateful to my staff, my family and friends who have truly supported us along the journey.
For more on Nana's Chicken and Waffles, click here!
Keep up with Chef Kelli Ferrell on Instagram & purchase her cookbook "Cooking with Kelli by clicking here!
All images provided by Chef Kelli