Full of ambition and talent Hip Hop Motivational Music Artist Javonte Marqui$ is a role model for the work ethic that you need in the music industry. He is constantly creating, growing while also balancing family time and mental health.
Can you tell everyone, who is Javonte Marqui$?
Javonte Marqui$ is your average young man from the south suburbs of Chicago, a cancer survivor, a son, grandson, great-grandson, and musician. I make music, music is me. I'm also a sports lover, determined and chosen. That's who Javonte Marqui$ is.
When did you know you wanted to have your career within the entertainment industry?
When I was 17, I knew I wanted to be in the entertainment industry. Gucci Mane was a big influence on my wanting to pursue my career. He is from the streets but has accomplished so much independently. He is an independent music mastermind. Also seeing the movement that Lil Wayne presented to the world made me know I wanted to do nothing but music. 
What lead you to combine your love of sports into your music?
My everyday life leads me to combine my love for sports with music. I grew up watching Michael Jordan, Kobe Bryant, Magic Johnson, and Tom Brady while listening to artists such as Jay-Z, Lil Wayne, Dipset, and Gucci Mane to name a few. For me, music and sports went hand-in-hand. I love both music and sports so very much I just love music more, but sports will always be my first love. It's hard for me not to love both.
When you moved in this creative direction, did you think lovers of sports or lovers of music would gravitate to your style of music first?
Both lovers of music and lovers of sports gravitate to my style, sound, and music equally because just like me, so many people in the world follow music and sports stats, trends, news, and new content. There are not many people who don't like music and sports in some type of way, shape, or form. My music has been equally accepted by sports and music fans alike.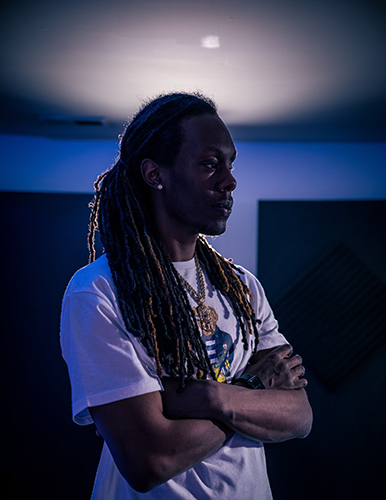 Can you tell us more about your upcoming album, "Playoffs Second Round"?
My album is set to release July 4th but may be pushed back to July 10th because I want to add more songs. My fans can expect it to be better than my previous album which is called Playoffs First Round. With Playoffs Second Round I am giving more content that dives deep into my life on my journey to tell my story through my music. My growth shows with this new album. 
With Hip Hop moving in so many directions nowadays, speaking on your specific motivational Hip Hop style, how do you see your style making a change for the better?
With my music, I don't send negative messages, I'm not out there talking about all the violence either. I will speak out being down and out and trying to make a bad situation greater so that my audience can make a U-Turn in life when needed. I make music about being able to overcome obstacles so I definitely think that my music will make a change for the better.
What would you like your fans to gain from listening to your music?
That there are music artists that are out here not to diminish or destroy or anyone. I am here to uplift, build up and elevate those who listen to my songs. I want my fans to listen to my music and feel that they can overcome any situation that they are going through. I also want them to be entertained, moved, and dance to the music. When someone hears a Javonte Marqui$ track it's possible they will also laugh and smile because it's feel-good music they are listening to. 
Are there any appearances or performances currently scheduled, that you are able to discuss?
Appearances come so fast and out of now where. Please stay tuned for my upcoming appearances by following me on Instagram.
All images by Moon Man Productions