Gearing up for the release of "Time for Change," the infectious, insightful and timely debut single from Classic Twist – the fresh, grooving and innovative, multi-genre musical project, renowned R&B/jazz singer/songwriter Gene-O played the track for some industry movers and shakers in their home base of Southern California. Their response was auspicious – it reminded them of a modern version of "We Are the World." If ever the planet needed a hopeful and uplifting new anthem to inspire us to look past our differences and come together in a spirit of love, the time is now. 
Written by Gene-O, "Time for Change" is an emphatic call to action that pointedly reflects on everything we need to do to come together and achieve a better world. Over a unique musical vibe that, true to the fusion-driven spirit of Classic Twist, incorporates elements of pop, R&B, country and rock, Gene-O passionately sings, "It's time we leave our comfort zone/It's time for you and I to rearrange things/Cause everybody knows it's time for changes/It's time we see the light/It's time to do what's right. . .So much love/That's what we all should be thinking of…"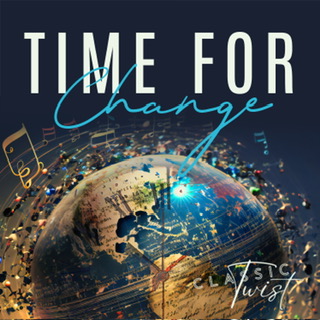 "We recorded this song and are releasing it as the first Classic Twist single because globally we desperately need to effect major change," says Gene-O, whose most recent solo albums were the back-to-back releases of Born to Love and Christmas with Gene-O. Having spent years performing around the world (China, Japan and the EU) and the U.S., the singer started his career recording and performing with such artists as Baby Bash, N2Deep, The Jets, Maserati, and Sheila E to name a few. Once designated as Best New Artist of the Month by Talking Smooth Jazz Radio – more recently he has shared the stage with the likes of Brian O'Neal (The Bus Boys), Howard Hewitt, Eric Darius, Dru Hill, Lenny Williams (Tower of Power), Joe, and his mentors, Phil Perry and the late great Ricky Lawson. 
"Our world is so crazy right now on so many levels," he adds. "I had the message in my mind and I felt it was something we simply must do. Kevin and I talk about these issues all the time," Kevin Flournoy is Gene-O's longtime friend and a veteran arranger and producer, "Every time we turn on the TV or listen to the radio, they're talking about more division. The song, like all of the music we're making as Classic Twist, reflects the way we live, just loving people. Love and unity form the concept of everything we're going to do on this project."
"As veteran musicians and live performers, we know the joy that's possible when thousands of people from all different backgrounds and beliefs come together to hear music and experience an elevation of positivity," adds Flournoy, who has written, performed or recorded over the years with Chaka Khan, Babyface, Donny Osmond, Dionne Warwick, Gladys Knight, Teena Marie, Jeffrey Osborne, The Pointer Sisters, Jennifer Hudson, Howard Hewitt, Jamie Foxx, The Jazz Crusaders and contemporary jazz greats Boney James, Norman Brown, Kirk Whalum and Harvey Mason. 
The plan is to follow "Time for Change" with several other original singles before releasing an EP or full-length album comprised of new compositions and explosive re-imaginings of classic rock tunes. One of these is the whimsical, high-energy country-soul-rocker "Things are Changing," a lighthearted song along a similar theme about going out and having some fun. The other is "You're My Hero," an inspiring, R&B/gospel flavored tribute to the love of hard-working, self-sacrificing women everywhere that was picked up by an international women's foundation as their new anthem; Gene-O will be shooting a video for this song this fall. As for the covers, down the road, Classic Twist is excited about presenting their dynamic versions of Simply Red's "Holding Back the Years," Journey's "Faithfully" and Kansas' "Dust in the Wind."  
The concept of Classic Twist is rooted in the two friends and colleagues talking about developing a unique hybrid style that incorporated two of Gene-O's all-time favorite genres – country and classic rock – that he never had a chance to record or perform because of his success in jazz and R&B and the popular demand for him to continue in that vein. The future plan is to bring in some of the top musicians in the business to cut each song live like an old school ensemble, leading to a transcendent, one-of-a-kind sonic aesthetic that will inevitably be Classic Twist. 
Having sung at church from the age of seven, Gene-O began his professional career at seventeen with a Bay Area band called Sho-fur. He has written, produced and collaborated with mega-producers Felton Pilate, Preston Glass, and Tank as well as contemporary jazz greats Adam Hawley, Blake Aaron, Darryl Williams, Cal Harris, Jr. and Will Donato. Flournoy, who earned a B.A. from the UCSD in Electrical Engineering with a minor in Music Science and Technology, is the owner and CEO of Kay-Flow Productions, LLC, a division of Flournoy Entertainment, Inc. His first major label success as a producer was Big Mountain's international hit "Sweet Sensual Love." As an artist/producer, this past year he released two versions of a cover of the Jam/Lewis SOS Band Top 5 R&B hit "Tell Me If You Still Care" – the first featuring Phil Perry on vocals, the second with saxophonist Richard Elliott.