After her over two decades spent in the world of real estate – it may be shocking for some to know that Claudienne Hibbert-Smith's start was not a smooth path. From giving birth to her first chidl at just 14-years-old to obtaining her real estate license at 21, Hibbert-Smith's journey is truly remarkable to say the least. With her company The Hibbert Group of Real Estate Consultants and now in her success at EXP Realty, she has surely proven that she is continuously striving for better, not only for herself, but for people overall. In our exclusive interview, she opened up to us about her real estate start, the Miami real estate scene, and much more.
How did you get into the world of real estate?
I'm glad you asked me that. Here's the backstory. At 14-years-old, I gave birth to my son – who is 27-years-old today. It was a lot. I didn't get to enjoy my youth, I was always working and trying to be creative to figure out the next move. I ended up graduating from high school [which many people didn't think I would do] at the top of my class, Vice President by the way. I went on to the University of Florida and graduated from there. I got a job and I remember just being over being broke. It was like I was working every day yet paying bills four weeks behind. I was tired of being sick and tired. They tell you the people you the people you're around is important. My 7th grade teacher and I developed a relationship with each other. I was like her student of the class, and she ended up coming back home to Miami to buy a house. When I looked at how much the realtor made, I realized that they made my entire year's salary. Almost $40K in one transaction. I would never recommend this to anyone, I didn't have any job etiquette or went back to work. I don't think I even called them. I took a risk, I didn't know how to get my real estate license, but I figured it out. Luckily, we only needed 63 hours, so I knocked it out in a week. Remember, I quit my job, so I only had time. I was a single mom who didn't have a lot of money or time to waste. I failed the test twice. I had to get out of Miami to focus a bit. I went away to Dallas to study, I came back, passed the test, and I became a realtor. Many people ask me why I became a realtor – it wasn't because I had a passion for putting people in homes, I didn't know much. At that point, I just wanted to make a lot of money so I could help people. That's my story today. I got into real estate to make a lot of money and help people. Passion came after. A lot of my peers weren't buying properties, so I became passionate about putting my peers into property.
How would you describe the real estate scene in Miami?
In what aspect? There are so many different scenes here. We're a melting pot. Our average income [which is documented] is about $47K a year. Now obviously, you have millionaires here, but our market here is very tough. If you're a schoolteacher here and you're single, it's very hard to buy and occupy a property here. It's been that way for my entire 20 years of real estate. You find different aspects of our market here. However, you know, Christmas is going to come and we're going to be in the pool. The weather is a big indication of why people come here. In March, over 40,000 changed their license from New York – they have also increased our marketplace. You make a lot more money in New York than you do in Florida so the cost of living from their aspect, is a bit lower. We don't have state taxes here, so you've got people pumping our market up spending millions of dollars cash. Let me add, it's increasing the value here. There are a lot of different aspects, but I say get in where you fit in. I'm not ever going to be one of those people that just move because it's unaffordable or unattainable. I'm just going to do what I can to float, make a lot more money, and dominate a lot more of the market, while educating our people. We have to educate our home buyers, there are so many programs. You can go from one spectrum to multi-million-dollar properties, which I sell to homeowners – that's between $350K-$450K, which is a nice marketplace to be in as well. There are so many programs to help people to get into homeownership, we just have to do more educating.
Tell us about your upcoming project with Elena Cardone.
Elena and I are partners and it's an interesting story. I went to an event with a friend of mine – we were in the second row, one of the most expensive tickets. It was intentional, because we wanted to meet different people and create different relationships. I got an opportunity to meet Elena Cardone – not about real estate though. We met because of the ticket level and we kind of hit it off. A week went by and then a month, and the Cardone office called and said they would love for me to be on a platform of theirs. They asked me to be on a real estate platform and they wanted someone that was not a part of EXP Realty – which they were affiliated at the time, I was not. I said yes! Something told me to go back and look at EXP Realty. I was honestly going into retirement, I had my 27-year-old, I was pregnant again at 40, and it felt like the right time to retire. I realized that it wasn't time for me to retire, I just needed to be energized. I get on the platform with many great people, and I said, this is amazing! This is a great opportunity for me to be a part of. Something told me to go look at EXP Realty. I went back, looked, and had a friend of ours connect us together. I remember doing this Zoom call with her and the co-founder of EXP Realty and from there, I decided to go to a different company. No one [including myself] thought that I would go to a different company. I'm glad that I did. I'm not a part of EXP Realty and one of her top producers of her company. We've been able to build a strong, solid relationship based on production and communality. We're looking to take a tour around the world to show people how they can benefit, and how many streams of income they can gain by owning stocks, being a part of something called rev-share. I'm excited about this!
What can we look forward to seeing from you in 2022?
Oh man! I'm excited. I'm pregnant, so I'll be giving birth in March. It's not going to slow me down. The tour is coming, it will probably start right here in Florida, then South and North Carolina, up more states and outside of the country. You will see more coaching and showing how I was able to grow one of the fastest organizations in EXP in such a short period of time. I've only been with the company for seven months and yet, I am the number two fastest growing realtor in terms of organization in the entire company out of 60,000 agents. That's a big deal for me and I'm proud of it. To know that I have some level of influence and people trust and believe that we can help them grow to the next level.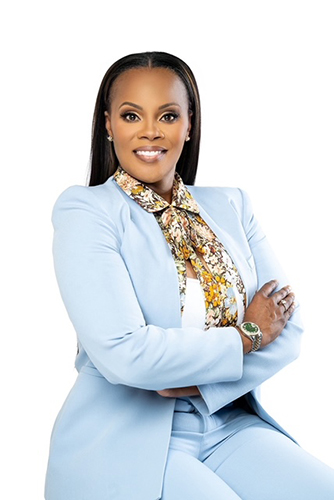 For more on Claudienne Hibbert-Smith, follow her on Facebook & Instagram today.
All images by CK Agency