Inspiring and thought-provoking leader, creative marketer, motivated and successful entrepreneur—these are only a few ways to describe Jenelle Harris, the CEO and founder of She Exist. Over the last six months, Jenelle has made a global impact with She Exist as she works to empower women to create their own paths to success. Along the way, she's proven to be a showstopper with her fierce leadership style and her impeccable ability to expand her network and her brand. Join us for this Sheen Magazine exclusive with Jenelle as she shares the inspiration behind She Exist, the company's current projects, future plans, and how you can work with her to take your life and business to the next level. 
Who is Jenelle Harris?  
I am a pacesetter, a goal-getter, a dominate marketer and collaborator, an author, wife, and mother. I am the founder and CEO of She Exist, the cohost of The Winning Evening News, and the coauthor of Stepping In Our Territories 1 &2, Blueprints from Heaven: Diamonds in the Rough and The Lesson In Me  I am a freelance writer with Sheen Magazine and a collaborator with The Greatness Engineer and MTM Modeling Magazine. I believe that collaboration is the foundation of understanding one another globally and intellectually across cultures, races, and religions.
 I grew up with stellar examples of change and leadership. My grandmother demonstrated love and compassion for their community and neighbors. This made a lasting impression on me and, through the years, I've opened my home to shelter troubled women who needed support getting back on their feet. In doing this, I discovered my talent for motivating and instilling key survival skills in women as they became more empowered and embraced a new vision for their future. This led me to become a Business Coach. My vision expanded and I launched She Exist to help women create their own paths to success.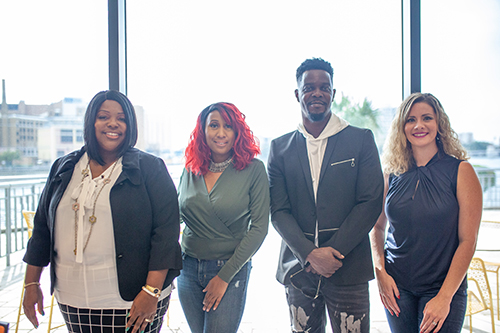 Tell us more about what inspired you to launch She Exist.  
I realized that success wasn't going to jump in my lap and that no one was going to do anything for me without it coming at a huge cost. I decided to create my own lane and stepped into the driver's seat to develop the road map for She Exist. I had no idea where the road would lead, but I knew I had to use my gift to inspire others. I launched She Exist to do exactly that – to create opportunities for other allies and to encourage others to invest in and create their own paths to success.   
Who did you have to lean on during this transformational time?
She Exist has expanded exponentially in the last six months thanks to a lot of hard work and mentors like Wanda Hollis, Lotus Riche, and Terrace Lefridge. We launched the Coaches Café, which has been a huge success during the pandemic as we guide our audience to stay focused on their dreams during such a stressful time of so many unknowns. 
Together, Wanda, Lotus, Terrace, and I have collaborated across platforms. This has been rejuvenating and inspiring because even though we're focused on the community, we continue to inspire and guide one another. Truthfully, the Coaches Café has propelled me to expand my vision for She Exist and push myself even more.
What was one of the scariest parts of launching She Exist?
Putting myself out there was a huge risk. I was invited to join Wanda Hollis on her talk show, I Am Enough, and I knew she planned to ask me about She Exist. I was terrified of public speaking and the thought of sharing my story gave me butterflies, but Wanda inspired me to keep moving forward. I embraced her motto, "I am enough," and that completely changed my outlook.
Being on the show made me realize that success is worth the wait, but the wait must be good. Success has a lot to do with hard work and fulfilling your gifts as you experience a lot of uncomfortable personal growth. You must go through these growing pains to achieve your vision and fully step into your true self.  
Can you tell us more about the mission of She Exist?
The She Exist mission is to empower, ignite, celebrate, and inspire women from all nationalities, ethnicities, religions, and races. She Exist works to encourage women not to live solely in the matters and efforts of our own lives but for the overall welfare of women around the world. Today, that mission extends from Ghana and Kenya to Belgium, Germany, and the United Kingdom.
Over the last six months, I've seen that mission impact women around the world as we build confidence and success, help other businesses succeed, and bring members of the community together such as Faithworks and Rahma Empowerment to build successful relationships. She Exist takes its mission a step further by empowering women to believe in themselves and take the next steps to create their path to success.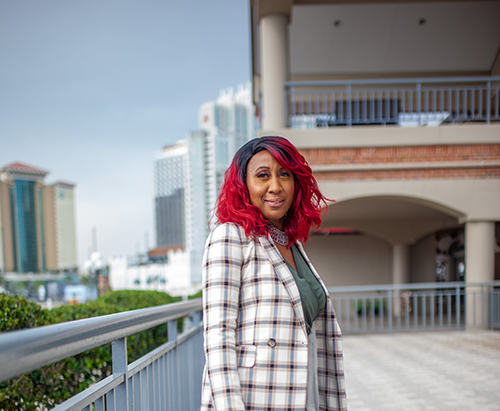 How is She Exist making an impact? Tell us more about your projects.
I bumped into renowned poet and author Yemaja Jubilee who saw so much in me that I forgot was there. She introduced me to Martha High, the Goddess of Soul who toured with the legendary James Brown for 32 years. Suddenly, I went from a woman with a vision to a woman surrounded by all these heavy hitters who shared my vision.
I then met Fullet Clark, the head of MTM Modeling Magazine, and we launched a partnership with a huge announcement coming in October 2020. It wasn't long before my path crossed with the "Outfitter of the Stars," fashion designer Mr. Carlyle Williams, and his wife, Dr. Kiki Michelle Singletary-Williams.   
As my network expanded and She Exist took on new projects with these iconic individuals, I was invited to write for Sheen Magazine, an ongoing project that has allowed me to showcase talent like Yemaja ,Ms.High , and Mr. Carlyle as well as numerous others in exclusive interviews. 
I am currently working on a new book called Authorities VS Position During The Pandemic which features international women. I am inspired and thank you Ms.Vo.   
She Exist is the vision built on manifestation! Stay tuned, big things are coming!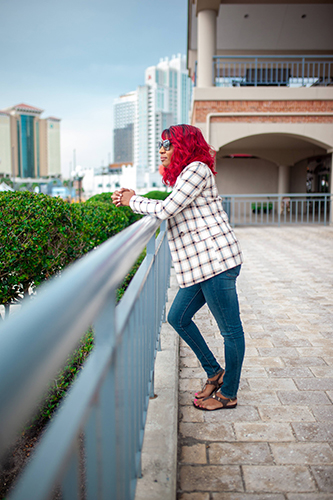 How can potential clients or people interested in collaborating with you and She Exist reach you?  
Email:  janelle@sheexist.org
Website: www.sheexist.org
Facebook: Jenelle Harris