Since 2014 the racial diversity gap has improved in children's books. Kids are finally starting to see themselves in the books that they read. This growing trend has also crept into the apparel industry. Denise Butler of Cocoa Cuties is empowering youth and families while letting them know that their representation matters. It's not a trend, it's a lifestyle and Denise is saturating our mindsets with this positive notion.
Her efforts are necessary during our unprecedented times and present a positive outlook on our culture & community. Denise is making her own lane for children everywhere to enjoy. Our culturally crafted products are a delight and fortunately for us, she gave us some insight into her impactful vision:
What do you want your customers to know about you?  
I'm a self-proclaimed "Extra" Auntie who's the owner and the artist/creator behind the children's lifestyle brand of Cocoa Cutie. I created Cocoa Cutie because I wanted to celebrate our diversity and uniqueness.
What was the inspiration behind your brand? 
I was inspired to create Cocoa Cutie because of my family and it all started with a birthday present.  My youngest niece wanted a tutu for her 4th birthday and me being the "Extra" Auntie that I am wanted to buy a whole outfit with a little black ballerina.  At the time I couldn't find one so I created her whole outfit; including hand painting the ballerina. I then realized others were probably looking for the same and went on the journey to start this business in 2013.
What would you say is your most popular item?  
Cocoa Cutie has an array of products from apparel to home décor.  I can't say it's one product, but more like one design that is the most popular. My most popular design is my Cocoa Cuties. This design is all my Original Cocoa Cutie Afro Puffs Girls and features all the skin tones in my brand and celebrates each beautiful skin tone. So, whether it's on a tee, dress, blanket, or backpack, this design is definitely the Cocoa Cutie favorite.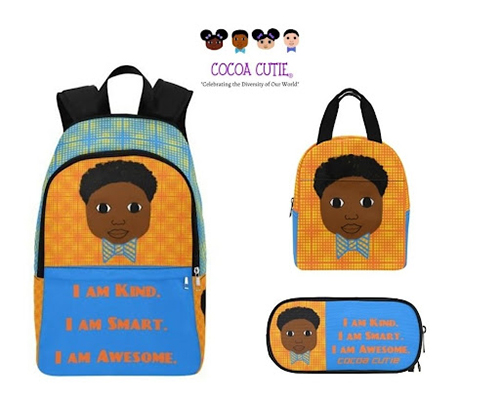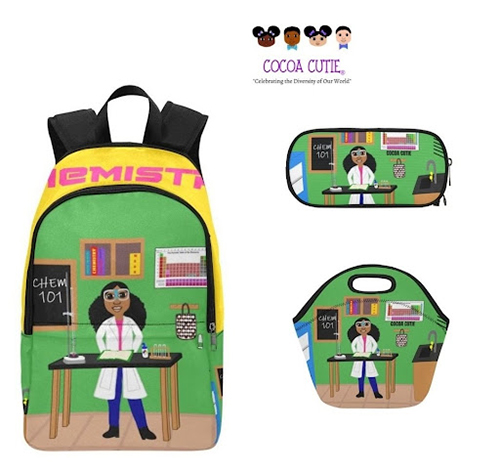 How important do you feel representation is for kid's back to school gear (book bags,  etc)? 
Words have power and visuals are POWERFUL. It's important for kids to have representation in the products that they use such as backpacks because it builds self-esteem.  It helps kids to love who they are by seeing images with their skin tone and hair texture.  Unfortunately, in the black community we sometimes pigeon-hole ourselves and think that only black people should be only this or only do that but we are a diverse people not only by skin tone but also by our interests, hobbies, and imagination. So, it also is important to me for kids to see themselves doing the things they are interested in, aspire to be, and even imagine, which is why I create so many diverse characters.  It's about celebrating the whole child.
Where can our readers connect with you?
IG: @cocoacuties
FB: @cocoacuties
TikTok: @cocoacuties
Pinterest: @iamacocoacutie
Website: www.cocoacutie.com
LinkedIn: https://www.linkedin.com/in/denise-butler-cocoa-cutie/
I also have shops on Etsy and Amazon.
Denise Butler is a trailblazer who is opening doors for youth to dream, hope and aspire for greatness. Her vision is impacting our families in a positive way as we continue to persevere past any present day challenges. Connect with the Cocoa Cutie brand today to celebrate your diversity and uniqueness. 
Writer, C. Scott, is a mompreneur, social worker, educator and lover of all things literary related.  Follow her online as @curls_coils.  
All images provided by Cocoa Cutie