Earlier this year comedian, Atsuko Okatsuka released her debut album and it's still the main topic of the comedy world now! We caught up with the stand-up comedian, writer, and actress to discuss how she's able to juggle all her life's role and her latest venture as host of her very own game show, Let's Go Atsuko! 
Tell us about your comedy album, "But I Control Me."
But I Control Me is my debut album. It's sort of formed with an idea of the world being chaos but you can control yourself (laughs). It's a positive message. 
How do you juggle being a stand-up comedian, writer, and actress and remain sane?
Remain sane? That's an interesting question, I like that you assume that I am sane (laughs). Well, they all kind of morph into each other creatively. With comedy, I write. Even when I'm performing comedy, there's acting involved. They flow together well, this sort of holy trinity.
Can you tell us about your game show, Let's Go Atsuko?
Let's go Atsuko is a play on words. We questioned what rhymes with Atsuko? With my name, I've had a hard time throughout my life here with people being able to pronounce it correctly. If you say Let's Go Atsuko, it's hard to mispronounce it. It's a modern take on a Japanese game show that deals with current events so we can talk about what's going on today but in a different manner through comedy and game. The purpose of it is so that we can digest what's going on today better. I grew up watching Japanese game shows as a kid in Japan. My parents actually met on a Japanese dating game show. It's sort of an homage to that, that I host one.
What can we expect to see from you in the future?
With the game show, we're currently trying to ticket to screen. Let's Go Atsuko is a podcast and a live show monthly in Los Angeles, we've sort of toured it as well. I like to do things in three so the next thing to do is take it to screen so we can have an even wider audience. You can look out for more tours for Let's Go Atsuko, my comedy album, and more!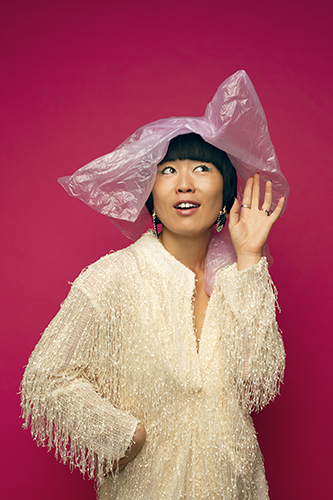 For more on Atsuko Okatsuka, follow her on Facebook, Instagram, & Twitter.