Just last month, music artist and actress, Condola, popular known as Dola had her music video for her single "Blue" premiered on Vogue! If that isn't exciting enough, Dola took advantage of the moment by donating proceeds from the to the Food Bank for New York City indefinitely amidst our current pandemic. In our exclusive interview with the star, she dished about her debut EP, "Space Daughter," the inspiration behind the music video "Blue," and much more!
Tell us about the inspiration behind your music video, "Blue."
Well, they're all connected. The idea is that it is a visual series. "Blue" is a chapter of this series. As it operates at the beginning of each video, you see a lead manifestation that it's based on. By a certain action, she manifested into another story. "Blue" lyrically is a song about longing to be in the presence of a loved one. Basically, it was about this dream that she manifests, and this is the "Blue" world that she manifests into. The visual represents this dream world that she manifests into.
What is your favorite song from your EP, "Space Daughter"?
I don't a pick a favorite and I also don't say how many songs are on the EP either. I can't really pick a favorite. It's fun to not know! The songs on the EP kind of feel like my creative children so I strive to not pick a favorite. They are each my favorite for different reasons.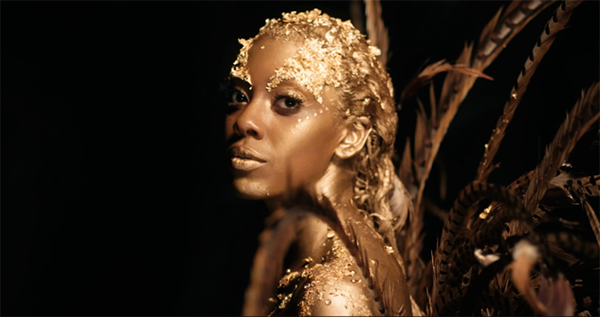 Proceeds from your video and song "Give Up the Gold" benefited the organization, Hearts of Gold in celebration of Mother's Day. Why was this so important for you to do?
This is always the time. Proceeds went to a food bank and next time we're going to another organization. This was always the time to release "Space Daughter," we didn't just decide to release this because of the pandemic, this was always the time we were going to. At first, the thought was to postpone everything. I sat on it for a while and I just personally felt like as an artist, I have this project that I have created with every piece of light that I have. It's a very shadowy moment right now and as an artist, that just has something finished, I wanted to offer it now. I'm here now, we're here now. I don't mean that in a morbid way but it's true. Today is today, tomorrow is tomorrow. I just didn't see the point in waiting for it to be "a better time." This was something that I wanted to offer. After I decided not to wait, then came the idea to help others during this horrible pandemic. We can't physically help but I thought that I should take this project and offer the community something. I wanted to link the project to organizations that were helping the community financially so that the project works on both ends. I wanted to take it a step further from just releasing my music. I know that I'm in a space where I can offer something. By listening, you are helping this organization. That was my intention, to find a way for the different chapters of this piece end up being something that works in the community on its own. It just works hand in hand!
What's next for Condola?
I don't know! Listen, you'll have to check back in. As an artist, I like to surprise people. I like to be surprised so I don't often really say what's next. When it's something to know about, you'll know about it. I like that with "Space Daughter" it was a secret for a year and a half. I like that nobody knew and didn't have time to build expectations. All of sudden, I'll just reappear (laughs).
For more on Condola, follow her on Instagram!
Featured Image Tiffany Nicholson