Hailing from Rhode Island, this Ghanaian beauty is someone you need to keep on your radar. I was first introduced to Mena Adubea earlier this year and I instantly fell in love with her realness and sun-spirited personality. If that wasn't enough, I live for her beauty videos and I know you would too. In my exclusive interview with the content creator, Adubea opened up to us about her online world, her love for what she does, and much more!
What inspired you to get into the Instagram world?
It all began on Instagram about 7 or so years ago. I started with a personal page and once I realized that I could make an income on the platform, through sponsorships, I decided to clean the page up and take it more seriously. Essentially, I was a fan of makeup and the artistry. I was a freelancer for a few years and then made the switch to content creation.
As a beauty influencer, how do you find inspiration in order to keep your content original?
I truly love what I do! Consequently, finding the motivation and drive to continue creating, even when I'm tired, isn't as hard as some may think. I'm a natural-born teacher and with this comes an innate drive to continue creating relatable and education content for my audience!
What are your beauty must-haves?
I've got to have my skincare! I've loved the feedback from my audience that they don't often see Beauty Influencers who talk much about skincare. I love taking care of my skin and have no plans to stop! It's very important and a MUST for me. Namely, my steamer, toner, serums, eye cream, moisturizer and oils – got to have them! This way, makeup is the icing on the cake, but not the cake itself!
What is something most of your subscribers don't know about you?
None of my subscribers know that I was an extra on LA Amistad back with a portion of the movie was being filmed in Newport, RI. Additionally, I hold a master's degree in Higher Education, which was my career before Influencer Marketing began to take off for me. One last thing is that I am Ghanaian, who was born in Rhode Island. I speak two languages and I sing! Anyone who follows my IG stories knows this. Those who don't are missing out on a whole lot!
What do you enjoy doing outside of creating content?
Singing – I sing all day, every day. It's the songs of my heart that guide me throughout each of my days. Singing to Jesus is the anchor to my soul. In addition, I enjoy spending time with my husband and 4-year-old son!
What do you hope to accomplish in the years to come?
In the years to come, I hope to establish a wider reach, obtain a national beauty campaign with a top beauty brand, become completely debt free, to mention a few!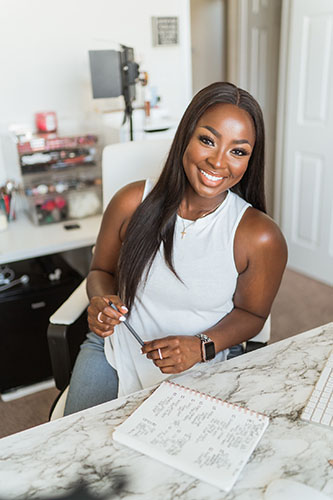 For more on Mena Adubea, follow her on Instagram & YouTube.
All images by Lois Campos Fotography