Besides binge watching shows on Netflix and Hulu, I have found a fun way to escape the house and travel to different islands through cooking! What exactly do I mean? Well these new seasonings from Dr. Flava Spices gives you fresh tastes of the carribean and more when cooking! They say the way to a woman's heart is through good food…okay so I made that part up…but at least that works for me.
So while at home I got creative with two special seasonings from Dr. Flava's seasoning line, "Garlic Ginger Lime" and " Original Everything."
What I love is that these seasonings are power packed with flavor which means it doesn't take much to take your dish from ordinary to flavor-full, let's also add that they are gluten free.
Dr. Tremaine Jones Afetorgbor, Pharm.D.(a.k.a.) Dr. Flava is a nationally sought after Wellness Foodie Pharmacist, a wife, mother of two,  creator and CEO of the healthy seasoning line, DR Flava Spices,! She is also an author, speaker, and proactive wellness advocate expert. Her mission is to help women and men transform the way they think and eat to create a healthier life before the prescription! She is a graduate from the esteemed HBCU, Xavier University of Louisiana, where she earned her Doctor of Pharmacy degree in 2004. Having a strong relationship with God, a supportive family, and a commitment to serving mankind. Dr.Flava is excited to teach, encourage, and share her expertise that will make an impact on the world.
During a recent interview with Dr. Flava shared what made her leave the workforce and start her career as a full time entrepreneur.
"I actively practiced 15 years as a licensed Pharmacist both in Retail Pharmacy and Outpatient pharmacy. Even though I went to school for six years to earn my Pharm.D., entrepreneurship was always in my blood and I pursued various entrepreneurial endeavors while working as a Pharmacist. Once I had my first child in 2015, I decreased my hours and started a catering business. My seasoning line DR Flava Spices was launched in 2017. I considered leaving Pharmacy for some time due to the stress, frustration, and the effects on my health. I was released from the company in May 2019; the transition was the best and I realize it more than ever now. I believe God assisted with the process and I have depended on him more than ever as I use my talents, gifts, and abilities to help his people!"    
"During this time of transition, I rebranded myself to DR Flava, the Wellness Foodie Pharmacist, where I coupled my love for cooking and Pharmacist expertise. I am now walking in my God-given purpose and passion for making an impact on the world to help more people live a proactive vs. reactive life, which is the key to living a healthier life before the prescription and while on the prescription."
What are some of the healthy seasonings you offer?
DR Flava Spices is my healthy seasoning line that is All-Natural. Lower sodium-containing ( 90 to 120mg of sodium per serving, NO MSG, Sugar, and gluten-free, unlike many store brands available now. It was vital for me to formulate a healthy seasoning line since my experience as a Pharmacist seeing many patients with preventable diseases. I realized that health truly starts at the table, and my answer to that problem was to provide an alternative that would assist with easy and flavorful cooking. DR Flava Spices are unique premium blends formulated with 8 to 12 herbs and spices and sea salt; you simply have to shake on your favorite foods to create amazing dishes. I currently have eight blends Original (all-purpose), Creole Delight (seafood), Garlic Ginger Lime (Chicken & Seafood), Lime Herb (Veggies), Creole Lemon Pepper (Chicken & Potatoes), Island Twist (Chicken & Veggies), Garlic NOLA Twist (Veggies, Steak & Seafood), Cajun (Seafood, Beans & Soups) They are available online.
What herbs do you feel are a must-have in the kitchen for all meals?
DR Flava Spices; All blends are formulated with sea salt. Turmeric, which is anti-inflammatory, is in the Creole Lemon Pepper vs. Yellow Dye, because yellow dye is toxic. Ginger is in Garlic Ginger Lime spice also anti-inflammatory, Garlic is in most of our blends; Original Everything, Creole, Cajun. Lastly, I have 2 Alkaline Blends Island Twist and Lime Herb.
Share about the bad health conditions related to the daily intake of High Fructose Corn Syrup?
I discuss this topic in detail in my upcoming book, The Pharmacist Guide: HOW TO HEALTH YOURSELF.This form of sugar is found in many sugar-sweetened beverages, and we are drinking more of this, which is leading to an increase in obesity, diabetes, and heart disease. High Fructose corn syrup can be very addictive and very bad for your health, the more you drink this, the more you will crave it. Sugar can lead to muscle aches and pain, headaches, acne, cancer, and acid reflux and more. I also discuss in my book the importance of reading labels and ingredients, and high fructose corn syrup is one to avoid.
Are there any foods that you wouldn't eat as a child that you eat now?
YES, I never would eat avocado and kale; but I now love both the taste and health benefits. I previously thought avocado appeared yucky and had no desire to try, and kale was too tough and did not like the bitterness. I eat both regularly and show others how to enjoy them more using my healthy seasoning line DR Flava Spices.
Why do you think obesity is becoming such a problem in the United States and throughout the world?
It is our poor eating habits; and the growing popularity of fast-food restaurants. I believe now during this pandemic, people can take more time to cook at home since you can control how much FAT, SUGAR, and SALT is added. Also, we are consuming more processed food, sugar-sweetened drinks, and living a more sedentary life. Most of our activities are online, automated, and  groceries can be delivered to our homes.
Do you feel herbs serve as healing powers for the human body?
Absolutely in their pure form, they are most effective. I am a fan of turmeric & ginger (anti-inflammatory properties), oil of oregano (anti-infective properties), lavender & chamomile (relaxing properties), and Garlic helps with lowering blood pressure and cholesterol.
How can our readers keep up with you on Social Media?
I  am on all social media platforms and you can follow me on Instagram, Facebook, Twitter, YouTube, and LinkedIn.
I made these amazing hamburgers that were so bomb I decided to go on a cooking spree!  
Here is a recipe from me to create an awesome quick meal with Dr. Flava Seasoning!
 "Hamburger Spring Rolls"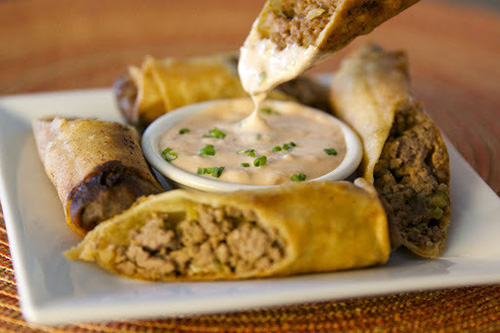 Ingredients:
 8oz lean ground beef
1 tsp Olive Oil
1 cup of diced red onions
¼ cup of Minced Garlic
1 tsp Dr. Flava Garlic Ginger Lime
1 tsp Dr. Flava Original Everything
1 cup of shredded cheese (such as Sargento)
1 tbsp of Mustard
1 tsp Worcestershire Sauce
Spring Roll Wrappers
1 egg 
Preparation:
In a skillet, heat oil over medium heat; cook red onions and garlic, stirring occasionally until softened for about 5 minutes.
Add beef, Dr Flava seasonings, and cook while breaking it up with the spoon until it is browned for about 4 minutes. Drain it by pressing out all of the liquid. Let it cool for about 15 minutes.
In a large bowl add the mixture of beef, onions and garlic. Toss in the shredded cheese, mustard, Worcestershire sauce and mix well together until combined perfectly.
Layer 2 spring roll wrappers on a work surface with 1 corner facing up, place a tbsp of the beef mixture on the bottom third of the wrapper. Fold bottom corner of wrapper over filling. Fold in sides and roll up until a 2 inch triangle of wrapper remains at the top. Mix egg with 2 tsp of water; lightly brush over the triangle and loosely roll up to seal. Repeat with remaining filling and wrappers.
Place rolls, seam side down on parchment paper lined baking sheet. Bake in the oven at 375F for 25 minutes turning once, until lightly golden. 
Enjoy with Yum Yum Sauce for dipping!
Featured Image courtesy of Dr. Flava