Cory Van Lew paints blue people. In his words, "This all started when I was looking for a way to put good intentions into my artwork." Sometimes, good intentions spring from inside us, and sometimes they are given. Cory Van Lew's good intentions were formed in the shape of his brother, Andre Van Lew. Cory was immediately tied to Andre. Even at Cory's young age, he felt protective over Andre throughout childhood, before their parents split and their connection was lost for nearly a decade.
In the passage of those eight years, 16-year-old Cory grew into mid-twenties Cory who had begun his art career. His paintings coincided with the Black Lives Matter movement; Cory was already painting regularly but the Instagram black squares for Blackout Tuesday inspired him to give more of a face to the events he witnessed transpiring in real time. While millions posted black squares, Cory took a chance and posted his signature work of blue faces juxtaposed with a colourway of vibrant colors, primarily pink. Shortly after, a tweet showcasing several of Cory's paintings went viral on Twitter, with millions of impressions and $30k in sales on his art website occurring overnight. In Cory's words, painting is about "tapping into what makes me feel good, and what makes me feel happy. The colourway is filled with happiness, the pink makes you feel good." In a painful time of necessary upheaval, Cory's eye-catching paintings spoke to millions of people and uplifted in the midst of a time of long-felt deep grief and anger.
Re-enter Cory's brother, Andre: Before Cory had gone viral on twitter, the two brothers reconnected, and while Andre navigated the possibilities for his own future, Cory was reminded of the purpose he gained in helping Andre find his path. Cory fully committed to painting when he realized that he could paint his life experience into the canvas, and maybe help others like he had Andre. He remembers saying to Andre, "By the time I'm blowing up, you're gonna be graduating." With Andre graduating from college this year in business marketing, Cory reminisced how his relationship with his brother is proof of light at the end of the tunnel and the whole reason Cory has been able to do any of this.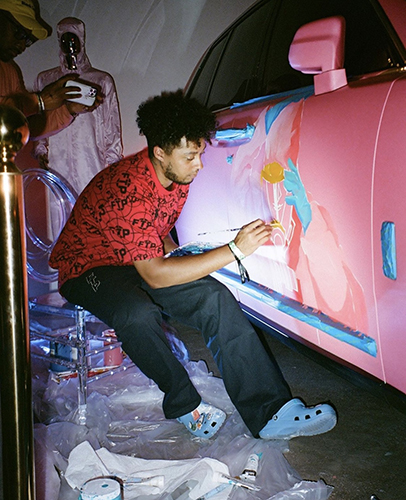 Cory's viral paintings represented not only the strength of a bond between brothers, but also the beginning of the rest of Cory's life. Cory's twitter leveled him into the art world and allowed him to begin the conversations that brought him to the NFT art space. Cory was looking to house his collection, Blue Faces, when he was acquainted with a friend who ended up buying his first five pieces to establish Cory in the NFT space. After a period of quiet where Cory experienced some doubts, the world was also quieted by COVID-19 when life as we knew it came to a halt.Yet again watching world events transpire around him, Cory knew he could paint people as he saw and related to them, and his masked paintings were born.
In Cory's words, NFTs "put kerosene to my fire", bringing Cory to further success in collaborating with the likes of Mike Tyson. Cory shared, "I have seen so many lives changed just off of that drop." As Cory continued to put his vision on canvas, more people caught on and ran with it, supporting him along the way.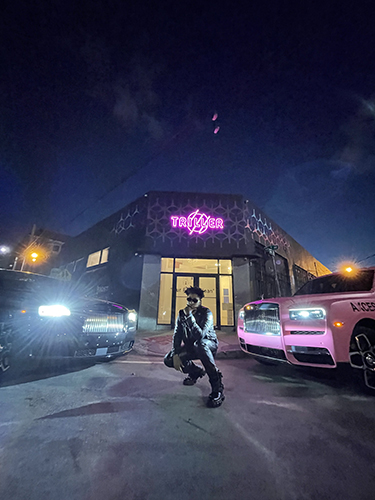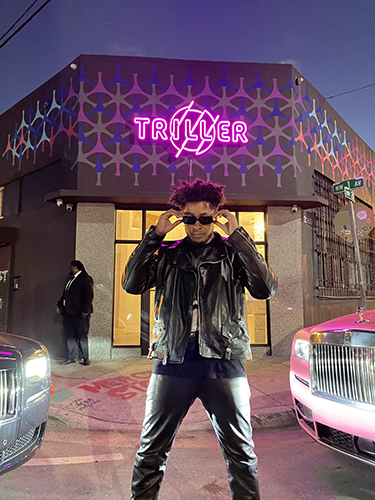 Fast forward, and Cory was offered to house a collection at Sotheby's with five of the other leading artists in the NFT space. Shortly after that, he sold a painting for $200k. With Art Basel 2021 beginning, Cory is living the dream, which in his words, "still hasn't set in for me." As he reflects on his recent success, Cory shares, "Moments like these are paving the way for people after me, experiencing life and putting it on a canvas and showing it to the world. Documenting characters in my likeness and showing people you can go up and make it in this life." Cory Van Lew paints the world as he sees it, and the world is recognizing him right back.