When we were first introduced to Tennessee native, Cristina Ráe on ABC's hit series, America's Got Talent– we had no idea how much of an impact she would make in the world of entertainment. After much success on the show, Ráe has just recently locked down an exciting new role. Starring in the upcoming production of ClubHouse's DreamGirls, she will portray the infamous role of Effie White. Ahead of the historic new project, we wanted to catch up with the music sensation to discuss her experience on AGT, portraying Effie White, and much more!
Tell us about the amazing story of you taking home the 1st place prize at the Apollo Theater's amateur night.
That was such a pleasant experience. I had gone to Apollo years but this time, I was there alone. I didn't have family or a lot of friends; I was sort of sad in performing. From singing "In the Air Tonight," and I guess from the passion from feeling the song, I guess it just hit everyone in the audience. They have an applause meter, but of course I was nervous. When they did the meter, they went down the line and I was last. I waited and I couldn't see the meter. I just know that it's going up behind me. I hit 99, which the meter is off of sound. I just started shaking all over again. I couldn't even smile or anything, I was just nervous that I was at amateur night and I had won first place, the first time and second time. It was just exciting and more than I could ask for. Especially being on the legendary stage of the Apollo Theater on amateur night.
How was your experience on America's Got Talent?
So, America's Got Talent is a huge platform. Of course, with the pandemic, no one knew how it was going to go or even if it would happen at all. From Apollo, they saw my performance of "In the Air Tonight" and from there, they wanted me to come audition in front of Simon and the judges. I did and Heidi Klum hit the golden buzzer for me. They were great with kids and the network was just so family friendly. Waiting from it to actually air from March to June was the biggest secret I ever had to keep in my life. And then to be in California from July to September, where we were quarantined in a beautiful hotel – it was all great. We couldn't leave because everything was shut down and we had to get multiple tests a week; three COVID tests a week. They treated us amazing on AGT, both backstage and on stage. They were very considerate of the fact that I am a mom. They made my baby apart of my story and they allowed me to tell my story in its truthfulness without making anything that wasn't true. I love how they told my story with integrity and with all truthfulness without fillers. Being on AGT was an amazing experience and I believe I possibly opened my son (who was three at the time) to his dreams. He understands that he can be on stage as well. He asks me all the time when he will be on stage and when is his time. I tell him all the time it's his time, whenever he wants it to be. It was amazing see him look up to his mother and me be a superhero to my own son.
Can you share with us your role in the upcoming Club House production of DreamGirls?
I was cast for America's favorite cast of DreamGirls in the upcoming Club House production. The cast is amazing. I'm telling you, there has been many times in the years that I have been singing that being 31 right now and having the parallel life of Effie White minus being a part of a huge group. It has been very emotional to get through it but I understand it's a healing process through everything that I have overcome. I'm just happy and grateful that they trust me to be Effie White. They trust my process as much as I'm trusting my process. It does add to the whole production of DreamGirls – which is every emotional, up and down. My experience has been very therapeutic with singing and even if I just need to release energy when I'm not there. They let me express how I feel. The music director for the show is incredible. DreamGirls is going to be amazing, especially with it being done on a new platform. It hasn't been done so I'm excited to make history in a pandemic-driven life right now. It's so dope.
What do you hope to accomplish in the year 2021?
In the year 2021, I am hoping to accomplish ultimate stability with peace. I'm hoping to get my singles and my EP albums out soon. I'm also hoping to be able to change other people's lives right now because I know a lot of people are feeling lack. But I'm willing to get all of my feelings out on paper and to get into music that I hope is able to bring more peace to a lot of people including myself. That is my 2021. Ultimate peace, stability, love, just goal driven. I am excited about it.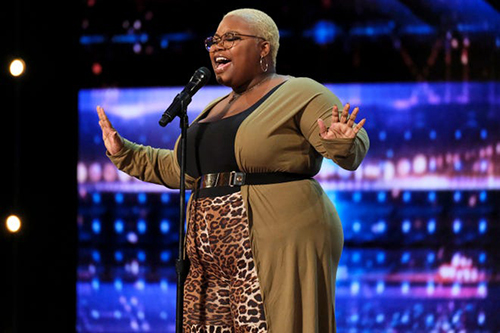 For more on Cristina Ráe, follow her on Facebook and Instagram.
All images by Chris Haston/NBC