DC's own, Lois Cooper, is passing down her family's words of wisdom in her book, "Momma Said".  Her book features the foundational words of strength that were taught from her now, 102, year old mother, Catherine Cooper.  Lois decided to publish the fundamental words of wisdom to share it with others.  "Momma Said" inspires and motivates the sharing of one's heritage and familial ties with love.  Her mother's guidance was key in her upbringing and now her teaching are available for everyone.
"Momma Said" also serves as a guided journal with available workspace for reflection.  The readers can enjoy the words of wisdom while also reflecting it back to their own experience and life.  Lois is also a local creative in the DC community.  She is striving to make equal opportunities in publishing for women everywhere.  Lois has a strong passion for history and grassroots organizing.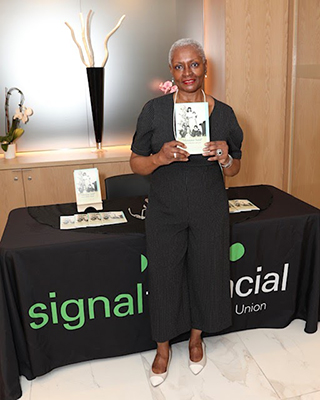 In February 2020, she was a part of the 2nd Annual Black Authors Breakfast Party which was highlighted by CSPAN for their CSPAN Book Talk.  She was also published in the New York Times for her story: Tiny Love Story – Suddenly Happy.  To connect with Lois Cooper please follow her on Facebook: @mommasaid.  To purchase her book title, please click here.  
Writer, C. Scott, is a Momprenuer, Author, Community Advocate and lover of all things Literature Related.  Follow C. Scott on Instagram @curls_coils.  
Photos by Phillip Ford InfoKuz