Sheen Magazine takes a fabulous ride on the fashion side.  Read do discover celebrity designer and stylist, Emmanuel Whitmore's rise to stardom and his industry tips to success.
 Who is Emmanuel Whitmore?
I am a New York based celebrity couturier designer and image consultant.  Additionally, Emmanuel Whitmore is an established brand that specializes in bridal, evening, prom, and ready wear.
What is most important to you?
The most important element of my life is God. With God, I can concentrate on building expertise in communities for future generations. Considering all that is happening in the nation and the world, creating generational wealth, and bringing awareness to my community is essential to securing a better tomorrow.
From your expertise, provide our readers a snapshot of fashion industry.
The industry is typically divided into four areas of concentration.  1) The production of fashion goods by designers, contractors, manufacturers and many others, 2) Various forms of advertising and promotion, 3) Merchandising sales and the simple production of raw materials, 4) Fiber and Textiles make up most of the industry but also include fur and leather. As fashion designers, we are artists who express ourselves through each piece or collection we put out into the universe. The industry is where you can be your own creator or trendsetter. We are privileged to display our own interpretation of fashion.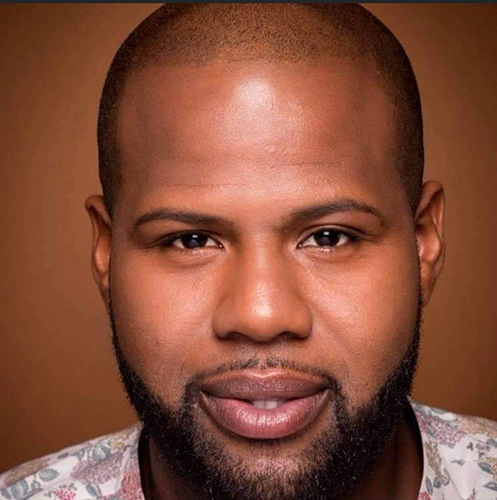 Share some of your accomplishments as a designer?
One for my proudest accomplishments is being able to create or collaborate looks for some of the industry's leading celebrities such as Yandi Smith, Cardi B, Juju, Queen of the South Trina, Nicki Minaj and many more. I also have been blessed with the honor and privilege to be one of the designers at Versailles Boutique, New York's best custom design company, based in Brooklyn. This experience has afforded me tremendous opportunity for growth as a designer. Additionally, through my work here, I have been promoted to Head designer of the Fort Green Boutique location.

How does it feel to be a high-end designer?
This is good question. I have never attempted to translate my thankfulness into words. It feels a bit euphoric. I feel highly blessed and fortunate to be a "working designer" who's extremely privileged to style some of the industry's most eccentric personalities with expensive and equally exclusive high luxury fabrics and materials. You will never be able to imagine the amount of joy I feel when creating something unforgettable that glides down a red carpet or struts through a movie premiere.
Give us some more details about your experiences working with celebrities Yandi and Cardi B. 
My experiences working with celebrities are nothing short of amazing!  There are so many stories I could share with you regarding expectations, excitement, surprises, special requests, outrageous demands and last-minute faux pas!  But, that would go against client confidentiality best practices. However, I will share a little about my experience working with two of my favorite clients, Love & Hip Hop stars, Yandy Smith-Harris and Mega Recording Artist  Cardi B. I love working with both. Additionally, I have a special fondness for Yandy because she is the light that lit the wick of my success propelling my career to a household name with other celebrities. The very first piece I designed for Yandy was for her beautiful baby shower. Yandy surprisingly created a post with a split screen, showing me in the studio developing the piece and her looking flawless in the finished dress. The post went viral with an immediate 2000 likes and lead to more opportunities with industry clientele. For Cardi B, we created her first Love & Hip Hop reunion gold and crystal two-piece. She was stunning! Ironically, Cardi B has been a VIP client of Versailles long before she became a world super star. Love her to pieces!
Tell us a time in your life where you were challenged in your quest to design for a celebrity. What did you do to overcome in this challenge?
Creating unique experiences and designs with each new and returning client is challenging. At times, the pressure associated with testing one's ability to be creative can be demanding. One of the most challenging experiences that comes to mind, centered around an encounter with Yandi Smith-Harris'  bridesmaids and wedding gowns during the high point of prom season! If you were fortunate enough to see the episode, you'll know her wedding took place in like 90 days. We created a second look along with, approximately 10 to 12 bridesmaids' gowns. Prom is a custom designer's busiest season. We were already blessed to have a large amount of custom orders being filled. As if that was not enough, we were contacted by VH1 to create a gown within 60 days. Baby we were working around the clock to fulfill both our regular VIP and special orders. We also had beaded feather gowns! Despite this presenting a tremendous challenge, we got it done. The completed gowns were the most beautiful live screen wedding designs ever!  I may be a tad bit biased.

How has the pandemic impacted the fashion industry from your perspective?
 The 2020 pandemic has impacted the fashion industry in numerous ways; financially being one of the main areas.  For the past several months, many designers, like myself, have faced tremendous challenges gaining access to materials that we have previously used which are exported from a country such as China. As a result, this has required us  to  resource other Asian providers. There has also been a severe delay in receiving products via international shipping. Some small businesses along with corporations, that were deemed nonessential, had to close their businesses for several months. The extended store closures magnified the financial hardship, and ultimately, many businesses were forced to lay off employees and, in some cases, terminate their business completely. 
On a brighter note, many designers were gifted enough to pivot their designs, expand their marketability and  fulfill a new need for the community. Personally, I created hospital gowns for New York City hospitals to help with the urgent need for additional PPE. Many other designers created beautiful masks to donate to hospitals and individuals in need.

What sense of purpose have you drawn from your culture and community? 
Being of Jamaican decent, we are known for our colorful culture and other traditions. Jamaican language is a wonderful manifestation of the melting pot of cultures that make up the island's populace. Secondly, Jamaican cuisine focuses on huge flavors, with plenty of Caribbean spices. I would like to think that my innate sense of being part of a cultural melting pot has heavily influenced my ability to communicate, build and design for people from all parts of the world. Living in the most diverse and spectacular borough of Brooklyn also contributes to the bright sparkly colors which predominantly encompasses my designs. My sense of purpose drawn from my culture and community is to enlighten others, especially children to both the beauty and simplicity of fashion.
All images by Lisa Brown