When beautiful black people that appreciate classical music come together with a common goal, the Arthur L. Johnson – Honorable Damon Jerome Keith's 19th Annual Classical Roots Celebration is born. In partnership with the Detroit Symphony Orchestra's 100th year, the 2020 Classical Roots was held March 7tn and 8th at Orchestra Hall in downtown Detroit. For a first-timer, the performance felt like witnessing a family reunion. The especially large steering committee of young appreciators taking the lead in continuing the traditions acknowledged pianist Andre Watts and community leader Chacona Baugh with commemorative plaques. But the best part of the evening was certainly the performances.
In a sea of flowing gowns, diamond necklaces and material that glistened in the dark, who's who of Black Detroit came out to celebrate praise leaders in the classical composition. Leading the evening's performances was a colorful rendition of James Weldon Johnson's "Lift Every Voice and Sing", conducted by Alice McAllister Tillman dressed in a golden floor-length gown that elegantly captured her beautiful cascading curls that moved as she swayed her arms leading the vocals and musicians to play. Accompanied by a vibrant the Brazeal Dennard Chorale, the negro national anthem allowed the audience to feel connected to each other.
It was then that Thomas Wilkins entered the stage, commanding respect as tonight's musical conductor, taking the audience on a colorful journey of violins, cellos, flutes, clarinets, and horns. It is in those moments that true appreciation for the classical genre takes hold. All of the 100+ members of one orchestra composed notes together to create this magical sound of glorious exuberance. After two selections, four vocalists then appeared on stage, dressed in all black with as much attitude as talent, soprano Sumayya Ali, mezzo-soprano Charlotte Small-Chestnut, tenor Vincent Davis and baritone Markel Reed were the evenings' Voices. The world premiere of "Black Bottom" has began. Commissioned as a composition by Nkeiru Okoye, a black female composer known for her strong historical renditions, "Black Bottom" paid homage to one of Detroit's oldest neighborhoods. During a time in the 50's Black Bottom flourished with black entrepreneurship from drug and record stores, to night clubs and churches.
Okoye was said to have spent one year in Detroit researching and experiencing the stories of Black Bottom and Paradise Valley especially told through historical images on display in the main branch of the Detroit Public Library. "Black Bottom" transports listeners to this place in time through nine musical movements that feature locations like Hastings street and to the inside of a kid's playground on Brush. "Black Bottom" included the vocalists and full orchestra deploying all of the genres that make black people distinctly creative, like jazz, gospel, even shouting.
After a short intermission, pianist Terrence Wilson took the stage. Taking the place of Ande Watts who wasn't able to perform due to severe tendinitis, Wilson led the orchestra in a Ludwig Van Beethoven selection of Piano Concerto No. 5 in E-flat major. Op. 73 "Empire."
The evening ended with an afterglow dessert bar and plans for the 20th anniversary. Classical Roots includes community programs, workshops, and partnerships with local churches, bringing black composers into the homes of Detroit's youth.
Below is a collection of images from Classical Roots!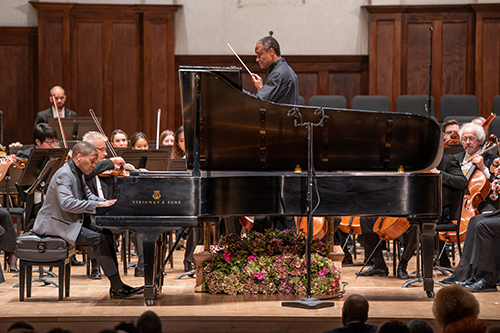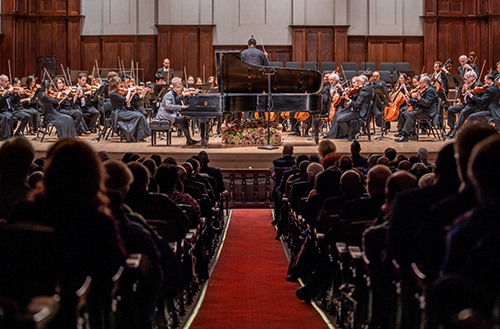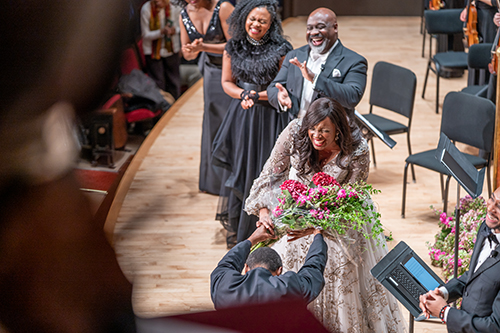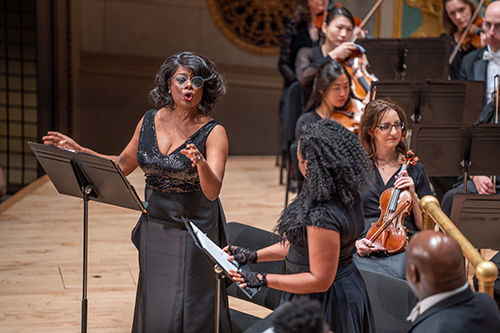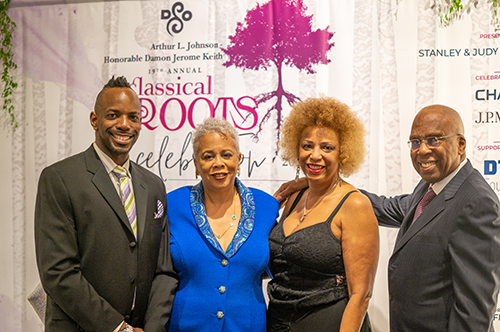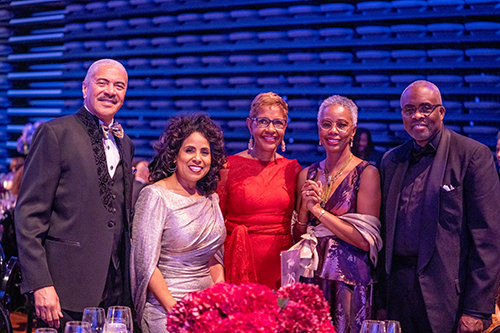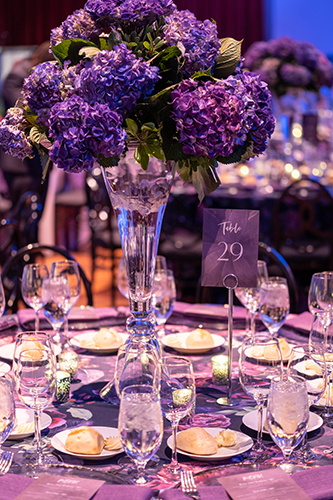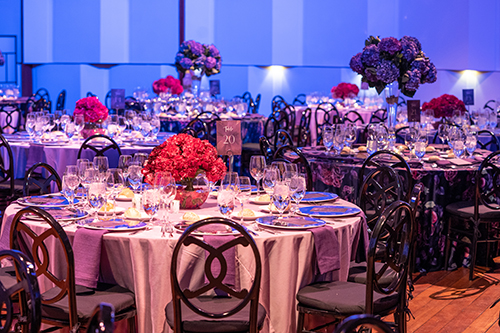 All images Courtesy of Detroit Symphony Orchestra