Big Keeshlinooo, not the little one! She may just be standing 3 feet and 5 ½ inches, but it is nothing small about her talent at all! Entertainer, MyKesha Smith also known as 'Keeshlinooo', daughter of supermom, Patricia Smith, never let Keeshlinooo being a 'little person', her having brittle bones nor her bronchitis detour her from following her dreams! In fact, after seeing that her daughter was passionate about the arts, she reassured her early on that whatever she wanted in life, if she worked hard for it that it is achievable. That led to Keeshlinooo cheering, dancing and participating in pageants. One dream and accomplishment that Keeshlinooo holds dear to her heart is having the opportunity to attend and graduate from college. She attended Livingstone College in Salisbury, North Carolina where she was in love with cheerleading, but things were not always easy for her academically. Simultaneously, while pushing through that Keeshlinooo was going viral on popular social media platforms like Dubsmash, Triller and Instagram. Many were sharing her cheerleading and dancing videos back-to-back describing her as a ball of energy, exceptional dancer and a true inspiration. By this time several of her videos had gone viral, but one in particular that many really enjoyed was her duet with former Charlotte's Fox 46's viral dancing weatherman, Nick Kosir. All of the new support and followers were life-changing and appreciated by Keeshlinooo, but the work did not stop there, she has since had a radio show entitled, 'Keeping It Short With Keeshlinooo', released some of her own music as an artist such as 'Own Lane' and 'On Sight' and she has even become the founder of her own brand, 'Keesha Kollection'. If you haven't noticed yet, Keeshlinooo hasn't let any of her obstacles stand in her way, she is a little bit of everywhere, doing a lot of everything! In 2019, you may have seen her hit your TV screen as she was casted as a member of Lifetime's Season 8's 'Little Women:L.A.' She now is a dance instructor at the Fusion Force Charlotte Dance Studio. Keeshlinooo has 478K followers on IG and has gotten the opportunity to meet stars such as Mulatto, Lil Yachty, DaBaby and many more, but her main objective is to keep hyping up crowds, putting smiles on faces and inspiring people around the world. She wants people to know it is ok to be 'different' that it makes your light shine that much brighter. Keeshlinooo says she is going to continue to keep defying the odds and turning up and you should too!
You are super multi-talented, but we first saw you on social media as a cheerleader and dancer, what age did you first begin dancing and does either cheerleading or dancing run in your family?
I started out dancing at 3-years-old at Fain School of Dance in Clemson S.C., which is where I'm originally from. I also did competition cheerleading when I was in around the third or fourth grade. As far as these two running in the family, my mom and aunts cheered but it was nothing like what I did. Competition is way more technical than school cheerleading well at least it was, back then when they cheered.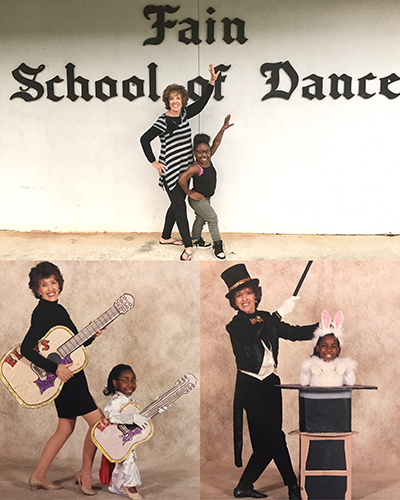 You are such an inspiration to so many people, what are some of the challenges you face as 'a little person' and how have you successfully overcome them?
Growing up I don't think I faced many challenges, because my mom had me doing so many activities to help show me that I could do anything I wanted to do no matter my size which is why I'm so talented. Not only that I didn't allow others to tell me no and when they did I found another way or option. Being a little person isn't easy, but I know what I have to do to get the job done. The only thing I would say that I'm just now able to do is drive a car only because I had to get pedal extenders to put on a car which I also didn't get until recently. Honestly, I didn't really care to drive at first once I realized we had Uber and Lyft. But, then I realized how much money I could save if I had my own car so that immediately changed my mindset. 
You attended Livingstone College in Salisbury, North Carolina, what did you major in and what was your overall college experience like? How would you say college prepared you for your successful career?
College was such an eye opener for me. I learned so much being there. I went in as a Biology major and failed. I was doing so bad I literally cried and had a full breakdown I wanted to quit and go back home. I didn't think I would make it, and this was only my Freshman year. I went into my Sophomore year with the same major but they added Chemistry. Most of us know you can't take Chemistry unless you pass Biology, so I was having to take both sciences. Not only that I was taking two math courses as well. It was so much to the point I was at a 1.2 GPA. I struggled so badly I was put on academic probation which took away my ability to cheer and do any other extra activities. I was going into my second semester as a Sophomore and had to immediately switch my major to Social Work. Soon as I switched everything turned around for me. I began to progress and raised my GPA up to having a 3.0 each semester which raised my entire GPA to a 2.7, which was very good in my eyes coming from a 1.2 GPA. Unfortunately, once I graduated I did nothing with my degree, I never got a job in the social work department nor did anything in that field because I wanted to take a break from school and really figure out what it was I wanted to do. I didn't know if I wanted to go back for a master's degree or just find something else to do so while I was home applying to regular jobs I started making videos dancing and literally from there that's when I was introduced to challenges and realized how much love I was getting from social media not only that I was gaining a lot of followers and eventually got my first gig in ATL. From there I knew I wasn't going back to school and that this would be my life.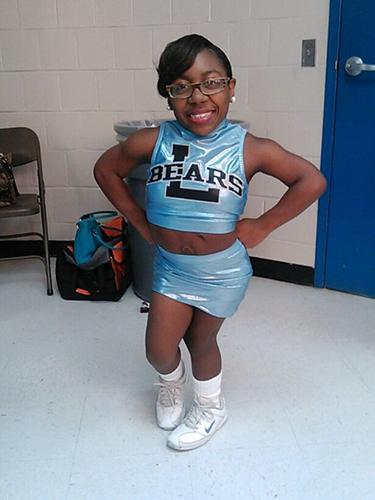 We love the name Keeshlinooo, but we've always wanted to know if It had a special meaning to it, if so what is it?
So yes, it originally came from my friend Yedi Lino back at Livingstone College. He created a group called LINOCARTEL. LINO stands for 'Life Is Never Over'. This group was formed from a variety of different people who all did different things: photography, dance, djing at school, modeling, clothing, party promotions etc., he built the group amongst all his friends there.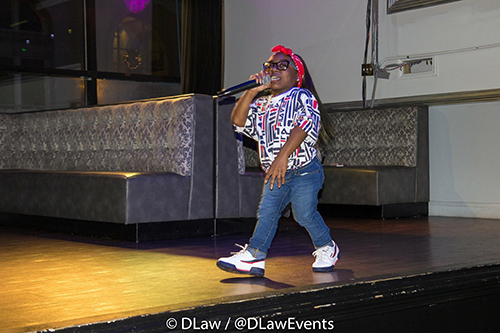 We've seen you participate in a lot of popular dance challenges, but have you ever danced or thought about dancing in genres/styles other than hip-hop?
Funny you ask because I actually grew up dancing in Ballet, Tap, & Jazz. I also did one year of Pointe my last year in middle school before I moved to Charlotte. But once we moved I stopped dancing. I literally didn't learn any hip hop moves until my freshman year of high school. And this wasn't even me taking class. I was just dancing at the games, talent shows, cafeteria etc. I mean for me having rhythm just made it easier for me to move like that. Once I went to college I was making up dances for cheerleading but still never really took a hip hop class. My first time taking an actual hip hop class wasn't until after I had already graduated college and started working at Fuzion Force Dance Complex which was in 2017. So technically hip hop wasn't my first, it just became my favorite once I learned the dances. 
Being that you are a dancer, we would assume you have some sort of love for music, so who are some of your favorite artists right now or if none, what is a song on your playlist that is currently on repeat?
Honestly I love R&B, 90s & 2000s music all together. I wouldn't really say I have a favorite artist when referring to just music but I do have some favorite artist that are also performers or people who put on good shows and that would be Missy Elliot, Chris Brown oh and of course Beyonce'! These three have always captured my eye when it came to performances and shows because they cater to the dancers which is what I love about artist. Hopefully one day I'll get a chance to work with one of them.
How did the opportunity to become casted on 'Little Women L.A.' come about?
Ok, so the middle of 2016 I was going back and forth with a company through Skype who wanted to create a dance show. We went on and on discussing everything for about a year. Unfortunately, things weren't going as planned. Months later (2017), I get a call and they told me that they may have something for me but it wouldn't be until the summer time of the next year (2018). At the time I didn't know it was for Little Women LA, but they knew the producers and the producers were looking for new people to add to the show so they gave them my number. I got a call during one of my dance classes while I was teaching and asked if I would like to be apart of a show, not even telling me what show it was just yet. Then about 20 minutes into the conversation they finally said what show it was for, and I'm thinking like omg are you serious?! At first I was skeptical because I also said before I would never do that show but then I thought like this could be a good opportunity so I'm like ok sure, I guess, I mean why not (because technically I'm still assuming it wouldn't be until summer time of next year). Then got a second call a week or so later to be casted and come join that weekend for my first episode!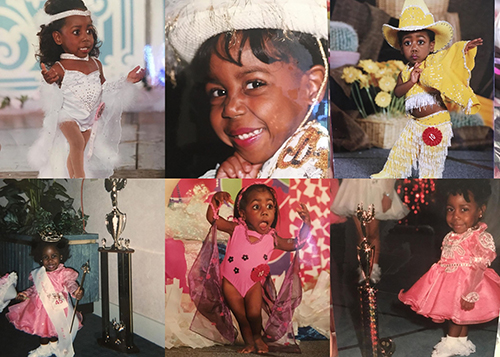 What was a favorite moment of yours from the show and do you see yourself doing more reality TV and/or acting in the future?
My favorite moments because there were a few, but favorites would definitely have to be the first time I went because it was the weekend before my birthday and I accomplished two things in one which was to go to LA and to be on TV. Another favorite moment would be going to Mexico and doing all the different activities I never thought I would do. Not only that but traveling by myself was also something I never thought I'd do especially outside the US. 
I definitely want to become an actress that's my next goal. Hopefully within the next couple years I'll be back on the TV screens but in a movie or even another TV show. Not really a reality TV person but if the opportunity presents itself in a way that I could showcase my talents and whatnot then I'm all for it!
In addition to working on 'Little Women L.A.', on the side, you are a dance instructor, how does it feel to not only be doing something you love, but giving back to other dancers and creative beings locally and nationally?
I absolutely love being able to work with kids. That was my main goal in college to work with kids although I had no idea God had intentions on me being a dance teacher. I went to school to be a pediatrician realized that work wasn't for me and thought ok, I can still work with and help kids by becoming a social worker. I graduated and ended up in a dance studio! So yeah, I definitely love how that worked out because it also allowed me to be myself and opened up many doors for me to travel and be apart of great things throughout the years, as well as meeting a lot of celebrities.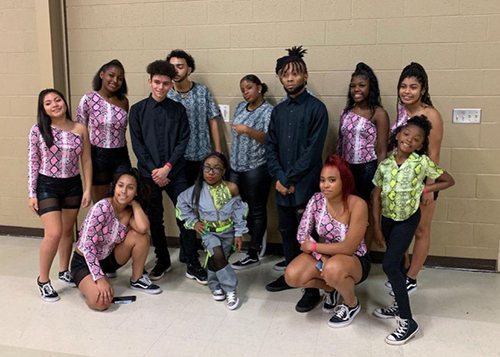 You are really doing your thing! You are also the business owner of 'Keesha Kollection', can you tell us a little bit about what you sell and how you manage to juggle being an influencer, reality star, entrepreneur and more?
So with 'Keesha Kollection' it came about last year when the pandemic hit. I knew I had to create something to gain a little more money because the dance studio was slowly shutting down. Not only that, I always wanted my own brand and what better timing was it for me to just jump off the porch and make it happen! As far as the items that I sell, I started out with lashes and sunglasses, then added headbands and other accessories to the shop. As of right now, I'm in the works of changing up some things for the brand so that I can really make it my own. Maybe creating my own line or something of that nature, but I definitely want to rebrand and make it even bigger!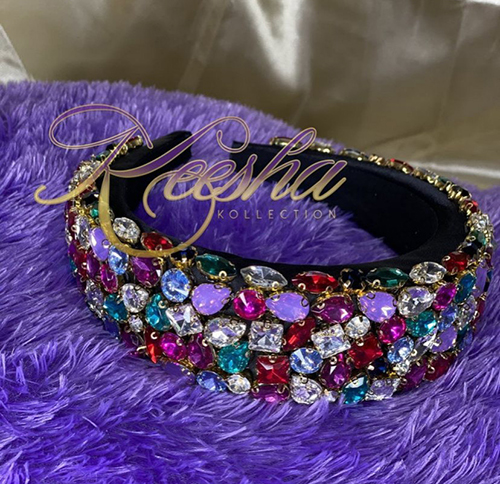 Who are some of your biggest influences whether it be in dancing, acting/television or in life overall?
My biggest influence overall in life would be my mom of course and my grandma who is deceased. But, these two ladies were always in my corner rooting me on in everything I did and wanted to do. They pushed me to try anything I put my mind to. Now that it's just my mom, she still 'till this day encourages me and stands behind anything I go after. As for dancing there's a lot of choreographers that influence me to continue to dance. One specifically would be my first dance teacher Mrs. Fain when I first started. She took me in at only 3 years old and introduced me to dance. Other choreographers would be Sean Bankhead, Jeremy Green, Aliya Janell and a few more. 
If you had the chance to work with anybody in the world, who would it be?
I would love to work with Tyler Perry. I've been saying this for years when he first came out with the plays. Although I have no experience in acting just yet, I hope to one day be in at least one of his productions. 
What is your main goal and/or mission with your social media platforms? What is the message you want to spread throughout your career?
My main goal is to use my platform and showcase my talents along with spreading positive messages to anyone who feels they can't do something or have been told no, letting people run them away from their dreams. I want to showcase me being able to do things I want to do and defying the odds.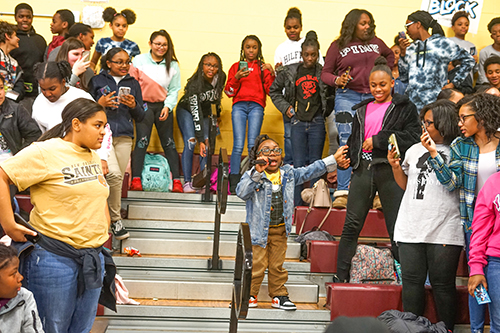 If you could give someone who is 'uniquely challenged' and wants to also become a social media influencer, dancer or anything in life some quick tips, what would a few of those be? 
Stay true to yourself, be confident in what you want to do and pursue and don't allow anyone to distract you from your goals. If there's something you believe in doing, go for it! I would also say, learn from your mistakes, but also know that there will be obstacles and a few no's before your YES comes. Don't get comfortable with each achievement always strive for more. When it comes to social media watch who you keep around you because those people will either keep you going or keep you down. Also, don't get caught up into what everyone is doing so much that you lose focus on yourself.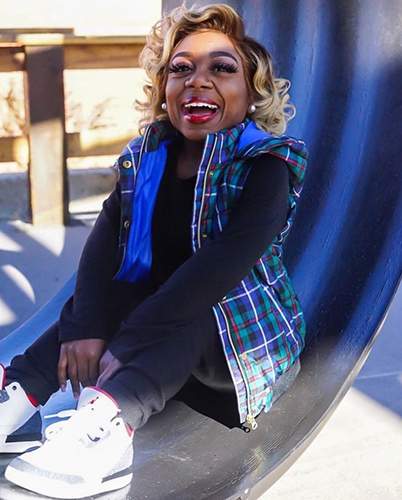 FOLLOW KEESHLINOOO ON ALL SOCIAL MEDIA:
Instagram: @Keeshlinooo
TikTok: @Keeshlinooo
All images by MyKesha Smith, QC Sniper, 40 Rounds of Photography and DLawImages.