Doctor diva duo, Dr. Barb OB/GYN and Kimba "The Natural Diva are the founders of Kushae. The natural feminine care line, founded in 2017 was an idea birthed on a girls trip and quickly caught the attention of many around the world! We adore this OB/GYN feminine care company for so many reasons and we know you will too! We caught up with co-founder, Kimba "The Natural Diva" to discuss all the details about the brand, her favorite product, and much more!
Tell us about yourself, where does the name "The Natural Diva" come from?
My name is Kimba Williams and I spent about 15 years in the pharmaceutical industry. I worked for many corporate companies and over that time, I learned too much about western medicine, the good, the bad, the ugly. In that time, I decided that my own life needed to become more of a life that was preventative in nature. Instead of waiting, I wanted to be proactive. I went far in the spectrum as far as what I could do to protect myself and my family from things that could happen to us from a preventative health perspective. That's how "The Natural Diva" name came into play.
It is self-subscribed, I kind of named myself The Natural Diva but it comes from the fact that many women in pharmaceutical sales are very much barbie dolls. They're known to be beautiful women, who have to beautiful to get the attention of physicians to sell medications on the fly. There's a stigma around who works for pharmaceutical industry. I was already a diva, in my own right because I was in the industry and as a women of color, there aren't many of us in that industry. You see me, I'm almost six feet tall, I truly stand out. I became a diva overnight and natural became the thing that I really subscribed too, it was just easy for me to become The Natural Diva (laughs). I love it, it truly fits!
Can you tell us about your all-natural feminine care company, Kushae?
There are parallel lives going on with this particular story. My life was the pharmaceutical industry, I knew I needed to move towards preventative health, it was a one streak. About five blocks over, there's a woman named Barbara Mclaren. She is a board certified OBGYN that had been for the last 17 years been practicing feminine wellness and health as a physician. At the age of 38, she was diagnosed with breast cancer. Although she was a women's advocate and helped women deliver babies, she ended up being in a position where she was fighting for her life by night. It was one thing to be the doctor but to be both the doctor and the patient was unreal for her. She truly had an epitome moment while she was dealing with treatment and the road to recovery from her diagnosis. She too realized that she didn't want to rely on her western medicine training. She needed to do something more preventative and proactive about her health moving forward.
In 2016, these two lives converged. I met her Dr. Barb on a girls trip. We were all on a cruise. When I met her, I asked her some questions about natural health and asked her thoughts. When I heard her story, I was floored, almost in tears. I almost judged her to be like many doctors that I know. She and I got together and we couldn't stop talking about what she did everyday, concoctions we did in the kitchen, and more.
After the girls trip, we resumed our lives and we got really busy. It was always on my mind so two weeks later, I called her and told her that I wanted to talk further about what we started on the trip. She couldn't stop thinking about it either. We spent time researching and developing for about 13 months. We then went back on the same cruise with samples of our very first Kushae products and launched Kushae internationally. Kushae has been growing and doing amazing ever since!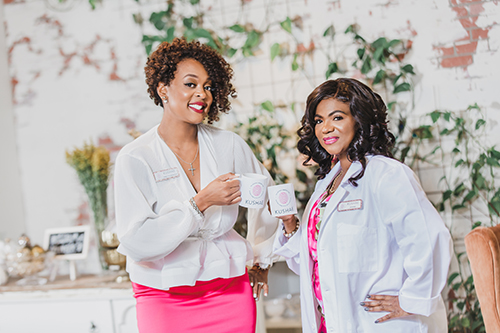 What all does the brand offer? Do you have a favorite product you could tell us about?
Our parent company is BK Naturals. We typically did not use the brand name Kushae for everything. BK Naturals is a feminine wellness company that would birth many things besides Kushae. One of the things we've launched outside of Kushae is our BK Naturals YouTube channel. We have about 20-30 videos that highlight feminine wellness topics and it's a fireside chat with a doctor and diva. We're funny, interesting, experts, and having a great time while sharing with women what they need to know. That's been a blast.
Kushae is our flagship brand. Some of the products that we offer include topical products. We have not delved into tampons and pads because we felt like that industry was quite saturated. We wanted to do something different first. We have the Gentle 2-in-1 Foaming Wash, it's a gentle way of washing and cleansing your most intimate area with no toxic ingredients, no parabens, no preservatives! We also have the Natural Deodorant Spray. This is the best product for when you live a very active lifestyle or you just happen to be a bit of a sweaty Betty on hot days or just because. The spray controls odors down there as well for 24 hours at a time. We also have a product called The Soothing Cream. Many women are doing things around their intimate areas such as waxing and unique cuts. More women are enjoying that space so the cream was developed to help with irritated skin, ingrown hairs, and dry skin. We have a Protective Balm. It is the grandmother of all products. It is a very versatile product but was made for chafing. Women who are menopausal or chafing, it helps irritation down there or even the breast. Kushae just actually had a baby and we introduced our first internal product. The Kushae Boric Acid Suppositories + Probiotics & Aloe. This all-natural product helps deal with vaginal odor or other vaginal issues such as an infection. We're super excited about this product. We have travel sizes available in all products.
My favorite would be the deodorant spray, it is so unique. There is nothing on the market just like it. I lived an active lifestyle. I taught Zumba at one point and at one point was an amateur boxer. I described myself as a sweaty Betty. I was constantly sweating but you don't want the odors that come with it.50% of women experience offset odors down there if they do sweat, some do not. One of the things that I wanted us to create was a spray that was specifically pH balanced and safe to use down there.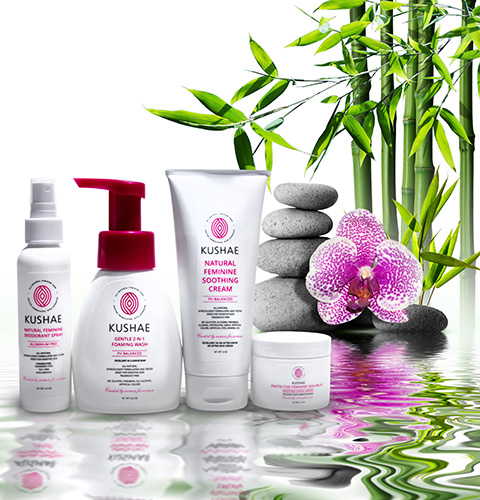 What can we expect to see from the brand in the future?
Kushae is growing! We just inked a major deal with Whole Foods market so we're super excited about that. We'll be launching in late March, early April. We're going to start in the Florida region and grow from there. Kushae is looking to hit that $1 million dollar mark from a revenue perspective by 2021 so we're excited to be a start up brand that has propelled very quickly. We are looking for more products to launch, we have an entire new line that is under wraps but we do have products that will be suitable for the spa industry and beyond. We're looking forward to birthing more products and continuing to hone that space below the waist!
For more on Kushae, click here!
Subscribe to the BK Naturals YouTube channel today!
Stay connected with Kimba Williams on Instagram today!
All images by Courtesy of Kushae by BK Naturals