Highly trained foot and ankle surgeon, Dr. Ebonie Vincent, DPM first graced our television screens when we got to see her and Dr. Brad doing what they do best on TLC's hit new series, My Feet Are Killing Me. The Hampton University alum is no stranger to many in Orange County for her love and dedication in this particular medical field. We caight up with her to discuss her start in the field of medicine, filming the show during COVID-19, and much more!
How did you get into the medical field as a trained foot and ankle surgeon?
(Laughs). That is usually the number one question that I get. I actually always wanted to be in the medical field. What specific specialty, I didn't know until I shadowed a podiatrist. I was on the track to become a medical doctor with orthopedics, sports medicine, all those things really intrigued me because I was heavily athletic. I was a volleyball player in college. My aunt had suggested that I go and shadow a podiatrist just to see what they do because they also do surgery. When I shadowed a podiatrist, I just completely intrigued with the field. The guy I shadowed did a lot of interesting foot cases. After that, I was sold on the profession.
Can you share us what we can expect to see in the series, My Feet Are Killing Me: First Steps?
First Steps was pretty much created in light of COVID. We were actually in the midst of trying to film the second season with surgeries and everything but then the world shut down. Just because the world shut down does not mean that medicine and doctors have to be put on hold. We made ourselves available via telemedicine. A lot of patients that we saw really had bad foot pathologies, which is going to take more than one initial visit to kind of wrap your head around it. It's going to take a lot more though process on what to do surgically. The First Step is exactly that. We're taking the first steps in meeting our patients, understanding their stories, getting to know them and what their goals are before we even see them in person, this allows us to further tackle the issue on how to solve it. It's pretty good! You're going to get to learn the patients a lot better, you'll see more of the life behind the scenes of a doctor at home during COVID. It's fun, it's a good First Step (laughs).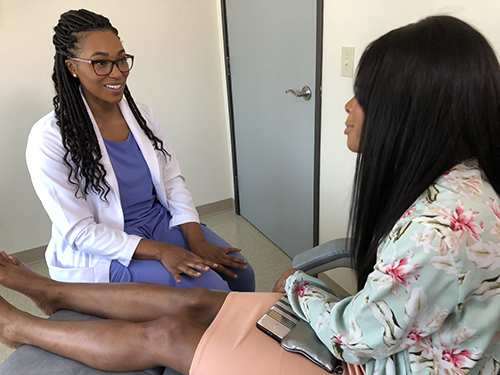 Can you share with us the idea to have virtual consultations during this time of COVID-19?
You know, we were already doing it in my office. That was something that I was offering for my patients in general already. When the lockdown happened, I was pretty concerned. I didn't want anyone who wanted something elective to come into the office. I made myself available through telemedicine. For instance, someone wanted to get their bunion taken care of for years, the lock down happened, and they're not going to go to the doctor's office at that point. You can access via telemedicine or we can do a lot of things, just with a simple conversation in order to get us set up for a potential surgery in the future. With that said, telemedicine became widely available to everyone. I think that TLC really capitalized on that to keep the ball rolling. If things just stopped in their tracks, we'd be a lot further behind in helping people than we are. I think telemedicine is a good thing that happened. I don't believe that it is going away anytime soon. Now that its out there, people know that it's available. You can actually access a bunch of doctors on second opinions and in different states if you wanted. Telemedicine is actually a really good tool.
What are you currently working on and what do you hope to accomplish in the years to come?
That's a good question! Everything with the show happened so fast and I'm super blessed that it happened the way it happened. I do plan on continuing to be a physician serving the community and doing what I do: foot surgery. Hopefully there are a lot more seasons of My Feet Are Killing Me. Hopefully in the future, it will be expanded into something bigger to bless more people. I don't know what the future holds but hopefully all good things.
For more on Dr. Ebonie, follow her on Dr. Ebonie, click here.
Stay connected with her by following her on Facebook, Instagram, & Twitter.
All images courtesy of TLC