Dr. Kellie Agueze is the perfect success story example of stepping out on faith and trusting the good man above! With her expertise in the medical field and true passion to inspire people around the world, she created her very own fitness line that fuses spirituality and style for the everyday woman. We recently had a chance to sit down with the trailblazing woman to discuss everything from being a spiritual leader and being a business mogul at the same time.
Tell us about your fitness line, Warrior Apparel. What inspired it?
Good question! I'm a nurse practitioner and years ago I was serving one of our nation's veterans. I used to work at the VA hospital here in Jackson, Mississippi. I always ask my patients kind of the same questions. Are you exercising? How are you feeling? All that. I asked this one gentleman if he exercised, and he told me that he runs five miles a day. I was like wow! I just thought it was incredible. From there, it just triggered something in me. I wanted to learn how to long distance run because I thought it was the coolest thing ever to be able to run five miles a day. I began to challenge myself to run. I learned how to run long distance, the longest I've run is 17 miles straight. Long story short, I later took part in a marathon here in Mississippi. I'm lined up for this marathon and there was this guy in front of me who did not have a shirt on. On his back, he had a scripture. The scripture Psalm 73:26; that reads, "My flesh and my heart may fail but God is the strength of my heart and my portion forever." I remember what that did to me right before I got ready to run my first marathon. From there I ran and thought it would be amazing if I was running or exercising and having scriptures on my clothes and apparel that would encourage other people. That is kind of what stemmed my whole brand and fitness line.
What was it being the founder/CEO of a brand for you during the ongoing pandemic?
My brand was already in existence; we were functioning already. When the pandemic first broke out, my first thought was that I might as well give up because I don't know how I'm going to be able to convince people to still shop or support my brand during a global pandemic. I reminded myself of the word of God. God says that we will thrive in every season. I just kept doing what we always do. I believed in God and worked hard. Believe it or not, our sales actually increased during the pandemic, instead of decreasing.
What made you want to transition from nursing into ministry?
I actually didn't do that on purpose (laughs). Like I mentioned, I am a nurse practitioner/family nurse practitioner; I have a Doctorate in nursing. A few years ago in 2014, I started praying in my car and posting the videos on Facebook. About 2 and a half years later, my videos began going viral. My prayers began going viral. At that time, hundreds to thousands of people were following my social media pages at one time. It just got really consuming to the point where I was having to choose between continuing with nursing or just stepping out and trusting God to do ministry full-time and business full-time. My customers were the people that I was praying for every day. I didn't set out to do it this way, it just happened. In November 2017, I made the decision to leave my career as a nurse practitioner and do ministry full-time. I'd only been in business for about six months when I left my career. I've never looked back from that. I did not do it on purpose, I just trusted God in what He was telling me to do. He has really blessed my footsteps since I made that decision.
What are you currently working on and what can we expect to see from you in 2021?
We're currently doing a lot of celebrity collaborations. We're getting people who are well-known to endorse our brand and that is really fun! I've had the opportunity to meet a lot of amazing, influential people. We're coming up with some new designs for our fitness wear. All of our fitness wear has scriptures and point people to the cross. We're just in the midst of being extremely creative and just expanding the brand. We're networking with people of great influence so throughout the rest of this year, we'll continue to plow down that new territory and prepare for enlargement.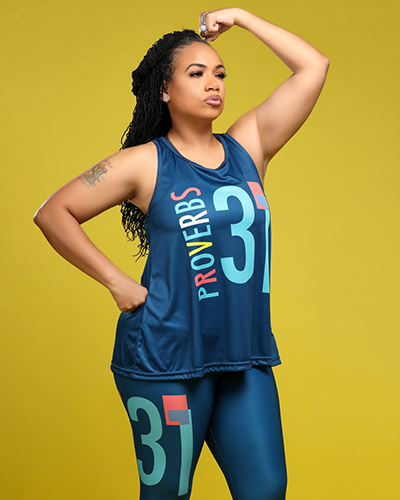 For more on Warrior Apparel, click here.
For more on Dr. Kellie Agueze, click here.
Stay connected with her by following her on Facebook, Instagram, & Twitter.
All images by Drea Nicole