After transitioning from traditional Social Work into Entrepreneurship, Jessica Austin's journey was filled with rejection.  Channeling some inspiration from long-time idols Kandi Burruss, Regina King, and a other esteemed women visionaries, she married her passion for Social Work, Storytelling and Culturally Inclusive Media through her brand, Jessica Austin Media.
From graphic design, freelance writing, and consulting, J.A.M bridges the gap between creativity and business with an array of services for business and/or personal branding.  Marked by signature events like the recent Dream Chaser Weekend, J.A.M offers promotional platforms for Entrepreneurs and aspiring, educational workshops and networking opportunities. To learn more about the 2022 Dream Chaser Weekend, click here.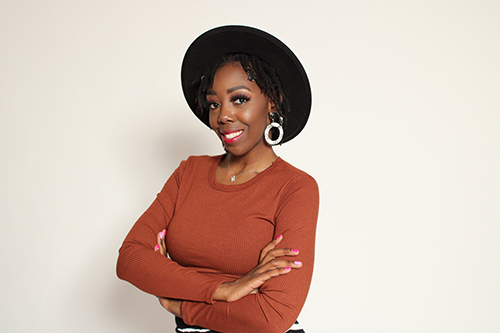 Tell us more about your journey into pursuing your passion:
Shortly after welcoming her rainbow baby in 2017, I found myself in darkness. Confused, my prayers had finally been answered, yet I was miserable. In 6 weeks', time I would be returning to a career that barely made ends meet and kept me away from the single most important thing in my life. I was determined to find my passion, hoping it would lead me towards a purpose as big as my heart.
After dismantling an identity I'd worked a decade to personify including my master's degree from Eastern Michigan University, I discarded my "representative," and began to show up in spaces, unapologetically myself. Black, bold, audacious, loud, funny, a whole vibe. Abandoning the code-switching and marginalization of social justice, I set out to do things my way, to make a real impact.
As every attempt to find my passion failed, I got closer to my purpose. I failed, fumbled, and flat out flopped, but then realized the power was not in the acclaimed success but in the journey. 
Please share the top 3 reasons readers should attend Dream Chaser Weekend next year:
Dream Chaser Weekend is a business-social extravaganza designed to meet the needs of underrepresented communities, specifically people of color. Through its networking, educational and promotional events Dream Chaser Weekend recognizes, celebrates, and inspires black excellence. With an emphasis on accessibility, the event is marked by a signature, free networking mixer encouraging participation from all that aspire to elevate. Followed by Masterclasses, bringing 1st hand knowledge and resources for business advancement to the community. Finally, the grand finale, a Vendor & Crafter Expo designed to highlight the creativity, resilience and tenacity that embodies a Dream Chaser.
What is next for you in 2021 and how do you see the event evolving in the next few years?
Dream Chaser Weekend is a phenomenal event, with passionate intentionality behind it. With people coming from all corners of Michigan and gaining support from as far as Texas, Arizona, Georgia and Colorado it is my mission to create an international platform of excellence, bringing Entrepreneurs, Creatives and aspiring from all corners of the Globe.
Locally, I am working on a permanent, safe space to create, network, and build with one another. I hope to connect with other like-minded Entrepreneurs, Investors and Businessmen and Women that can help take my passion to the next level.
How can readers connect with you on social media?
Readers can connect with me on Instagram, Facebook and LinkedIn @JessicaAustinMedia.
All images by Cierra Kennedy w/ Haizee Vision Photography