"We're all different and that's the beautiful part of being human."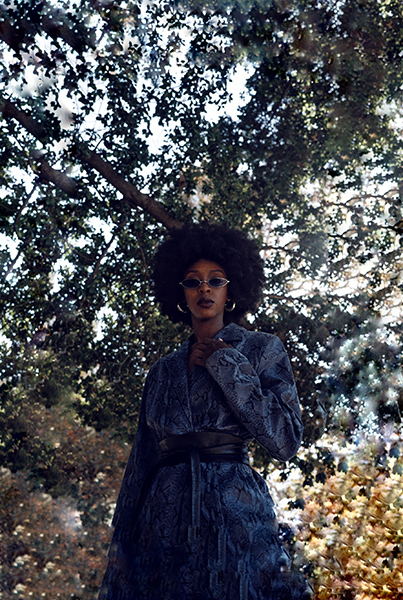 Ambitious, talented, and beautiful, Ebony Obsidian is every sistas' sista. Initially a writer, Ebony suddenly fell into acting and decided, "This is something I want to do very well."
She ended up studying acting at the William Esper Studio, which trained the likes of Tracee Ellis Ross and Regina Hall. She credits Esper as being very instrumental in her career. "It was there where I learned discipline, structure, and how to be egoless," she said. "I needed that in order to be a freer actor in a constructive meaningful way."
Since then, she has gone on to co-star in the critically acclaimed If Beale Street Could Talk as Adrienne, become a regular on Wu-Tang: An American Saga as Nia, and acts in Tyler Perry's Sistas, playing the career-driven Karen Mott.
"I think I can relate to Karen on a lot of levels," Ebony says, before describing Karen as being goal-oriented with a beautiful career and wonderful friends and family. Still, something is missing. One can get tunnel vision, mastering one part of life, only to realize the lack in another. For Karen, this is love, and not just the love of a partner, but self-love and self-value.
"That's the driving force behind Karen's character."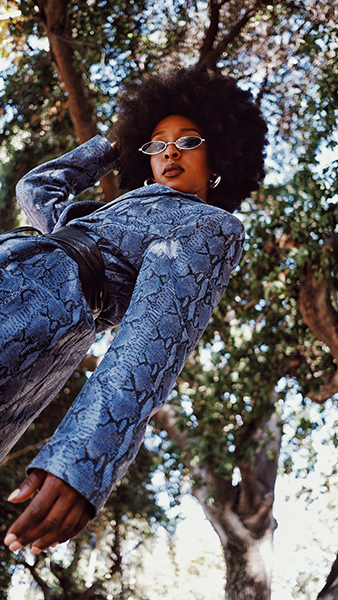 Ebony uses reflection as a tool for self-love. She looks back into the past, to understand where her growth lies and pats herself on the back for a job well done. On her recent success – for instance, loving the Times Square billboard she shares with her Sista's castmates – Ebony says, "Honestly, it's as wild as can be!"
After the whirlwind of filming, Ebony says it's important to regroup, "Getting integrated back into my own life was my way of refreshing, by you know, being around my friends and my family, but also just taking time to be alone." In spite of all of her success Ebony hasn't forgotten her roots. In addition to writing and acting, she is also a musician but without any added pressure.
Ebony has appreciated the opportunity to embody different people, like she's done with Adrienne, Nia, and Karen. She believes it's important for people to understand the value of trying new things and experiencing different ways of life. "Acting at its core is stepping into someone else's humanity," she says. Freely entering another world allows Ebony to grasp lessons she's never intended or expected to learn. Her characters have inspired her to address issues head on, out loud. Live and direct. And from her roles, she's learned it's okay to take a chance and fail.
"We're all different and that's the beautiful part of being human."
Speaking of beauty, whether on billboards, the theater or TV screen, you can't miss Ebony's radiant beauty and flawless skin. Her routine? She drinks lots of water, sleeps, uses shea butter, and minds her business.
For now, Ebony is enjoying the success of Sistas and working on secret projects. At some point she hopes to experience sci-fi filmmaking and participate in other genres as well.
For more information on Ebony:
Photographer: Novi Brown/ Makeup: Brandy Allen/ Stylist: Blair Cannon/ Blue suit: Diamond Hanger/ Boots: Steve Madden/ Belt: (vintage)/ Glasses: Diamond Hanger