Style At Styled Settings, is in the business of turning the ordinary into something truly extraordinary! They have a deep belief in the transformative beauty of everyday moments. Those seemingly mundane instances are the ones that weave the tapestry of our lives with love, laughter, and lasting memories. That's precisely why they have poured our hearts and souls into creating kitchenware that's not just functional but also exquisitely beautiful, all while being built to stand the test of time, much like the memories you make with your loved ones.
Cooking with Joy and Style
Their mission is simple yet profound – they want to infuse your kitchen experiences with more vibrancy and joy. They're passionate about crafting products that go beyond functionality; they want the kitchenware to spark joy and excitement every time you reach for them.
Introducing Our 15-Piece Gold and Black Cookware Set
Prepare to be dazzled by their 15-piece gold and black cookware set, a testament to the marriage of style and functionality. This set includes a 5-quart pot with a handy strainer lid, 1.5 and 3-quart saucepans complete with lids, versatile 8" and 11" nonstick pans, a beautifully coordinated gold and black silicone cooking utensils set, and 5 pan dividers to keep things organized.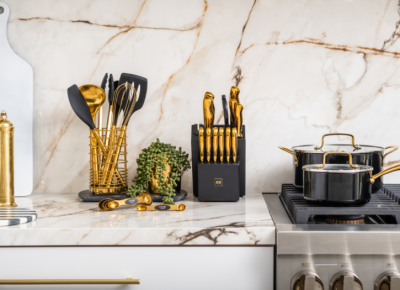 Crafted for Beauty and Durability
This luxe cookware is not just another pretty face; it's designed with durability in mind. Featuring a premium 3-layer nonstick coating, it's built to last and ensures your culinary creations effortlessly slide out with no sticking. Worried about harmful chemicals? Don't be! Their cookware contains no PFOS, PFOA, lead, or cadmium, guaranteeing a healthy, worry-free cooking experience.
Versatility Meets Style
The pots and pans are not just beautiful; they're versatile too. They're oven-safe, making the transition from stovetop to oven seamless for your culinary masterpieces. What's more, they're induction compatible, providing even and responsive heat distribution. Quality isn't just about looks; it's about taste, and the cookware ensures you can truly taste the difference that quality makes.
Complete Your Kitchen's Style
But that's not all. The 15-piece cookware set perfectly complements the full lineup of black and gold kitchen utensils, tools, and accessories. Elevate every moment in the kitchen, from whipping up a quick breakfast to creating an elaborate dinner feast. With Style At Styled Settings, your kitchen becomes a canvas for creativity and style.
Why Settle for Ordinary?
So why settle for the ordinary when you can have the extraordinary? Elevate your kitchen experience, make every moment memorable, and transform your daily cooking rituals into works of art with Style At Styled Settings. Join us in celebrating the beauty of everyday moments and the joy of cooking with love.
Photo Credits: Styled Settings