Take notice as Taquiela Wright engineers a new wave in the fashion industry.
In the heart of New York Fashion Week for the Spring/Summer 2024 season, Delisa Rose, a bespoke luxury lingerie brand crafted by Taquiela Wright, took center stage, captivating the audience with its highly anticipated 'Experience Collection'. The runway showcase, hosted by the effervescent TV personality NeNe Leakes, was a testament to the brand's dedication to diversity and innovation in the fashion industry.
Taquiela Wright, the visionary behind Delisa Rose, embarked on this empowering journey in 2021, blending her engineering expertise from the oil and gas industry with a deep-rooted passion for lingerie design. The 'Experience Collection' is a fusion of avant-garde designs, provocative fabrics, and unique cuts, challenging conventional lingerie norms and empowering women to embrace their bodies and boost their confidence. Wright, whose line is named for both herself and her late grandmother, says that she has always had this love for lingerie and pieces that make women feel feminine. "My ultimate goal is to make women feel beautiful and sexy while wearing quality pieces. Making women feel beautiful has always been something that I'm passionate about", she says.
The runway was graced with ten illustrious designs, each a symbol of different experiences and moods, embracing the diverse elements that define a woman. From geometrically shaped body suits to sensual velvet bridal wear and tribal-influenced pieces, the 'Experience Collection' caters to every body type, celebrating the beauty in uniqueness.
Delisa Rose CEO and designer, Taquiela Wright, expressed her gratitude for the monumental opportunity to debut at New York Fashion Week. She emphasized the importance of hard work and passion, reflecting on her journey from engineer to lingerie designer. Taquiela's dedication and perseverance have showcased to aspiring designers that dreams can be achieved through determination and inspiration.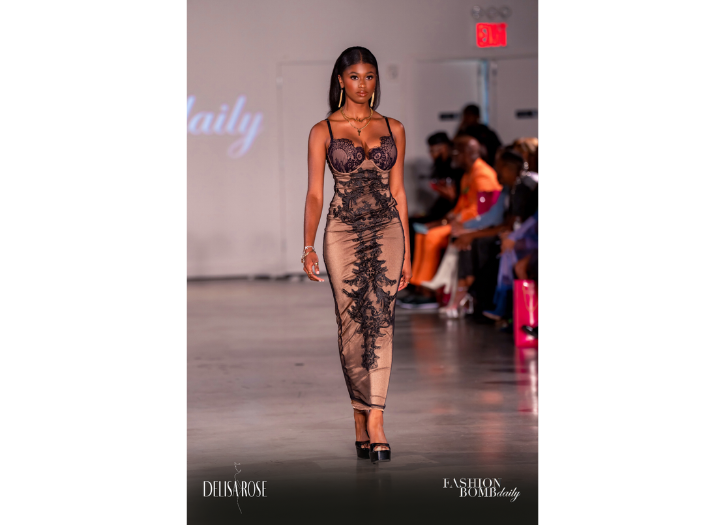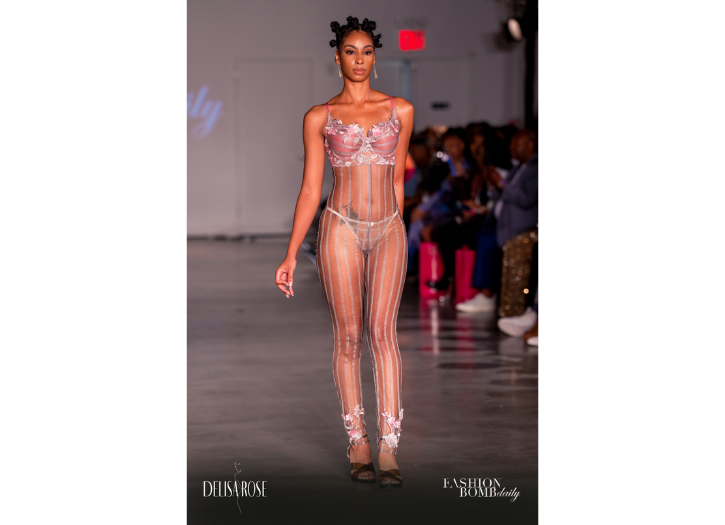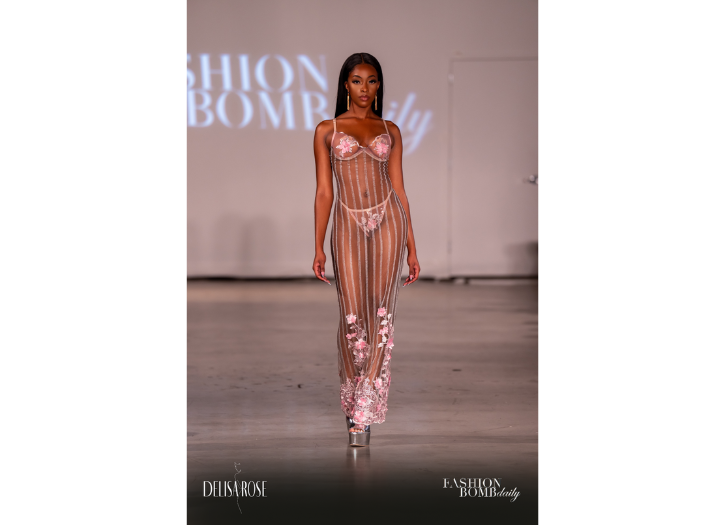 In addition to her remarkable achievements in the fashion world, Taquiela has been recognized for her contributions to engineering and innovation. Her multidimensional talents have recently earned her a nomination for the WIN (Women in Innovation) Award. She is also recognized for her groundbreaking wound care product, highlighting her relentless pursuit of creating products that transform lives. Although it may be hard for some to see the connection between the world of fashion and engineering, Wright says that there is a direct connection between the two for her. "I use my background in engineering to help me decide on the fabrics that would be the most flattering and also the most comfortable," she says.
Taquiela's story is one of resilience and triumph over life's challenges. Her personal experiences have driven her mission to celebrate self-expression and empower others to embrace their differences. As a motivational speaker, she shares her journey, offering support, guidance, and empowerment to all, regardless of circumstances. Taquiela Wright is not just a lingerie designer; she is a beacon of strength and a source of inspiration for all who strive to wear it, love it, and live it. As she prepared to go into her fashion week debut, Wright says that she was a ball of emotions. " I am very nervous but also very excited and trying to enjoy the moment."
Delisa Rose's 'Experience Collection' marks a pivotal moment in the fashion industry, challenging norms and celebrating the beauty of every woman. With Taquiela Wright at the helm, Delisa Rose is destined to leave an indelible mark, inspiring confidence and embracing diversity in the world of luxury lingerie. 
Keep Up with Delisa Rose Luxury Lingerie:
@iam_queedelisa @delisaroseluxurylingerie
www.delisaroseluxurylingerie.com
Photo Credits: Courtesy of Delisa Rose Luxury Lingerie