Emmy-nominated producer, Donia Duchess is well-known in all aspects of entertainment. The Brooklyn native is fearless, determined, and simply loves what she does. With multiple credits under her belt, she's surely proven over time that she is "one to watch" in the entertainment realm. I recently had the chance to sit down with Duchess to discuss when she knew she would be in this space, her recognitions in the industry so far, and much more.
When did you know that entertainment was going to be the realm you stepped into for your career?
I know that it sounds cheesy, but I always knew. I was that kid that was performing at my house for my mom (laughs). I watched movies and recited the lines growing up. I would use my hairbrush as a microphone, pretending I was Oprah, hosting my own show. I was also that kid that would watch music videos and learn the dance moves. When my mom had friends over, she would say 'Let her perform for you.' (laughs). I was always performing, I loved making people happy and smile. I've just always enjoyed seeing people in a good mood.
What has been your experience working as a producer on several award-winning talk shows.
I've had a really incredible experience as far as working in television. I've gotten to see the behind the scenes in order to see what it took to be good in front of the camera. MY journey has been amazing. I have been able to grow my career. I became Production Assistant and Senior Producer fairly quickly. One of the things I always used to tell people when they say they want to get into television and work in the industry, is that you definitely have to be passionate about it. It's not easy, it is a lot of work. I work a lot of hours, but I am so lucky that I enjoy what I do, so it does not feel like work. I genuinely wake up every morning excited to make great television, knowing that the people watching from all over the world are going to enjoy the content that we're putting out.
In 2020, you earned your first Webby Award as host of the game app, Song Pop Live. What did this accomplishment mean to you?
Oh my gosh. It was such an incredible accomplishment, I cried. Throughout my career, like I said I got to see the behind the scenes in order to get in front of the camera. My entire career has been being able to juggle both, a producer and a host. I wanted to let people know that I can do it all. Throughout my career as a producer, I have been able to be recognized as an Emmy-nominated producer twice and NAACP Image Award-winning producer twice, so it has been amazing. As far as hosting goes, this was my first time being recognized as a host within an award. It's an incredible feeling to know that something that I've worked for my whole life has paid off, it is so rewarding. It meant everything to me.
What are you currently working on and what can we expect to see from you in the future?
Right now, I'm working on a daytime talk show. It has been a great experience so far. We're going to wrap fairly soon so I will have the summer off. I am a new mom, so I'm going to enjoy that time with my son. Being a new mom, I believe there is a feeling a lot of us experience, which is wanting it all. As women, I think we always want it all. We want to be the wife, the mom, have the career, and do it all. Sometimes it does feel overwhelming. Everytime I do public speaking, I give them my story in hopes of inspiring them but the reason being is show that it isn't always rainbows and sunshine. There are hard days but ultimately, as long as you're happy, following and living out your dreams, that's what is important. I want to focus on getting more appearances this summer as far as producing content. I am a content creator as well so you can find content being put out on my Instagram and TikTok. I will continue doing that. The goal is to have my own show so I will keep you guys posted!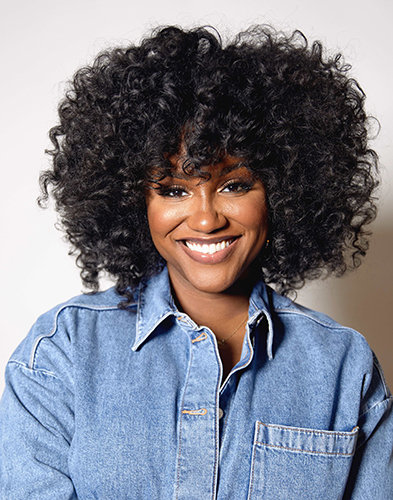 For more on Donia Duchess, be sure to follow her on Facebook, Instagram, & Twitter.
All images by Image Elevators, Inc.