Dr. Catrina is an entertainment executive on a mission to help youth and women heal from their past and grow into greatness! She is making a global impact through being an active board member with various charitable organizations such as Hip-Hop Legend & Philanthropist, MC Lyte's Hip Hop Sisters Foundation and she serves as one of the many faces in the national child sexual abuse prevention & awareness campaign "Now You See Me."
Who is Dr. Catrina?
As "the Chain Breaker," I consider myself a catalyst for healing and growth in today's world. I hold many additional titles including survivor, wife, mother, executive, advocate, author, producer, and philanthropist to name a few. I use my voice to fulfill my life's mission of empowering others to heal, discover their purpose and create a legacy for generations to come. I've helped many people by sharing how I overcame challenges, including a brain injury, in my memoir "Breaking the Chains: From Hurting to Healing" as well as my stage play "Breaking the Chains." In addition to my books and productions, I also serve as the Founder of PullCorp Media and Business Consulting Group, a luxury boutique Media and Business Consulting Firm. I also facilitate personalized activities including workshops, coaching, and mentoring to help individuals thrive.
Starting as an entertainment executive to a fixture in working with the youth and women as a major inspiration and influence, what motivated you to go in that much-needed direction?
My gifts made room for me in entertainment, but my life experiences and values sparked my desire to work with youth and women. God has given me a tremendous gift, and it is through that gift that I want to empower others to look deep within them to achieve success. I don't want them to experience the same pitfalls as I. It is my goal to make a difference by sharing how I overcame life's challenges, so they can know that they can be as successful in spite of their circumstances. Representation and support make a huge difference.
You're involved in several foundations of inspiration dedicated to working with women and children, such as MC Lyte's Hip Hop Sisters Foundation, Hip-Hop Legend & Philanthropist, and The National Child Sexual Abuse Prevention & Awareness Campaign "Now You See Me." Can you tell us a little about working with these organizations and what was it about them that pulled you to them?
I am an advocate for the protection and empowerment of women and children because I didn't always have that during difficult seasons of my life. Partnering with these organizations has been amazing. It allows me to be a part of life-changing initiatives such as scholarship awards, grief and trauma counseling, holiday food giveaways and so much more. Being successful means nothing if you don't use your resources and platform to pay it forward by helping others.
You have currently released the book series, "The Growing With Grace Book Series" with the main character being a girl Grace and her family. How did you come up with this storyline and series?
The "Growing with Grace" children's book series was born out of my efforts to help my youngest son deal with the loss of my grandparents. I wanted to provide him with the tools to cope with grief in a healthy way. It also became a cathartic exercise for me. Through that process, I learned that my own grief had not been processed. I managed to adapt and survive the loss of my great-grandmother because I was younger and focused on college when she passed. Losses hit me like a ton of bricks now that I'm older and the family elders (i.e. my grandparents and great-uncle) who raised me are starting to transition. Their passings were a large source of grief and much harder to deal with. In a way, I believe we all can relate to Grace and her family. I had no idea the series would end up supporting grieving families during a global pandemic but I'm glad it did.
There aren't many children's books or series that are geared towards how to deal with grief or even what it means. What motivated you to focus on this specific area for children?
I discovered there weren't many resources on grief for children as I tried to find ways to help my son. So, I created one for him and children who look like him. The black and brown community is losing loved ones at disproportionate rates (from our counterparts) due to health issues and other circumstances resulting from systemic inequities. There's also been a generations-old stigma of weakness associated with prioritizing mental health in the black community. I wanted to teach my son how to how to feel his emotions, not bury them. My hope is to help children and their parents with healing from loss in a healthy way.
What would you like your readers and their families to gain, and possibly share with others, after reading your book series?
Reading is a passport to countless adventures. I'd like for readers and their loved ones to truly connect with Grace's experiences. I want the content to influence conversations at the dinner table or morning small talk on the drive to school. I'd also like for the parents to reflect on their experience as they have these discussions and complete activities with their children. There's no one size fits all solution to grief.
However, the "Growing with Grace" series should serve as a tool for readers to use during this challenging process, because failing to find a healthy outlet can ultimately alter the course of a person's life.
For those that may be interested in becoming more involved and educated, do you have a mentor group, or will you be direct teaching regarding this specific subject matter?
Each year I mentor 12 students through my Chain Breaker UnleashHER Mentoring Program. I created this program to personally support individuals who are purpose driven and ready to unleash their vision and value while awakening their personal volition on their journey.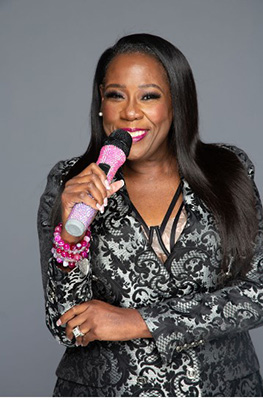 How can people connect with you and everything you have going on?
They can head over to www.dopegirlfriend.com to learn more and subscribe to my VIP list for updates on events, special sessions, and other exciting news.
They can also connect with me on Facebook, Instagram, & Twitter.
All images by Derek Blanks