EnVogue, one of the iconic singing groups of all time is releasing their 30th Anniversary Album, celebrating the first release of their hit single "Hold On" and debut album from April 3, 1990.  The remastered album "Born to Sing", features all of the songs of the original album and includes unreleased remixes.  These award winning and amazing songstresses are also releasing a visual podcast, available on all platforms and the EnVogue YouTube channel, where they share behind the scenes stories and how they harmonized their way into becoming the hottest female group for decades. Click here to tune in!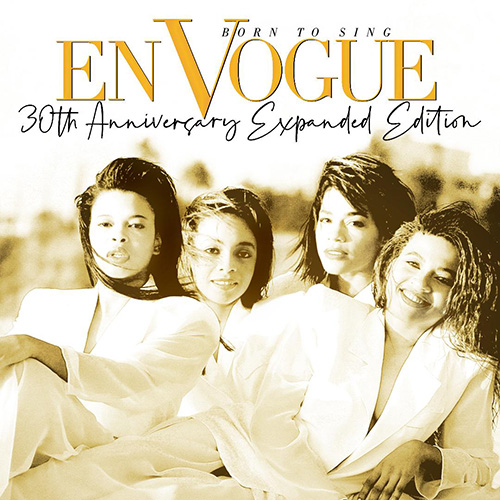 Terry Ellis, Cindy Herron, Dawn Robinson, Maxine Jones were the original members and Rhona Bennett joined in 2003.  The women of EnVogue have not rested on their laurels and continually toured, released singles including their last Top Five hit on the Adult R&B charts, "Rocket" and worked with Chance the Rapper's 2019 album.  Jovanna Reyes of Sheen Magazine had an exclusive interview with Cindy, Terry and Rhona the night before their "Born To Sing" rerelease.
Thank you ladies for taking the time to do this interview.  As soon as I heard about the 30 year anniversary compilation, I kept having visions of your first hit, "Hold On" video.
I remember being in my basement apartment in the Bronx and It was either on BET or Video Music Box, when I heard the heavenly a cappella intro.  I ran out to visualize what group was harmonizing like that.  I saw four absolutely stunning, beautiful women in black body con dresses belting out my new favorite song. I went out the following day and purchased a black dress that looked like Cindy's and cut my hair in bangs to look like Terry's.  I've owned every EnVogue cassette, vinyl and CD since. It is an honor to interview you at such a momentous time in your careers.
Where were you ladies when you heard "Hold On" on the radio? When did you realize it was a hit?
Terry: I was in my Oakland, CA apartment on the couch. I received a call from Dawn early in the morning and she was screaming on the phone to turn on the radio. I turned it on and heard "Hold On" and started screaming.
Cindy: I was in car driving across Bay bridge in San Francisco in evening traffic. It came on the radio, I was alone, so excited and wanted to roll down windows and shout out "our song is on the radio!
How much influence did you have on the group's fashion direction and stylized videos?
We had such an a great glam squad. They knew each member and what worked for our bodies. We trusted their opinions and direction. However, anything that we didn't like or feel comfortable we'd let them know. But, we had 100% in decision making process but trusted glam. 
It's been thirty years, how is it that you look exactly like you did in the nineties?  All of you are the epitome of "fifty is the new thirty".
"Awe, that's really sweet. What's the question again [Terry laughs]." When we are home, we do our best to do resistance training 3-4 days a week, cardio at least 5 days, healthy eating, drinking water and sleep. 
How does it feel to still have the adoration of so many fans after thirty years?
It's humbling! We are blessed to have fans who love and support us. It feels amazing and we are very grateful. 
Please share the details on the compilation.  You had so many great hits, how did you choose the songs/remixes for the anniversary album?
It was hard but we mainly focused on the hits. Then, we chose others songs that we really loved. 
What are your thoughts when you think of the year 1990?
Great fashion. A lot of incredible entertainers. Timeless music. BET at its best. Being on the road. Making memories on the tour bus. Fun times on tour with other phenomenal artists. Great movies, including our song "Don't Let Go" being featured in "Set It Off" movie. 
All of you have had such an amazing career, how did you balance being the number one girl group and your personal life?
We maintained balanced our career and personal lives with gratitude. We love what we do and enjoy so much that it comes easy. It doesn't feel like work. Being able to stay fit has helps to sustain ourselves to build up our stamina and endurance. 
CH: Which song is your favorite from the The Anniversary album?
"You Don't Have To Worry" (Club New Breed Remix)
CH:  As a married woman with four children, to the public eye it seemed like you were able to balance it all.  How did you do it?
Very delicately. I wanted to be mindful when choosing to go away…making sure I didn't leave during birthday, graduation or any major holiday in which I needed to be with my family. I chose very carefully when I would leave for work travel. It was balancing all to ensure I wasn't always gone.
TE:  Your persona is one of a genteel, southern woman(also the name of your personal album) and your BFF, Holly Robinson Peete, confirms it.  How did you maneuver through the tribulations of the music industry and your career without losing yourself?
Staying grounded. I'm grateful for the opportunity but when I'm working I work. I'm able to put one hat on and take it off.
TE:  Your voice in the intro threw me for a loop when I first heard it.  I ran to the TV and all of you were visions of beauty.  How easy was it for you and the rest of the members to gel and create that one of a kind sound?  No other female group has ever created such a symphony of sound. 
We attribute it to the producers. They created the sound. They knew all of our voices and how to help us execute in a way harmonically that's sounds different from everyone else.  It had never been done before and the label was uncomfortable with starting with a cappella. We fought for the a cappella to stay on and radio started playing and got such a great response.
RB:  Can I say that I've adored you since the Jamie Foxx show?  Your voice is unforgettable.  It's hard to match up against the talent of Foxx and you slayed.  When did you realize you had "that" voice?  The voice that stops people in their tracks.
I'm not sure that I ever knew I had "that" voice until people would tell me how they felt when they heard it. I have moments of insecurity surrounding my talent like any other person. Even still, I have taken notice over the years of people's reaction to what was gifted to me, and I'm grateful. Thank you for the beautiful compliment.
RB:  All of you were amazing at the Sylvia Rhône tribute.  It was a thrill to watch. How did you feel getting onstage with all the members?  Will it happen again anytime soon?
As far as performing with all 5 members, that was truly a blessing. We know that En Vogue has not been immune to having issues with keeping the band together. However, to see everybody put gripes aside to come together for a greater purpose, and give the fans a gift that they've been waiting on for so long, was beautiful. Who knows what the future holds, but we like to say, never say never.
All images by Alex Hill II, Humble Hill PR, LLC.