Who doesn't want the best looking skin? For generations people of color have been neglected. However, Erica Skynn has changed this narrative and created an oasis and products that create a new person inside and out! We got to chat with her about her new skincare line, celebrities she's been able to partner with, and how to obtain true results in having clear, glowly and beautiful skin!
Thank you for taking the time to speak with us. What made you want to jump into the beauty and skincare industry? 
I have always been interested in the beauty industry and set my sights on a career in this industry early on.  
My mother was Native American, and she had beautiful skin until she had to undergo cancer treatments which left her with severe blemishes and troubling skin concerns, shortly thereafter, my mother-in-law who was African American experienced very similar challenges following cancer treatment, in both cases there weren't any products to address the blemishes or skin conditions they developed from the treatments. In 2014, I received a scholarship to Dermalogica's International Dermal Institute, and it was there that I began my skin care journey. I immediately noticed that almost all products on the market were formulated with fairer skin in mind – and I reflected upon the impact of my mother and mother-in-law's challenges. It was at that time that I became inspired to fill a void in the skin care industry and create a product line specifically for people with darker skin tones and/or troubling skin conditions that can have an effect on confidence and self-esteem. 
What was it like creating your product Derm7? What were the challenges? What's your greatest mistake?
It was through resilience, persistence, patience, and consistency that the product was created. I went through years of painstaking clinical trials before I came up with formulations that showed real evidence of treating severe acne and dark skin blemishes.  Creating Derm7 has been one of the biggest life challenges that I've taken on, I am so glad that I stayed the course. 
My greatest mistake was to think that I could develop a product overnight.  I did not know that it would take years to formulate a product with proven results and market worthy.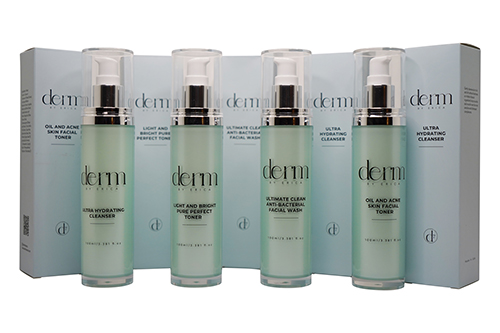 What's your favorite client testimonial story? Where are they now?
I had the good fortune (literally) of being referred to Floyd Mayweather,Jr. (the boxer).  Floyd saw and experienced the results of my products and services firsthand.  He saw what I had accomplished and believed in me so much that he helped me launch Derm 7. I know Floyd is out there with healthy glowing skin and picture ready if you catch him!
What is healthy skin to you? How does Derm7 help with keeping healthy skin?
Skin is our biggest organ and holds us together and there is a direct correlation between healthy skin and physical and mental wellness. Healthy skin to me is a journey not a destination. When there's no concern, when all the layers are healthy, our body and minds are healthy and what is inside can be reflected on the outside and at every layer (epidermis, dermis, and hypodermis).  
Derm7 is scientifically developed to address concerning skin conditions such as melasma and acne. In extreme cases, these skin conditions can lead to real psychological challenges that affect a person's confidence, mental health and overall well-being. Looking good on the outside also has a correlation to how one feels on the inside.
What are a few tips people of color can use while using Derm7?
Watch your diet, exercise, try to control stress levels (meditation and yoga are great), be mindful of hormonal agitators, do not over exfoliate, use skincare products according to your skin type and skin condition.  
What is the typical lifestyle of someone with beautiful glowy skin?
Diet, exercise, water, and mental well-being are key contributors to glowy skin.  
What does your brand mean for generations of people of color to come?
My brand represents diversity and inclusion in a billion-dollar industry that has overlooked people with darker skin tones, tons of money and research has gone into products with fairer skinned people in mind.  My products are for everyone and specifically formulated for people with melanated skin.  This means that future generations of people of color will benefit from products specifically formulated for their darker skin tone and it is my hope that they will be inspired by my journey, knowing that they too can create products and awareness in an industry that has overlooked their skin tones.
What's the legacy that you want to leave behind?
I would like to be remembered for inspiring and promoting the beauty of melanated skin tones. I want my products to be associated with overall wellness, and I want to be seen as an educator for communities that have long been underrepresented and overlooked in the beauty industry.
Stay up to date with Erica on Instagram.
All images provided by Erica Skynn