Black Ink Crew New York returns with Season 8 and eager fans tuning in every Wednesday to watch the cast elevate the art of tattooing, partying and sometimes a little castmate 'beef' to new measures each episode. Sheen had the pleasure to catch up with #GirlBoss Young Bae and Black Ink cast member, Blonde Bombshell Tatiana. Young Bae gives us the deets on her journey of motherhood, building her own empire and the two beauties give us their insights on the evolution of tattooing. Check it out below in this Sheen Exclusive!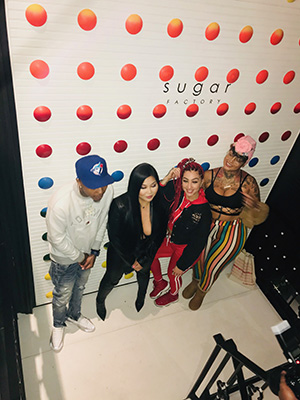 So, Young Bae how is motherhood going?
It's going amazing! It's really hard but it's going amazing! It has its moments when it's stressful but beautiful at the same time. It's a lot of emotions that I've never experienced before. 
What can your fans expect from you in 2020?
They can expect me to continue being the business woman that I am! (she says with a smile) I have an apparel line. And I have a book coming. Writing my book has been in the making for the past three years, so I'm really happy about it being released this summer. My story is really special and I'm really passionate about sharing my story; so yeah I'm doing my thang! 
How has the tattoo industry evolved for the good or bad since you've been in the industry?
"The technology of tattooing has changed so much in the tattoo world. I think a lot of art is not given the fair opportunity to be showcased in tattoos; because tattoos are expensive and it's always going to be that form of art that is costly. I don't think many people understand a tattoo is an investment and what you pay for is what you get. Looking for a "deal" is not the way to approach tattooing, so I feel that part is the disappointing factor," says Tatiana
Do you feel like the consumer respects the art and craft of tattooing?
"I don't think people always realize this is on your body forever. Are you willing to pay $2,000 for a tattoo that's going to make you happy for the rest of your life or a $20 quality tattoo?" says Young Bae
In the past you've had your share of disagreements with former castmate Kitty. Is there any hope in the future of repairing that relationship?
Tatiana: It's a level of respect that has to be there. There could be hope but I can't invest more than I already have. However, there's no hard feelings or bad blood. 
Young Bae: Yes, and we wish her the Best!
Tune in every Wednesday 8/7c for the latest episodes of Black Ink Crew New York on VH1.
Stay Connected with Black Ink Crew New York by following them on Instagram
PR Courtesy The Fore Front Group