Dioundra Felton is a dreamer that is destined and ordained to dream big while empowering others to dream again through scholarships and positive affirmations. She is also the owner of D.E.E.P. Vibrations Co., a community leader, and a combat veteran. Watch out world, she is just getting started! 
Share who you are to the readers.
My name is Dioundra Felton, but I go by Dioundra Monique on Instagram. I am the owner of D.E.E.P. Vibrations Co., LLC, D.E.E.P. Stands for Destined to Elevate and Emerge Purpose.  Also, I am a combat veteran and was in the U.S. army for 8 years where I was deployed to Afghanistan in 2013. I just obtained my master's in business administration. Yay! And I am currently, a graduate student at Webster University pursing my masters in arts with a focus in finance and marketing. 
Grew up around faith and love! I will never forget my church home's slogan "We're a little church that sits on the side of a road and tries to be a friend to everyone." So, I have always taken that motto throughout my childhood, teenage years, and now in my adulthood. I am the person that tries to be a friend to everyone and be the church!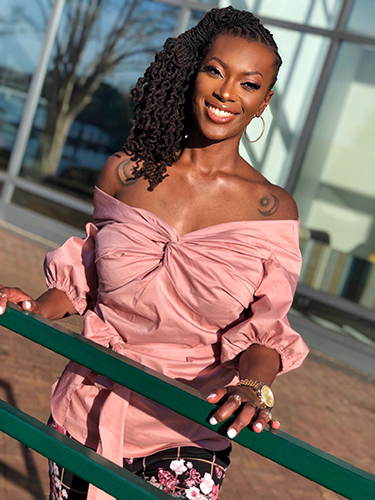 Tell us more about your "Dream Again", Scholarship Fund.  
I come from a rural area, very small population of students that come from mostly low-income families. So, I know going to college you either had to have a scholarship for athletics or academics. I just wanted to provide an opportunity to support those students that come from single parent households with their first year of college.  
The Dream Again Scholarship is for those leaders and future dreamers to encourage them to become humanitarians and community civil service. The mission of this scholarship was created to encourage, to inspire and to motivate individuals to go boldly and confidently in their greatness. You can apply on the D.E.E.P. Vibrations Co. website under scholarships. Entries must have a minimum 3.0 GPA for eligibility and each scholarship is worth $100. Five people have the opportunity to win a scholarship to help with some type of assistance (food, move-in costs, etc.)
Why now? Why not now, should be the question because everyone should get involved and support communities. We should not just sit around and let others matriculate on our behalf. If I am going to be the person to speak about dreams, then let me live out my dreams. The bible says, write out the vision and make it plain, Habakkuk 2:2. These are the visions that I have written about 5 years ago and now have the confidence to execute. God is telling me to do it now and have faith!  
Tell us more about Faith Fridays.
I just launched my IG Live platform for Faith Fridays. God just spoke to me and told me to "Open My Mouth". Like I said before, I've been sitting on these dreams and visions for some time. Now God is like, nobody can reach the people I am telling you to reach. Like Pastor Dr. Jackie Greene said, Free People Free people!
So, I am using my platform to free people by interviewing people and couples on topics about marriage, singleness and faith journeys. I just want to be transparent and authentic as well as share stories about how they are dealing with real life challenges and things like COVID-19. 
Tell us more about your business D.E.E.P Vibrations and its impact in the community.
D.E.E.P. Vibrations actually started as an affirmation to myself and was essentially three slogans: Anything is Possible, Destined for Greatness, and Dream Again.
I have always been a dreamer just was never confident to use my voice. I was a silent dream! And to start a clothing brand, I taught of just placing these slogans on a shirt. But it wasn't until I opened my mouth and spread my message to tell about my experience with self-lack, identity issues, and pain then D.E.E.P. Vibrations became a reality. To sum it up, D.E.E.P. Vibrations started as affirmations then switched over to a clothing brand and now it's a platform for women to use their voice, to serve others through development programs, and to build communities.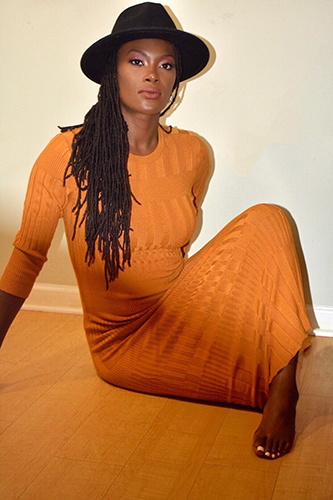 During time of COVID-19, how are you managing? Any advice?
Where you are right now is an opportunity to prepare for the future God has for you. So, never allow your current situation to stop you from preparing for the future and have discernment during the process. COVID-19 was and is a set-up for your breakthrough! COIVD -19 happened for to walk through all the problems and to prepare before reset happens. It allowed us to dream again!
I was furloughed during this whole pandemic, but God still provided for me. During this time God guided us to seek more clarity, to oversee our actions, to seek vision, to work on our identity, and to have more discernment.
What can we expect from you in the future?
I believe God wants me to use my voice and share with other women that they are not alone. Also, want to use my platform to help entrepreneurs, to pour back into the youth, and to do community projects. My overall goal is to start a School of Business or School of Entrepreneurship. In addition, I want to finish school, to become a motivational speaker, to start my modeling career with an accredited modeling agency. 
For more on Deep Vibrations, click here!
Click here for more information on scholarships.
Stay connected by following the brand on Facebook, Instagram, Twitter, & YouTube.
All images by Sdhbeauty