Mielle Organics Partners with Newest Netflix Film Jingle Jangle – A Christmas Journey  
While your holiday season may be a bit different, it's important to know that some traditions remain the same. Watching a movie with your family doesn't have to change. Whether you're with your family in person or you're watching together via conference, family holiday joy is not cancelled. 
While you're choosing your family holiday movie of choice, I'd suggest Jingle Jangle – A Christmas Journey. It tells the story of Jeronicus Jangle and his family as they navigate through the process of deferred dreams and the magic of innovation. 
While the All-Star cast features Forest Whittaker, Philicia Rashad, Keagan Michael Key, and Anika Noni Rose, the carefully coiffed looks of all of the talent featured is hard to ignore. 
Mielle Organics recently announced their partnership in support of authentic representation and self-empowerment during the holiday season with the live-action musical in their campaign called "Rooted in the Holidays. The hair care brand and it's founder chose this film for many reasons and we reached out to Monique Rodriguez the company's founder to find out more. 
What made you/your brand decide to partner with the film Jingle Jangle? 
When Netflix approached us about partnering for Jingle Jangle: A Christmas Journey's 'Rooted in the Holidays' campaign, we were very excited. The film highlights the importance of authentic representation of black entrepreneurship, stories, traditions, and hairstyles in the entertainment platforms' first live-action musical.
You don't see a lot of legacy Christmas movies featuring characters who inspire your children to love their natural hair and their own culture. As a Black-owned hair care company, the opportunity to align with a movie that supports our values and develop a campaign that celebrates families that look like us was a dream come true.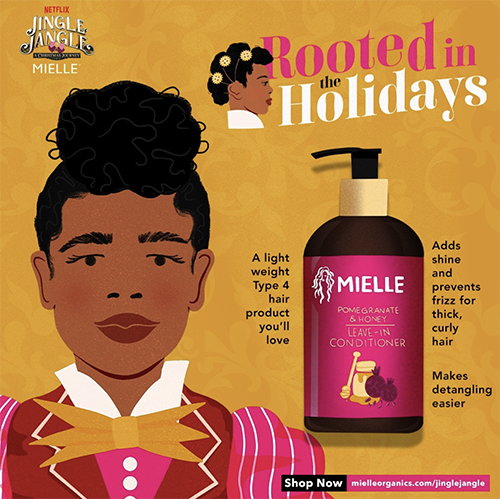 One thing that stood out about the film was the hair! Each African American person featured in the film was natural. How do you feel that representation makes this film different?
One of the things I love most about the movie is that you can tell how intentional the decision-makers of the film were about the authentic representation of Black people on film. Jingle Jangle's film producer, Lyn Sisson-Talbert purposely crafted the hairstyles in the film to highlight the opulence and versatility of natural hair. Due to the prevalence of the hair love movement and support of the CROWN Act, I think this film is different in the fact that it celebrates the normalcy of natural hair in everyday life.
Other than the film, describe how your team came up with the concept "​ Rooted in the Holidays" ? What makes this campaign different?
Traditionally, the Thanksgiving and Christmas holidays serve as a time for families to come together and celebrate their holiday traditions. We wanted to create that same feeling in our campaign. So, along with Netflix, Mielle Organics developed the concept of the 'Rooted in the Holidays' campaign to remind people to be soulful, live their dreams, and that representation is important. We wanted to celebrate the representation of self-empowerment and a fun new twist on holiday hair. Mielle Organics has teamed up with Netflix to do just that in the form of our co-branded holiday box and a multi-part adventure series featuring interviews with members of the cast, movie producer Lyn Sisson – Talbert, Lead Hair Designer and Makeup Designer Sharon Martin, Monica, and more.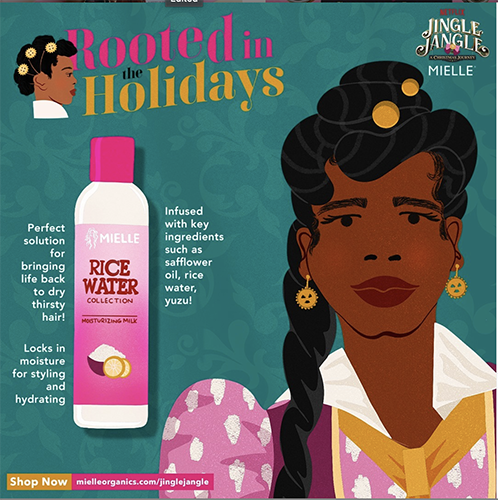 Your brand has always worked hard to ensure that women of color feel "seen." Why is that important?
Black women and women of color being seen is important to me and the Mielle Organics brand because we are inspiring the next generation of inventors and creatives and business owners. Throughout history, we've been the backbone of our families and communities. We show up as the boss chick for everyone to accept ourselves and build empires while doing it. So I think it's important that Black women and women of color are not only given their flowers but seen and heard as the powerful, smart, driven, and beautiful leaders that they are.
For more on this collaboration, click here.