"The Leadership Empowerment Freedom Reform Free Event & Concert Series Features
"A Power-Pack Lineup of Notables!"  – Faithworks and Cons2dons present Negatives 2 Positives Leadership Empowerment Freedom Reform Event & Concert Series taking place, Saturday June 26 from 5pm to 8 pm at Roberto Clemente Park, 3265 Dr. Martin Luther King Blvd in Fort Myers, Florida.
Please tell our Sheen readers more about this event that is happening in Ft. Myers
Come one, come all to the highly anticipated first-ever power-pack event & concert to include a line-up of "notables" featuring legendary music icon Shirley Murdock, motivational speaker Ray Leonard, Jr, Linda Walker, founder of Faithworks Initiative, Inc, Jenell Harris, founder of SheExist, Oron Harris, CEO of Cons2dons, Jacquelyn McMiller, community leader and founder of Uplift, Teresa Watkins-Brown, City Council, Ward 1, Saxophonist, D Asia, Shari Armstrong, Fox 4 news personality, Sign Language Dancer Lisa and many more! We have opening prayer by Pastor Gregory Ford of Cornerstone Ministry and Kimberly Brown with Daughters of Legends will be our special guest.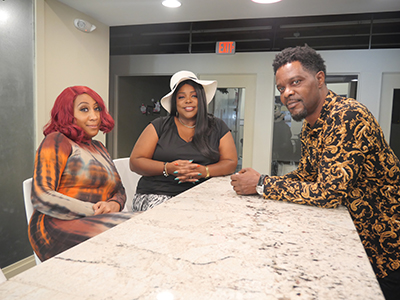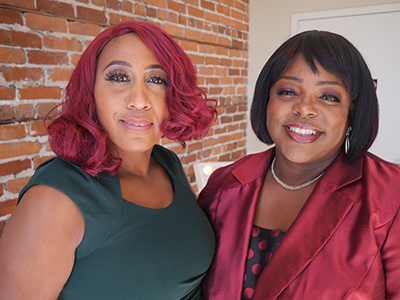 Please share with us who is sponsoring this amazing event?
The event is sponsored by Attorney Joe North, Pilot Bank, She Exist, Lee County Black, and Pro Players Insurance.
Please tell us why are you doing this event.
As we continue to transition from a pandemic-era to reopening one in our cities, the Negatives 2 Positives free entry event and concert series is on a mission to encourage and offer hope to communities. Bring your lawn chairs and enjoy all of the festivities and scheduled line-up of speakers, dignitaries and musical guests with your entire family. There will be food trucks & vendors on-site and plenty of music with an incredible line-up of dynamic speakers and gospel artists who will be sharing how to embrace positivity. Negatives 2 Positives will be the first event and concert series in Fort Meyer since the pandemic.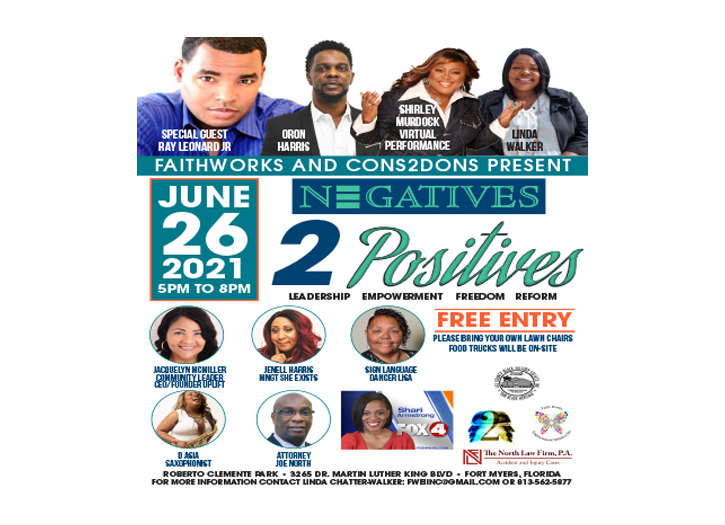 Where can we find out more about this event?
Come on out June 26, 2021 5PM to 8PM For more information, contact Linda Chatter-Walker at fweiinc@gmail.com or call 813.562.5877.