Fashion can be life for many. Whether it's business casual, a day on the beach or date night; fashion rules! It plays into our mood of the day and how we carry ourselves. Women's clothing brand owner, Tanya Manning, has built her brand on the importance of being fashion forward. Her brand known as Dresscode Boutique is a women's clothing empire built on class, fun and uniqueness. 
It's not easy being an entrepreneur and it can be more challenging as a minority business owner.  She offers advice, tips and encouragement for those seeking the entrepreneur life. Here's what Tanya had to share:
When did you first fall in love with fashion and accessories?
I have loved fashion ever since I was a little girl! I would dress up in my mother's and big sister's clothing as I thought they were so cool! They would get dressed to go out and I would just sit around and watch how they put on their makeup and matched their clothing to their eye shadow. I was never into dressing Barbies because I was the "real life" Barbie. I would emanate what my sister and mother wore. I went to catholic schools from K-12 so I didn't get a chance to be creative in school as we had to wear crazy plaid uniforms, white blouses and saddle shoes. When my parents took us shopping for everyday clothes I remember being very particular and wanting a few pieces that were well made or could go with stuff I had at home versus getting a lot that wouldn' work with anything I had at home!
What inspired you to become an entrepreneur?
It is simple: I want to own my future/destiny! I have been in Corporate America for 33yrs at various levels and most recently in an ELT Role. I found myself wanting more! I was making money and saving millions for F500 companies but knew I could take the same successful formula to do it for myself. Why not, since I've always loved fashion since I was a little girl? I knew God had a calling on my life, a ministry if you will and becoming an entrepreneur fulfilled that call. I have used my business to support, encourage and love on so many women.  The anointing gave me the push that I needed so I started this journey 2 yrs ago. It hasn't been easy! I have cried so many nights, fought off frustrated feelings and prayed away feelings of defeat when there are no sales days. I've gone through so many sleepless nights and restless days while maintaining a demanding corporate role. There were days I thought I was going to lose my mind. So many people told me I make it look easy because I love what I do but it is not for the faint of heart. I was crazy because I opened not one business but two. Dresscode Boutique and Ashton's Corner (named after my 3yr grandson) are my brands. It is important for me to show him hard work, working smarter and to have the feeling of succeeding! I love having him in the boutique with me because he sees Nana at work and he enjoys seeing the kids coming in the boutique. It is all about providing a platform, where a woman's journey and inner beauty is expressed and celebrated.  The brand offers a twist on classic looks – timeless silhouettes, with a bit of edge and sex appeal.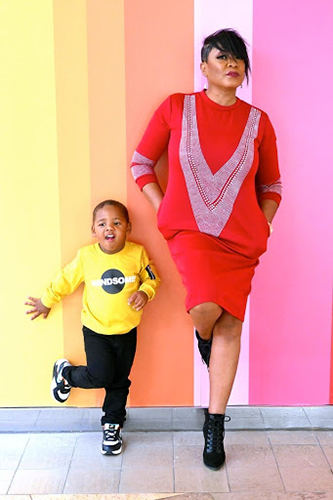 How can fashion build self confidence?
When a woman owns her look, she owns her confidence and she boldly speaks her style narrative. It's about building from within. It is important to take the time to get to know your clients. I like to start with getting to know them from the inside out, meaning what makes them tick, what drives/motivates them, family, their passions, etc. When you build relationships with people and they understand it's "more than retail"; it begins a relationship and you become a trusted advisor. One of the reasons I created Dresscode Boutique was to give women a safe, comfortable and encouraging outlet to speak boldly with confidence. Their "style narrative" is to be comfortable in the skin you're in and to dress for you; and not for others. My family, friends and sorors would come to me for style tips or styling services, even though I wasn't in the boutique business. I would sit and talk to them about what made them feel comfortable. Like most women, they were able to call out every flaw! We know what that can sound like! After they were done, I would say, now, let's talk about how beautiful and uniquely made you are! I am quick to remind them that God makes no mistakes and they are fearfully and wonderfully made in His image.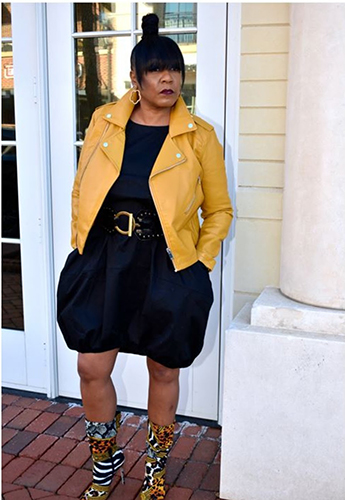 What are 5 must have accessories that everyone needs to have on hand?
"Oh wow!! Anyone that truly knows me knows I love a good cuff! I love accessories because they can change your entire look in a matter of seconds. You can go from day to night; funky to chic rocker; to prim and pretty in the same outfit with different accessories.  At Dresscode we define traditional accessories as jewelry, hats, scarfs, handbags, etc.  But we talk about accessorizing with good foundational pieces that you will see in our 'wardrobe essentials collection' such as tanks, leggings, and bodycon dresses which can be worn alone or with a blazer. We see blazers, skirts and white blouses as accessories as well. My 5 favorites are:
Cuffs and Bracelets

Hats/Fedoras

Earrings

Black or White Blazer

Skirts (Black or Leopard)"
How can people connect with you?
By visiting our website, on Facebook, Instagram, and via e-mail at Info@dresscodebytmg.com  and customerserviceashtonscorner@gmail.com. You can follow me on Facebook and Instagram.
Similar to Black Business, fashion isn't a trend; it's a lifestyle. Tanya Manning is a game-changer who is boldy living with confidence as her lifetime accessory. Her style sense is unmatched and will continue to grow through her talented brand. 
Writer, C. Scott, is a mompreneur, social worker, educator and lover of all things literary related.  Follow her online as @curls_coils.  
All images courtesy of Dresscode Boutique