Miquelle West is hands down the most slept on stylists in the fashion industry. It's funny to think that Miquelle, who was born in Detroit Michigan, with a fashion career that spans over two decades, has not received the recognition that she deserves. During our interview, she does not seem to be bothered by this because of she learned from one of the best in the business costume designer Patricia Field. She mentored Miquelle, which allowed her to work on television and the cult classic film Sex and the City. In 2013, Miquelle relocated from New York to Los Angeles to work as an in-house stylist on the newly launched cable network of Mr. Sean Combs, REVOLT. Now, she counts the artist Blueface as a regular client and serves as Fashion Director for Cash Money West and 100 Entertainment. Miquelle also collaborated with the late Christian Audigier.
So, I understand you've been in the fashion industry for over two decades, tell the readers how your journey began.
I have been immersed in fashion since birth. I left the hospital wearing Dior. My childhood was spent playing dress-up in my mother's closet and creating looks for my Barbie dolls. My first real job at age sixteen was in luxury retail and that job leads to a position working for a luxury fashion house. I moved to New York to study fashion design at Parsons. I took styling classes that were not offered at Parsons at F.I.T.  I interned for Pat for five years. My goal was to learn every aspect of the fashion industry. I launched my career as a stylist to make a name for myself in the fashion industry to avoid being an unknown designer. Fashion is my passion. I love the idea of changing the way someone dresses and making my clients look and feel good. My work with one client caught the attention of a high-end designer abroad. That made me happy so being a stylist is something I see myself doing when I am Pat's age.
How has the fashion industry changed since you started?
It's a huge business, when I started you needed formal training to be considered a stylist. Rihanna said it best with no fashion design background, you are not a stylist, you are a personal shopper. Today, personal shoppers use the title stylist.
What drives you to style?
I am a creative person, so I love to create. Fashion is what I was born to do. I don't take a day off. I wake up each morning and critique my look. Girls like to emulate my style, so my look has to always be on point.
You were very active on social media would you like to share what happened with your Instagram account? 
Instagram was a gift and a curse for me. At one point, I had 46k followers. My Instagram page was hacked last year; I have tried unsuccessfully many times to get assistance from Instagram to regain control of my hacked page and pictures. I started another page so I would not lose my name. I loved sharing my life and showcasing my work. It's not the same since I was hacked so I don't like to think about it. Be careful readers this can happen to you.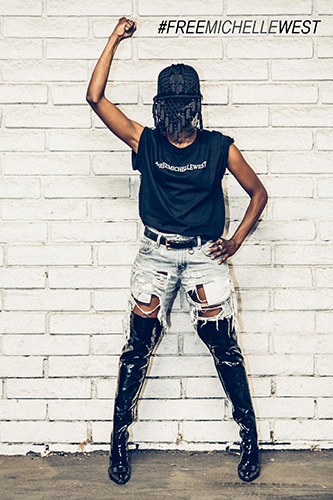 You collaborated with the late Christian Audigier, who would your dream collaboration be for 2020?
I would love to work with Dapper Dan to create some custom looks for my client Blueface. I also would like to collaborate with Kanye West. I have an idea that addresses social issues that would be perfect for Yeezy. These would be my dream collaborations.
We're in a new decade and style changes often. What's trending this upcoming summer?
The major hashtag of the season is #genderneutral. Rad Hourani created the first gender-neutral ready-to-wear collection in 2007. It seems the rest of the designers are finally catching up. What's trending in my mind is being authentic.
Be yourself and wear what you think looks good on you.  
What has been the best power move in your life/career?  I work hard. I am a natural-born leader. I have the ability to lead but I can also be a team player.  Being a team player has given me an opportunity to assist on projects with Beyonce', Madonna, Cardi B, and others.
Contributing Writer – Dr. Cozette M. White, Advisory Accountant and Tax Expert.  Learn more about Dr. Cozette M. White on her official website.  Follow Dr. White on Instagram today!