A fashion industry veteran that has a passion for creating environments that Black creatives and fashion leaders can not only thrive in but where their presence and contributions are normalized. On October 20-24, Frenchye M. Harris Bush introduced the Black Fashion Movement to Atlanta as its second tour stop to connect independent Black Designers and Black-Owned fashion brands in a unique retail encounter.
Can you tell everyone, who is Frenchye M. Harris Bush?
I am a 20+ year fashion industry vet that fell in love with fashion in the fourth grade while attending the Ebony Fashion Show during its annual tour stop in my hometown of Toledo, Ohio. Since entering the industry, I have always been passionate about working with emerging and independent brands, specifically Black-owned brands. I believe in providing opportunities to those that may not have the knowledge, the right connections, or access. I believe in giving back to those in the fashion industry that are coming behind me by sharing my knowledge, skill set, influence, and professional guidance. I believe that historically Black people have been the culture creators but have not often been able or allowed to profit from the culture that we birthed, particularly in the fashion industry. I believe in collaboration over competition and that in order for Black-designers and Black-owned brands to make headway in this industry that has historically been exclusive, there has to be more than one group or person working towards inclusivity, acceptance, access, and opportunities for Black people in the fashion.
What motivated this desire to start such a movement?
After working in the fashion industry for twenty years, I wanted to help Black-owned brands to start conversations with retailers and to expose Black-owned brands to the fashion industry. In February 2020, I wanted to celebrate Black History Month on Instagram through the lens that I knew, which was fashion. From there, we started a social media campaign interviewing designers, stylists,s and other fashion industry professionals.
Can you tell us more about what is the Black Fashion Movement? 
The Black Fashion Movement is a community and resource to promote and celebrate the cultural influence of African- Americans in the global fashion industry while providing a platform for emerging top Black fashion designers to showcase their work.
The Black Fashion MovementSM challenges the narrative that Black fashion designers and Black-owned fashion brands are not accessible to consumers through the execution of authentic, creative, and diverse interactive in-person, social, and virtual experiences.
Our multi-prong approach celebrates and supports Black fashion designers and Black-owned fashion brands; it establishes a platform to influence and shift the culture to normalize buying and wearing Black-owned fashion brands ultimately, creating opportunities for economic sustainability.
We change lives. We create events that have a direct financial impact on the designers involved.
We understand that by positioning brands to be economically sustainable then those brands can be in a position to hire people, scale, and positively impact their community.
Why does the BFM push for the understanding of the power of recirculating the black dollar in black communities?
In 2022, the Black community will have $1.7 trillion of buying power. "If just 25% of that went to Black-owned businesses, the impact that would have on our communities would be groundbreaking. "As consumers, we get to decide where to spend that money." The Black Fashion Movement stands on consumers purchasing from Black-owned brands and businesses.
The Black Fashion Movement also provides other opportunities, can you tell us about the opportunities BFM offers black designers and Black-Owned Brands?
Through our partnership with the Mastercard In Solidarity initiative is we support Black-owned small business owners and drive financial inclusion for all minority entrepreneurs to make a difference through investment, education, time, expertise, or partners. We will host workshops to provide resources for small businesses on funding opportunities, how to build business credit, DTC sales strategy, and cyber security, etc. We also host virtual panel discussions with industry experts to share their experiences with those that are new in business. The Black Fashion Movement promotes Black-owned fashion brands and designers through our social media pages. You can sign up on our website to be added to our email list and follow us on social media @theblackfashionmovement for more updates.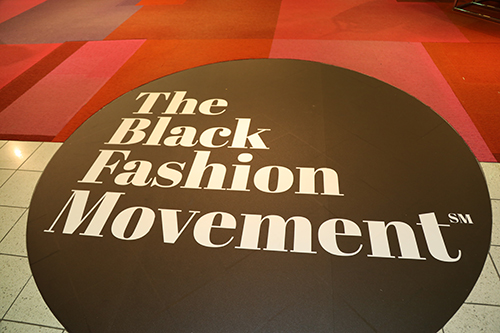 With October being National Small Business Month, can you speak on how the majority of the BFM the brand consists of women& small businesses?
95% of the BFM brands that partner with us are women-owned or are ran by women. Black women receive less than 1% of venture capital funding and less than 1% of brands carried in retail stores are owned by Black people. This is why the Black Fashion Movement is focused on creating our own spaces and retail environments to support those brands that may not make the retail shelves or receive the funding needed to grow immediately. In the meanwhile, we have created an opportunity to put them into the marketplace, to further develop their brand, and to promote them to the fashion community with the goal of helping them to become economically sustainable.
Black Fashion Movement recently had its tour in Atlanta, can you tell us about that experience and impact of the Atlanta show?
Atlanta was a great experience. We had an amazing space and showcased 22 amazing Black-owned brands and designer from around the US. Identifying the right location for our target market was a challenge because of the size and customer segmentation in Atlanta. We were located just north of Atlanta in Alpharetta. Many thought that it was perfect, but others thought that it may have been too far- especially with the Atlanta traffic. When we return next year, we will be ready for the overflow as we know that Atlanta loves to support Black-owned luxury brands.
Will Black Fashion Movement be holding any additional tours in the future?
The next Luxury Shopping Experience will be in February 2022. We are still confirming the location. For 2022, we have plans to visit LA, Houston, Chicago, Dallas, the DC area, and Atlanta.
What advice can you provide to those that would like to start a small business, women-owned business?
Find your purpose- what problem are you solving.
Hire the right people to do those things that you are not an expert at so that you can focus on what you know best. 
How can people connect with you to learn more, as well as continue to follow Black Fashion Movement?
You can sign up on our website to be added to our email list here and follow us on social media @theblackfashionmovement.
All images provided by Black Fashion Movement