With a master's degree in finance from Pepperdine University, multi-talented financial expert, wealth builder, and professional singer Amber Grant has become a renowned trailblazer. As founder of Silver Lining Capital Inc., Grant has positively impacted the financial well-being of stars including Magic Johnson, Master P, Steve Harvey, and his wife, Marjorie.
Musically inclined since childhood, Grant has also found success in her passion for singing. In 2019, she successfully auditioned to perform with Kanye West's Sunday Service. She was hired as one of three female tenors among a total of 120 singers and instrumentalists. As such, Grant traveled the world alongside 22-time Grammy Award winner, Kanye West. During her time touring with West and the choir, Grant merged her financial expertise with her work as a singer and began offering financial literacy tools to her vocal colleagues.
Now, Grant has become a global ambassador representing all African nations for Oduwacoin, the world's first-ever Black-owned digital currency.
At the movie premiere of The House Next Door Meet the Blacks 2, Grant opened up to Sheen about performing in Kanye West's famed Sunday Service, financial planning for some of Hollywood's biggest stars, and serving as an ambassador for Oduwacoin.
Tell me, how fulfilling was your experience performing gospel music and traveling the globe alongside Kanye West? When you were a childhood member of your church choir, did you ever see yourself in such an esteemed position?
It was incredibly fulfilling. I felt like a superstar. After growing up listening to Kanye West, and enjoying his music, it was such a blessing to witness his transformation into an artful praise and worship leader. I previously served as a young organist at my childhood church for 15 years, so it was a full circle, empowering experience to work with Kanye, especially now that I'm fully established in my career in finance. When I was hired by Kanye West and began traveling the world, I felt so blessed for the opportunity to do what I love on such a large scale. There are no words to express my gratitude and joy. After all, Kanye has always been a personal icon of mine and I've been an avid lover of all of his music. To share the same stage with him promoting music and God, my two greatest loves, was more than anything I could ever imagine. We were even blessed to have been a part of Paris Fashion Week, where faith met chic style.  
You have such an amazing portfolio of clients. You've worked with Magic Johnson, Steve Harvey, and Master P. When it comes to building wealth, what lessons did you learn from each of them?
I'll start with Magic Johnson. I received a scholarship from him when I was a college student. Upon graduation, he asked me to work for his foundation as the director of the Taylor Michaels Scholarship Program. I worked diligently to extend his scholarship program to South Africa and I am proud to have expanded its eligibility beyond undergraduate matriculation to include graduate studies as well. I witnessed firsthand his influence in urban America as he formed partnerships with Starbucks, Burger King, Sodexo and many more highly successful companies.
The key lesson I learned from Magic Johnson was the value of being a minority business owner and how to leverage that uniqueness in business relationships. Magic also taught me the importance of giving back as you continue to move forward. I am always looking for ways to serve my community. There is a huge gap in financial literacy for our communities and I'm here to fill that gap.
With Master P, he was a straight shooter. He supports his community as a proud family man that invests in his children. We planned several charitable giveaways in urban communities and hosted toy drives during the holidays. What I learned from Master P is that the real value in life comes from remembering where you came from. We all have a story and we all need mentors. He provides that safe place and gave me the blueprint for success.
I personally believe Steve Harvey is a motivation to all. I am very proud to have worked with his wife Marjorie's foundation to help uplift young girls. It was an honor to watch him give wisdom on finance, relationships, and most importantly, God. He taught me that we are each other's family, regardless of bloodlines. Steve taught me that it is our responsibility to train up our young people in the right way and provide programs that will ensure their success.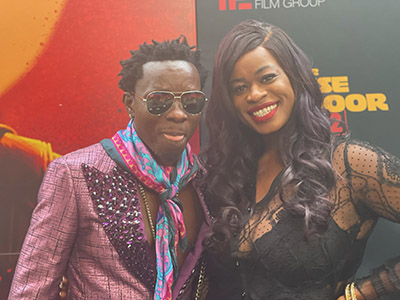 As an expert financial planner, how have you been able to transform the financial portfolios of Hollywood's top creatives, artists, and entrepreneurs?
With an MBA in finance from Pepperdine University and more than 16 years of experience working with athletes, celebrities, corporations, and creatives, my mission has always been to help entrepreneurs achieve both their short and long-term dreams. As an artist, I know that business management and financial planning can be overwhelming. My firm provides artists with the knowledge and tools they need to plan for retirement, eliminate debt, increase net worth, prepare for the unexpected and pass on generational wealth. Many artists need help with business management and my firm provides customized teams to meet their personal and financial needs.
After singing with Sunday Services every weekend, the choir became my family and I realized there was a need to integrate my financial expertise with my passion for teaching and singing. I wanted to combine the best of both worlds, so I began looking for ways to assist my colleagues with financial planning.  After a candid conversation with members of the choir, I quickly began assisting
with incorporations, tax planning, business management, and their insurance needs. I was happy to be back in my financial element and was loving every minute of it. We traveled weekly and I vividly remember that we always occupied the entire plane. Many times, the flights home would become financial planning meetings with singers and musicians. My ability to understand their workload and financial challenges firsthand was my advantage in working with artists and creatives.
As an ambassador of the Oduwacoin, you are the face of the only Black-owned digital currency. What does this powerful role mean to you and why is it important for us to have our own coin?
Serving as an international ambassador for Oduwacoin means a lot to me. It was truly an honor when Bright Enabulele, the co-founder of Oduwacoin Blockchain, invited me to take on this role. Our values are truly aligned. He has created a massive Blockchain solution for people of African descent and believes our money must work for us, and not against us. As an African American entrepreneur and woman in finance, when I look at the technology that has impacted the world globally, like Facebook, Apple, Google, Bitcoin, Ethereum, Tesla, Amazon, Android, and many more, I realized that I do not see Black or African owned and developed technology that is globally positioned or created and financed by — I want to help change that narrative. Oduwacoin is the first Blockchain global technology that is developed and supported by people of African descent. It is the most viable alternative to Bitcoin, offering great intrinsic value to the owners of the coin. I believe this is massive for the Pan-African community. Oduwacoin is a technology that is focused on bridging the Pan-African community. It also provides the Pan-African community the same opportunities that Bitcoin did in 2012. One thing that I want to emphasize is that we as Black people must not miss this global opportunity on Blockchain to gain and transfer wealth for our communities. In my opinion, Oduwacoin is the revival currency for Black Wall Street in Tulsa, Oklahoma. We must support and finance our innovations if we want to change the narrative about our financial destiny. We have to rally together around our currency in order to get our communities out of poverty with this revolutionary digital economy. The time for change is now.
The article was written by Jessica L. Dupree | edited by Darlene Aderoju
All images by Tyree Vance