Growing up, Abby T knew she wanted to pursue her passion for music. This passion often presented itself in those beautiful childlike moments when the world asks, "What do you want to be when you grow up?" Like most children, Abby's responses frequently changed between being a dancer or a nurse. However, one thing was constant—she always wanted to sing. With maturity, Abby realized performing is not only what fulfills her but what teaches her about the world and, more intimately, about herself.  She shares these lessons and so much more in this Sheen Magazine exclusive that you won't want to miss!
Tell us more about how your art.  
I always think about the rapid development of technology and how it's affected the rate at which we consume media and content. Because of that, lyrics or images can seem so fleeting, but the one thing that I'll always retain from a musical experience is how it made me feel. So, when I'm writing and setting my intentions, I try to zero in on an emotion and fully play it so that whoever needs the message hears it loud and clear.
Tell us more about your passion for music and what inspires you.  
My family is from Ghana, so I have a global perspective when it comes to the music industry. They played everything from classical Ghanaian hiplife and '80s UK rock and dance to '90s R&B, hip hop, and American pop music from the 2000s.
Do you write your own songs?  
I write all my lyrics. When I was about 10, my mum gave me a book of Maya Angelou's poems and I read it front to back. I didn't understand a lick of it, but I knew it was special. I was always into reading, and then began writing short stories for a literary magazine in high school, which evolved into writing my own songs. From there, I studied everyone from Joni Mitchell and Ed Sheeran to Tupac and Jhene Aiko. Then, I started freestyling on type beats on YouTube… and the rest is history.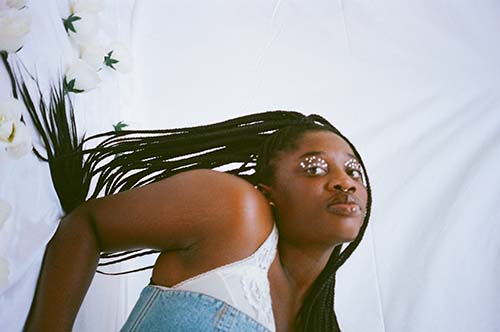 What are some of your greatest accomplishments?
I opened for Chief Keef and Roddy Ricch at Terminal 5 in New York in March 2020, which was a full circle moment. I was so obsessed with Chief Keef in middle school; he was my ringtone. So, I couldn't believe that I not only got to meet him but also perform in the same lineup.
What sense of purpose do you draw from your culture and community?
When I was growing up, I saw such little representation of darker skinned women in music and media. It always felt like they were supplemented as background vocalists or secondary characters. So, now that I have the chance to tell my story the way I want, it's important that I'm the main character so that other women who look like me feel seen and respected.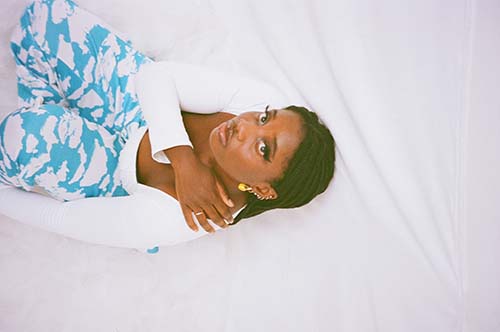 How has the pandemic impacted your career?
In March, I had so much time to think and evaluate who I wanted to be and where I wanted to go. I realized I had all the tools to get myself there and found a team in the people I call my friends and family. I've learned to be patient but also calculated. It's all about setting myself up for what I want. When I define this for myself, no one can come between those plans.
Leave us with some encouraging words. 
Something I've learned this year is the importance of writing things down. It helps me cycle out of my old thoughts and channel my energy into reflection. Through reflection comes rebirth.
Where can our readers find you?  
I released "High," my first single and video, in September. It was so surreal. I've had so many dreams and expectations for years and it finally feels like I'm living them.
All images by Livy Wicks